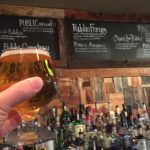 Located in an upstairs loft, just east of the 5 Freeway, is a welcome new addition to the scene along Ortega Highway (AKA Route 74). This Gastropub has a casual vibe, with a wrap-around bar and an expansive dining room with elbow room to spare. The reclaimed wood is from an old saw mill, and rustic corrugated metal affixed to the ceilings, cement floors and farm-style lighting, all harken to a laid back ambiance.
And just outside, there is a wrap-around patio for outdoor seating on warm summer days & evenings. There are two large screen TV's for sports fans, and an open-kitchen concept for those who like a sneak peek at what the chef and his crew are up to. This old jazz bar has been transformed to a comfy spot for not only great beer and craft cocktails, but also a delicious dining experience as well. In other words, don't make the mistake of filling up on the beer!
Local Craft Brews PUBlic 74 proudly serving local craft beers and the pull taps are front and center for a quick scan at the bar. Personally, I like the way they have their beers organized on the menu. It is by "style" and that just makes it easier to review. From Lagers, to Belgian Pale Ales, to American Wheat Beer and IPA's, I can zero in on my favorites out of this robust list of 20. (Those restaurants that are still doing the alphabetical route should really take note.)
The bar staff has selected primarily local brew houses from Southern California. They sprinkled in a few from outside the area, such as Bell's Amber Ale from Kalamazoo, MI, and Firestone Walker Union Jack IPA from Paso, and 21st Amendment Hell or High Watermelon from SF. But you will recognize many of your "go-to" favorite breweries, such as: Duck Foot, Stone, Barley Forge, King Harbor and Mother Earth.
If you are a beer lover, and are not yet using the www.TapHunter.com app you will really want to check this out. This is free to consumers and allows you to find your favorite draft brews just about anywhere you happen to travel. PUBlic 74 is a subscriber. They update the app daily with their available beers on tap (and their own web site as well). This is very helpful when guests have something specific that they want to order.
Meeting up with a small group of local blogger and media types, we enjoyed the evening so much as partners Chad Dickey and Chef Gerry Kent unveiled for us some of their most favorite upcoming summer menu items. And for Chef Kent it is all about using the freshest ingredients in everything he creates.
Creative Craft Cocktails- Since all great evenings begin with cocktails—-well, of course they do! So let's begin this some selected hand-crafted beauties. The cocktail menu is very inventive, with lots of choices, depending on your whim and fancy of distilled fancy. Here are three that we sampled, and this will give you an idea of the delicious items available (and also their great sense of humor in naming them)! Most run $12 on the menu. Grandma Out in Public is made with: St. George citrus vodka, Grand Marnier, cranberry, lime and ginger beer. Public Forum features: Apple cinnamon buffalo trace, aperol, luxardo syrup, lemon, thyme honey water, and maple bitters. Publicly Accused is made with Apple cinnamon buffalo trace, lemon, lime, ginger simple syrup and a splash of soda. They were all delicious, with "Grandma" being my favorite.
Comfort-Inspired Cuisine- The evening was highlighted by an impressive parade of dinner offerings. Many are perfect for sharing and could be ordered at the bar as well. Here is a walk through our tasting menu, and I will offer some commentary as we sauntered through this foodie frenzy.
We started with a wonderful Orange Ginger Salad. I would certainly order this again. It was light, with farm to table freshness. It included assorted cabbages tossed with fresh oranges, ginger, a spicy cilantro vinaigrette and finished with cashews. Guests can also add market fish, steak chicken or shrimp $5- $8 additional.
The PUBlic Veggie was next, and on this day, it was Broccoli and Cauliflower roasted and drizzled with olive oil and lemon. The selection is dependent on what the local farmers have just picked. The Mac n' Cheese is a complete home run. It is Chef's spin on the classic mac and bubbling cheese topped with herbs and panko! It's a magical synergy and on this day, the theme was French Onion Soup inspired with caramelized shallots. This was a creamy, dreamy dish, served in a cast iron bowl keeping it warm for some time. This is a dish that has you humming with the first bite.
A piled-high Smokin Reuben Sandwich danced into the dining room. This hickory roasted corn beef was piled on grill toasted rye bread and was dressed with kraut and Emmenthaler Swiss (made from the raw milk of cows in the Alps). French Fries were plentiful and delicious.
They call this fancy burger the Spin Out Kobe Burger. It is char-grilled 10 ounce patty of American Kobe beef on brioche bun and topped with smoked pork belly, leeks, kale, wilted spinach and smoked cheddar cheese. This was served with a mountain of fries too, but there were no complaints at our table as they fries are so crispy. This burger had so many complex flavors and was cooked to perfection. It was another standout. I cannot wait to order it again!
The old-school Grilled Cheese Sammie had me day dreaming about elementary school with a bowl of tomato bisque soup. The sandwich was made with a creamy cheese and sautéed cherry tomatoes on top. It was very good indeed.
Meatloaf & Southern Gravy was topped with field greens and served with fries. I could not help dipping the fries in the gravy. The meatloaf was a nod to that comfort meal that grandma used to make.
I know—you cannot even believe there is more. But yes, there is. They served a Lemon & Pesto Risotto. This can be ordered as a side order, to accompany another item on the menu, or as a main dish. The creamy texture was reminiscent of a recent trip to Italy. This was completely consumed by our table in mere moments.
And the finale was a rich Brownie Square. This was served with sliced bananas, pecans and drizzled with caramel. This too is a "must order" for any chocolate lover. There are a number of other dessert options to select from as well.
With a focus on local, seasonal and sustainable ingredients the menu is packed with comfort food fare that is simply put— delicious. I can't wait to return and enjoy a host of other items along with my new favorites.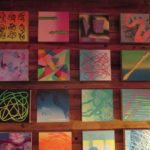 Other Locations- PUBlic has two other locations. One is in Old Town Temecula, called PUBlic House. This is in a cozy restored home from the 1950's. They have live music on Friday, Saturday and Sundays, and the patio and balcony make for some fun seating options. The second location is called DownTown PUBlic House in Murrieta. This restaurant has an open concept with community seating, a lounge area, and an open kitchen. The "small plates" are an integral part of the menu, to encouraging sampling of various menu items.
PUBlic 74 Gastropub 27211 Ortega Hwy San Juan Capistrano, CA 92675 (949) 481-2723 http://publicrestaurants.com/public74-san-juan-capistrano/
Hours: PUBlic 74 is open daily from 11:00am- 10:00pm with the exception of Friday and Saturday when they are open until midnight.
PARKING TIPS: As you enter the Center to the far right is a ramp (no signage) that wraps around to an upper level behind the Center. This is a good place to look for parking, and especially after 5 o'clock when many businesses close. On the weekends there is also valet parking available on the first floor of the Center. If completely full, some do park across the street a very expansive parking lot for the mall and walk across the street. There is a light there so that helps make it an easy jaunt across the gigantic Ortega Highway. Just watch carefully the traffic, as it is a busy highway and steps from the freeway
on ramps and off ramps.