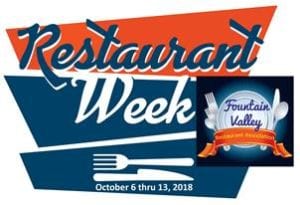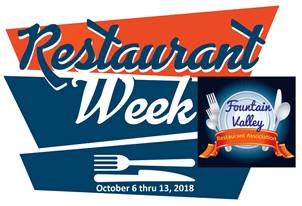 Yes, going on now through this Saturday, October 13th is Restaurant Week in Fountain Valley.  Not all, but many restaurants are participating and featuring special dining menus. This is  a great chance to try new restaurants! What fun! Come give them a try.
Please visit this web site for the list of participating restaurants.  www.FVRestaurants.com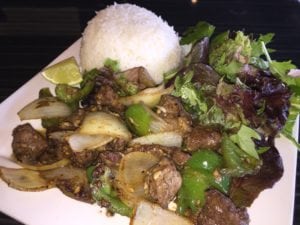 For me, this enclave of Orange County is home to some of the best international cuisine.   As for Vietnamese cuisine, Hue Oi is one of my favorites (and they have a second location in Redondo Beach just off the 405 Freeway at Inglewood Blvd.) They are participating in Restaurant Week and do a big business in delivery and take out as well. I wrote about this restaurant in the recent past and I continue to be so impressed by them. Brad Johnson anointed them in a list of his "Top 75 Favorite Dishes in Orange County". It is a family run business and is super busy for both lunch and dinner. The parents are both the chefs and hail from Vietnam. Everything is fresh, with vibrant colored vegetables and made from the heart. You will feel at home here and the diverse menu allows diners so many choices! https://www.hueoivietnamesecuisine.com/
Not long ago I visited Hue Oi and wrote an article about this delicious restaurant. You can read more about what I enjoyed there at this link on my web site.
https://tastesandtravel.com/delicious-sense-place-hue-oi-vietnamese-cuisine/
Another restaurant not to be missed on this list is Cambalache Argentine & Italian Cusine. They just won as "Restauranteur of the Year" at the Golden Foodie Awards last weekend. Leo Razo is the Executive Chef and is originally from Mexico, Chef Leo Razo moved to the United States in the early 1990's. After starting out in well-known restaurants like Carmelo's in Corona del Mar, Viva Italia in Laguna Beach and Sea Cliff Country Club in Huntington Beach, Chef Razo became co-founder and Executive Chef of Villa Roma Restaurant in Laguna Hills. Now he finds a new home in Cambalache Argentine & Italian Cuisine—a place where he can share his love of Argentine-Italian cuisine with a whole new audience. His lovely wife Teresa and staff will welcome you with open arms. I have enjoyed his famous Paella and it has won many awards. http://cambalachegrill.com/
Here is a list of the other participating restaurants:
Au Lac, Satoshi Sushi, The Recess Room, Istanbul Grill, Inka Cantina, Nick's Pizza D'Oro, Silky Sullivan's Restaurant & Irish Pub, Ike's Sandwiches, Dickey's Barbecue Pit, HnJ Crawfish, Lampost Pizza, Ikram Bakery & Grill, Sofra Urbana- Artisan Pizza & Grill, The Black Bean, Fountain Bowl, Stonefire Grill, Spoons Grill & Bar, Tastea Smoothies & Teas, B Nutritious, Café dTe, Marie Calender's, Mimi's Café and Sizzler.
#Hue Oi
#Fountain Valley Restaurant Week
#Cambalache