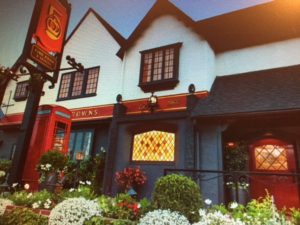 Have you been in lately? If not, please do drop in to enjoy a cocktail in the SideDoor and then a lovely dinner in the restaurant.
They recently completed a renovation and I just love the new touches! It is newly painted inside and out, with lush new landscaping
all the way around—-from entry to patio. It is just charming!
It's that time of year again, and Five Crowns is unveiling a creative new Spring Menu. I had the dubious pleasure of attending this special event. Yes the famed Roasted Prime Rib is always on the menu, however there are many new additions from pasta to seafood, and a bevy of tasty new options. We had the pleasure to meet the new General Manager Kenyon Paar, enjoy a welcome from Steven Kling the Executive Chef, and it was also great fun to meet Tracy Nelson- Sommelier and Cheese Monger (Charcuterie Maven…I just made that up) and Randy Thais the Lead Bartender.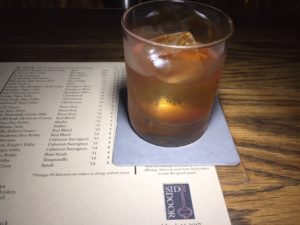 I had to arrive early and enjoy a few minutes breather at the SideDoor Gastropub. It always re-sets my clock after a busy day, and the bourbon-inspired Ugly Gentleman cocktail with an oversized hand-cut ice cube infused with smoke. It adds such depth to the drink. I always add an orange peel and hope Randy does not mind. Well, even if he does, I love it that way!
When I arrived the bartender was hard at work setting up the two featured springtime cocktails. They are made in small batches using fresh ingredients and herbs from the restaurant's garden. One cocktail was called the Spiritual Gangster. (Randy had me at Gangster!) This is made with: Organic gin, Amaro, Lemon, Lime, Chamomile, Honey, Mint and a Cucumber garnish creatively balancing on the rim. The second was a Leche Libre. This is made with: Platinum Tequila, Lemon, Lavender, Iris Liquor, Rose Simple.
The elaborate display of delicious cheeses, cured meats and fresh breads were arranged so beautifully I hesitated to partake. Wines were also available that paired perfectly with the options here.
This was followed by server-passed tastes, to give us all a sampling of the delicious additions being added to the menu. This included:
-Burrata with roasted tomatoes, spring onion, tomato vinaigrette and bread crumbs
-Potato Leek Soup with parsley garnish (served in shot glasses—how smart is that)!
-Pan-seared Octopus -Pan Roasted Halibut with fresh green beans, cauliflower puree, lemon & capers
-Panna cotta with fresh strawberries
It was a pleasure and I cannot wait to return to enjoy these new items which are all now available on the Spring menu. Check the web site for special events and wine dinners. As the weather warms we will be able to enjoy the patio as well.
Five Crowns and SideDoor Gastropub 3801 East Coast Highway- Corona del Mar, CA 92625 (949) 760-0331 Hours: 5:00-9:00pm Sunday through Thursday, until 10:00 on Friday and Saturday evenings. www.lawrysonline.com/five-crowns