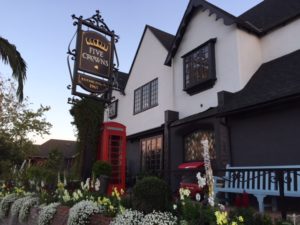 It doesn't even have to be a "special evening" for us to pop in and enjoy both the SideDoor Gastropub and Five Crowns Restaurant. And it is hard to believe that it was 51 years ago when Five Crowns first opened its doors right here along a very desolate stretch of Pacific Coast Highway. And for all the "history buffs" in the room (myself included) I have a bit more historic factoids on this landmark's early beginnings toward the end of this article. It actually dates back to the 1930's!
One really cannot miss seeing the Five Crowns Restaurant as we whiz up and down Pacific Coast Highway. It is an iconic two story, Tudor-style building with a bright red British phone booth standing guard out front. It is on a corner and is home to so many family celebrations, holidays, parties and weddings. A few years back, they decided to transform the bar into the stellar SideDoor Gastropub (and yes, you typically do enter from the side door on Poppy Street under a big red symbol in the shape of an old-fashioned iron key). We are talking about great grub, fine whiskies, craft beers, old-school cocktails, and even some newer ones I have never heard of. They try to keep us guessing I am sure. Lawry's company Vice President and Executive Chef Ryan Wilson is the grandson of one of the Five Crowns' founders, and he had a big hand in developing this concept. He is a wonderful guy, and I always enjoy chatting with him when I happen to see him here in the restaurant. SideDoor has been a complete hit with the millennials, as well as the older "locals" crowd (who I figure just stroll down from one of the "flower streets" as they are aptly named, and just saunter in for a pop). Seating includes an L-shaped bar, a bevy of high-tops, and booths and tables toward the back of the bar area.
SideDoor Gastropub:
Five Crowns Restaurant:
An Evening Out is "Living Like a Local"… We are not exactly "locals" but we do pop in and thoroughly enjoy our evenings here with the Five Crowns family. We typically start at the SideDoor with a cocktail. An Old Fashion and a Cosmo seem appropriate in this setting, and a fine way to kick off the evening. There is no happy hour here, so don't even ask. However, the draft beers and the wines by the glass are a good value. Amber Billiard is what they affectionately call the "Mad Bar Scientist" and she is so much fun to watch working behind the bar! She relishes the history of spirits and enjoys experimenting and making all types of cocktails steeped in folklore from the 1800's —such as absinthe, and other medicinal beverages used "back- in-the-day". For hungry guests, shared appetizers, and even dinner can be enjoyed right here at the SideDoor. There is a Charcuterie table offering hand sliced Chef's Plates with samplers of cow, sheep, goat and bleu cheeses, and a fine selection of Prosciutto, Tartufo, and even Wild Boar. There are also soups, salads, sandwiches, sides and of course delicious desserts. Our absolute favorites include: Avocado Mash served with Pita Chips ($8), the Prime Rib Sandwich served with au jus, horseradish and chips ($18), the Wedge Salad ($12), and the Lobster Bisque soup ($12). I have on my list to try the Vegetable Curry on my next visit. It sounds just delicious!
The Five Crowns dining room is charming—-as though we just stepped into an old-world home that just grew into an inn, and ultimately a restaurant. There are multiple dining rooms with fireplaces aglow, wooden floors and rustic cookware and accoutrements hanging from the mantels. It is very inviting, yet refined. A sense of history abounds. The Greenhouse is an open, airy, romantic room with lots of trees cascading down and fingering the glass roof above. The flickering candles along the ledges create an instantly elegant dining room. And tucked in the back there is a charming patio for celebrations & weddings. Upstairs there are a couple of private rooms, including a Speakeasy for very special private events.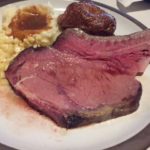 As we settle in for dinner, we are overwhelmed with the plethora of choices that Executive Chef Steven Kling and his team offer us. From fine Seafood, to six different cuts of Steak, Lamb Chops, Jidori Chicken, to Veal Osso Buco and so much more. But alas, it is hard to teach this Irish gal new tricks, and I opt for the Crown Cut Prime Ribs of Beef ($39). Beef is what made this place special and it is hard to resist. This is what made Lawry's famous in 1938, and the preparation has been passed down through many generations. The Prime Rib is served with a Yorkshire pudding, au jus, whipped cream horseradish and a choice of two side dishes— from creamed corn to creamed spinach or mashed potatoes. They have done away with the period costumes for the wait staff, and more recently ceased serving the family-style side dishes tableside. Each entrée is prepared in the kitchen with each guest's personal selection. This actually simplifies the process, and makes it a bit less fussy.
As always, the staff is wonderfully attentive, yet not obtrusive. The cuisine is simply divine, and like usual, I end up taking half of my entrée home to be enjoyed the next day in a make-shift salad. We don't eat desserts but the chocolate soufflé is always a "must order" when are son is with us in the dining room.
There is an attention to detail here at Five Crowns and Jim Colombo, the General Manager, pays attention to it all. Jim brings together the chefs and managers to form "The Culinary Collective" which is a think tank, where they all work together to make sure that every dish is perfect. The service is excellent, and we are always pleased.
A Chef's Tasting Menu… One evening, I had the pleasure of attending a Tasting Menu designed by Chef Kling, and what a pleasure that was to experience! Each of the items was paired with a lovely wine and we had such a great evening. Just to give you an idea of some of the many inventive dishes, here is a sampling of the Tasting Menu. Of course, these items change seasonally. On this special evening our menu included:
*Butternut Squash Soup served with a maple-glazed pancetta & a touch of cream, and paired with MV Roederer Estate, Brut, Anderson Valley
*Mediterranean Sea Bass with Shrimp served with cauliflower florets, caper brown butter, chervil, and paired with Opolo Viognier, Central Coast, 2014
*Vegetable Lasagna with housemade pasta, braised kale, mushrooms, arugula, parmigiana, and paired with Principi di Butera, Nero d'Avola, 2011, Sicilia DOC
*Deckle Steak served with sweet potato coins, haricot vert, herb butter and was paired with Bishop's Peak, Elevation, 2012 Paso Robles
*Gala Apple Crumble for dessert, served with Straus vanilla bean ice cream, and was paired with Alvear 1927 PX Sherry

Refreshing Improvements… And as in any business does, refinements and changes for the better are always in the works. You may have noticed that Five Crowns recently painted the exterior of the Restaurant, and have added some lovely new plantings and greenery in the garden, walkways and patio areas. Next on the docket is new paint in the interior of the restaurant. This will occur over the spring, cascading from one room to the next, and they will be working their way through the entire restaurant. It will be fun to watch the subtle changes. Stay tuned!
And Now For The History Buffs In The Room… In 1904 Corona del Mar was christened "Crown of the Sea." At that time, this small enclave was nearly a two hour drive from any larger city, and large stretches of Orange County were completely undeveloped. Keep in mind, the Pacific Coast Highway did not continue from Newport to Huntington Beach until 1926. Matilda MacCulloch had purchased land here in CdM, and began building a replica of an English inn, and named her establishment Ye Olde Bell (and later The Hurley Bell). This was in honor of the inspiration of an inn called Ye Olde Bell located at Hurley-on-Thames in England. The construction was completed in 1936. She and her daughter lived in the house for four years, and then it was converted to a restaurant, an inn, and in the 1940s, it became a popular hideaway for celebrities. After Matilda's passing in 1948, her daughter Marguerite ran the Inn for years, however it became burdensome, and in the early 1960's, she really wanted to sell The Hurley Bell.
Meanwhile, in Los Angeles, on Restaurant Row, Lawrence L. Frank (an entrepreneur of the day) had transplanted from Milwaukee. A baker by trade, he and his brother-in-law (Walter Van de Kamp) began opening restaurants. First there was the Tam O'Shanter Inn, and next came Lawry's The Prime Rib (a derivation of Lawrence's name). It opened in 1938 and became an overnight hit. By 1963, they had four restaurants and Lawry's was celebrating 25 years. Son Richard N. Frank was president of the family's businesses. When time came for the next restaurant, only a truly unique structure would do. With Richard's love of English countryside, The Hurley Bell seemed the perfect match. Walter Van de Kamp suggested the name Five Crowns because the new restaurant would be their fifth, "and each was a jewel in our crown." Richard said, "I agreed, although it was a disappointment. Even after all these years, I still think The Bell and Crown would have been a better name." But the name stuck and the rest is history, as they say!
Five Crowns was one of the first truly "themed" restaurants, from the Tudor-style building, to uniforms, pewter plates, and an authentic English menu. On April 14, 1965, Five Crowns opened its doors. They are now celebrating their 51st anniversary! Can you imagine?
Over the years, my family has enjoyed many very special dinners and celebrations in the dining room. Five Crowns will always hold a special place in my heart. It was our Mother's favorite spot, and she has since passed away. A Christmas did not go by that we did not have her down there to enjoy the Caroler's. I feel like I am truly coming home when I dine here. Don't miss the chance to enjoy the heritage and enjoy the new, as Five Crowns evolves, and reveals yet another layer of warmth, hospitality and delicious cuisine. Dine well!
Upcoming Events:
Bourbon (Kentucky) Derby Party Saturday, May 07, 2016 from 1:30-4:00pm Come view the Kentucky Derby while sipping traditional bourbon pours! We'll help you cheer on your rider with mint juleps and five courses of delicious bites. Make Your Reservations: 949.7600331 We'll proudly be pouring: Lexington Bourbon (Mint julep welcome cocktail), Woodford Reserve Derby, Colonel Taylor Jr, Cured Oak Bourbon, Michter's 10yr Bourbon, Four Roses Limited Edition- 2015, Small Batch and Calumet Farm Bourbon. $100 per guest, plus tax and gratuity
Mother's Day- Sunday, May 8, 2016 Don't forget to make your reservation for this special evening.
Beer Garden Event- May 22, 2016 Watch for more details on this fun patio event!
Five Crowns 949.760.0331 3801 East Coast Highway, Corona del Mar, CA 92625 Visit their web site: www.lawrysonline.com/five-crowns Hours: Mon-Thurs & Sun: 5:00 – 9:00 pm & Fri – Sat: 5:00 – 10:00 pm