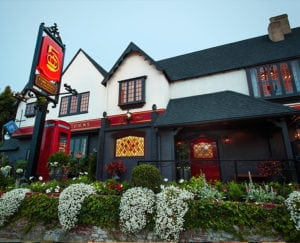 A special occasion calls for a special place. Don't you think? So…when we recently celebrated our 20th Wedding Anniversary (glup), we went to SideDoor and Five Crowns in Corona del Mar. I have a list of new spots to try, however we wanted something special, that we know well, and never disappoints. Enter Five Crowns.
It was a stellar evening. We started in their gastropub SideDoor which is a favorite of ours. We pretend we are in England or some cozy European bar. I love a smoky bourbon drink now and again, and Michelle one of the bartenders has created a fancy new one. It is called "Smells Like Rich Mahongany". It is made with Woodford Reserve rye whiskey, Averna amaro & crème de cacao. It is served on wood smoke & handcut ice. I add an orange slice—just sayin. It is delicious!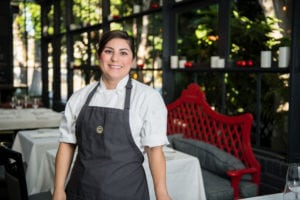 Then we sauntered into the dining room for dinner at Five Crowns. We were greeted by the incredibly gracious GM Kenyon Paar with a cheerful welcome and a champagne toast soon followed. And what fun to meet the chef tableside (who arrived last October). Meet Alejandra Padilla who was "Chopped" Season Six winner among many other accolades with that "steakhouse finesse". She's a pro and is the first female Executive Chef since Lawry's took the reins here in 1965. Cue the tiara… Everything was delicious, as you will see from my photos below and the service was impeccable, as always. The Chef introduced us to her amazing Smoked Octopus Salad with meyer lemon yogurt, spring peas and picked red onions. It was incredible with a slightly warm smoky flavor and the coolness of the tossed salad paired perfectly. This is a "must order" if available on the menu (and also frequently offered on the SideDoor menu)!
Meet Chef Alejandra Padilla!
Photo Credit: AnneWatsonPhoto.com
As I perused the offerings I noticed Chef Alejandra has refined the menu with some great additions—dishes that Peter and I would just love to pieces. We decided to come back in a week or so to try one of these: the Beef Wellington, Seared Salmon, Coffee-rubbed Short Rib with grilled leeks, Grilled Porkchop or perhaps the Rack of Lamb? Actually I have my eye on the Sea Scallops. I admit, it's hard to peel me away from the classic Prime Rib…. but next time we are going to share the Prime Rib and one if these newer options. See…creative ordering is in action! Or is it creative negotiation? After 20 years, I think we know the answer to that question.
Here is a description of our delicious cadre for the evening: Smoked Octopus (described above), the Pride of Crowns Salad with butter lettuce, bacon, toasted walnuts, gruyere and a herbs de Provence dressing, and the Crown Cut Prime Ribs of Beef with creamed corn, creamed spinach and Yorkshire pudding and the whipped cream of horseradish. For dessert we were presented with a delicious trifle with fresh strawberries.
Upcoming Monthly Cheese Events at SideDoor: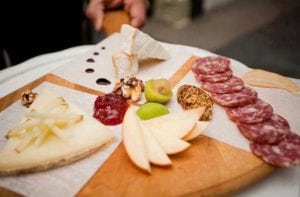 SideDoor is pleased to continue their popular monthly Cheese Takeovers through the spring and summer season. The third Wednesday of each month showcases a select portfolio of artisanal cheeses from various boutique creameries while featured cheeses find their way into select SideDoor menu items for that evening only. Tracy Nelsen, SideDoor's own certified cheese monger, will be on hand at each takeover to educate guests on the various cheeses presented. A different creamery is showcased monthly, culminating with the Ultimate Cheese & Charcuterie Backyard Party in July. They event will highlight all creameries featured in the series which began in February, 2018.
Here is the schedule for Spring/Summer:
-Wednesday, May 16 – Small California Creameries & Beer Pairing- Cheeses include: Pedrozo (Orland), Valley Ford (Sonoma Coast), Cowgirl Creamery (Petaluma), Stepladder (Cambria), Tomales Farmstead (Tomales), Bleating Heart (Tomales), Penny Royal Farm (Anderson Valley), Nicolau Farms (Modesto), Drake's Family (Ontario) , Point Reyes Farmstead (Point Reyes Station) and Vintage Cheese Co. (Traver).
-Wednesday, June 20 – Small Spanish Creameries
-Wednesday, July 18 – Ultimate Cheese & Charcuterie Backyard Party featuring all spring / summer creameries & beer pairings.
Creamery Takeovers at SideDoor: 4:30 p.m. until we run out of cheese with a
5-piece cheese board: $28.
Ultimate Cheese & Charcuterie Backyard Party: (Greenhouse, Patio and Garden) 5:30 – 8:30 p.m. Ultimate Cheese & Charcuterie Backyard Party ticket: $55 per person. Ticket includes unlimited samplings of all featured cheeses and charcuterie plus a complementary glass of Cava. To purchase tickets for the Ultimate Cheese & Charcuterie Backyard Party, please visit https://www.eventbrite.com/e/july-cheese-party-tickets-45950148130 .
Five Crowns
3801 East Coast Hwy, Corona Del Mar, CA
(949) 760-0331
Web Site: www.lawrysonline.com/five-crowns