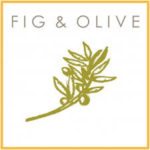 Fig & Olive is a French-Riviera styled enclave right here in Newport Beach. It is elegant, refined, with hints of inspiration from its Southern California location. With five separate dining areas, and ceilings as tall as can be, it is spacious and welcoming. Natural stonework, wood and hues of cream and white create the canvas for this luxurious hottie. And all the "beautiful people" can be found right here—especially in the evening. It is a place for fashion, a spot to see, and definitely to be seen. It is a scene.
The restaurant is unlike any other in the area, and guests have a plethora of choices of where to dine. On a recent media tasting, I had the pleasure to enjoy dinner on the Garden Terrace as the Executive Chef presented the new "summer menu" to the group. The Garden Terrace is adjacent to the lounge area, and is my favorite for dining.  With wooden beams, fireplace algow, a glass wall overlooking a garden of trees, and a canopy above, it is just a dreamy indoor/outdoor space.
Our lovely tasting began with densely sliced bread, and three different olive oils. The spicy one with a bite to the finish was my favorite. The Summer Menus ($19-$39) are inspired by the French Riviera's "Cuisine of the Sun" and showcases produce from local farms including: Kenter Canyon, Weiser, Babe and Mary's Farm.
The Tasting-
The Chef began with a melody of Crostini that were so colorful they were dancing on the surface, as they arrived atop the white rectangular plates. The selections included: pea, asparagus, ricotta lemon thyme crostini, which was so light and very refreshing. A crab crostini with heirloom tomato, and a zucchini puree, was presented as well as a pata negra (Spanish ham from Jabugo) with crushed tomato and smoked salt. All were light and flavorful, welcoming the start of good things to come. What a wonderful way to sample so many intoxicating flavors and textures!(My favorite crostini is the cured salmon with cucumber yogurt dill, and I see that is still on the menu.)
Next, we were presented with three appetizers. We smartly chose to each order a different item so we could taste them all and share. Just perfect for the warm days of summer we enjoyed:
-A cold Gazpacho Soup with Ayala goat cheese, fig, bell pepper, cucumber, red onion, basil, sherry, vinegar and basil olive oil. It was light and refreshing and the pepper was not over-powering.
–Burrata and Heirloom Tomato Caprese with fig and basil, 18 year old balsamic vinegar, and basil green olive oil. Colorful and full of flavor.
–Crab and Heirloom Tomato jumbo lump crab, heirloom cherry tomato, garlic, cilantro, shallots, harissa, avocado basil tapenade and Cobrancosa Olive Oil.
The main courses soon arrived with lots of oooh's and ahhh's as each plate seemed to be a work of art. This included:
–Riviera Salmon with grilled asparagus, braised fennel, and pea purée with Koroneiki olive oil, lemon zest, and basil infused olive oil. The pan seared crust was golden brown and perfect.
–Fig & Gorgonzola Risotto with Arborio rice, mascarpone, parmesan, and a fig balsamic glaze.
–Rosemary Lamb Chops grilled with a bouquet of Herbs de Provence, grilled polenta, roasted bell pepper and jalapeno with braised eggplant and rosemary garlic olive oil. The eggplant was slightly caramelized and really stole the show.
And for dessert, we enjoyed a choice of ice cream or panna cotta. Who can resist either?
–Panna Cotta a la' Orange– Orange Panna Cotta with cookie crumble with strawberry & basil jam and orange sorbet.
–Lavender Crème Brûlée with lavender ice cream, thyme, and shortbread with honey.
What Guests Can Expect This Summer
Well,  above is a selection of items that we tasted and thoroughly enjoyed.  The restaurant selects the best olive oils and cuisine from the French Riviera coastal regions and Southern California.  Approximately 12 different olive oils are hand selected and let those flavors carry the taste. They do not use any butter or cream in the dishes (except for a few of the desserts).  The menu features endless small plates, antipasti, carpaccio, and cured meats. They also have homemade pasta and risotto, fish and a raw seafood bar, poultry, meats and three tableside for two shared entrees, including a Chateaubriand, my personal favorite.
Meet the Chef- Frederic Guerin- Executive Chef, FIG & OLIVE
A classically trained chef, Frederic Guerin joins the FIG & OLIVE team with over ten years of cooking in Michelin starred and luxury restaurants. He began his culinary career at the Michelin starred Abbaye de Sainte Croix in Provence and continued to refine his skills in renowned French kitchens such as Lucas Carton in Paris (Relais & Chateaux, three Michelin stars), La Ferme de Mon Pere in Megeve (Relais & Chateaux, three Michelin stars), and with Jerome Nutile (two Michelin stars). In 2009, Guerin made his stateside debut at New York's The Oak Room at The Plaza Hotel. Growing up around farms and markets, he enjoys sourcing and cooking with the highest quality of ingredients.
Brunch is Served On The Weekends
On both Saturdays and Sundays guests can enjoy a buffet-style meal on the terrace for ($24) from 11:00am to 3:00pm. Families will receive one complimentary kids' meal per each weekend buffet reservation (excluding holidays of course).
Once A Month on Sunday's from 2:00pm – 6:00pm FIG & OLIVE Newport Beach will feature a monthly event series, "Sunday Rendez-vous" in collaboration with Veuve Clicquot for an afternoon of bubbly and bites. Guesets will be greeted by the sounds of St. Tropez with DJ Thomas Toccafondi on the terrace. Veuve Clicquot will capture the afternoon of festivities with a themed photo booth and offer party favors to lounging guests as they enjoy a midday getaway of champagne and cocktails. (The next one will be held on Sunday, July 12th.) Guests can also enjoy dishes from FIG & OLIVE's regular brunch and cocktail menu or explore new flavors with the Rivera Brunch Buffet ($24) on the terrace is available until 4:00pm, featuring endless selections of: Granola and fresh fruit, Eggs (any style), Quiche, Mini Fig Tartlet, Tomato Burrata Caprese and select salads, Carpaccio, Charcuteries, and Cheeses, and Apple Tart. Reservations are recommended.
And as I had mentioned,  there are five other dining options, and here is a brief overview…
The Lounge- As you enter the Restaurant there are friendly hostesses to greet you. To the left is the "wall of olive oils" which highlights their coveted key ingredient. Ahead is what is referred to as the Lounge area. During the early evening it is filled with guests balancing cocktails on low tables and strewn across billowing comfy arm chairs and couches.  The Main Dining Room– A creative backdrop to this dining area is the pass-through of glass for a sneak-peek into the kitchen and a second Wall of Oil above. This room is punctuated by two beautiful fichus trees with five semi-circular booths—making quite a dramatic statement in the center of this space. Comfortable seating abounds with high ceilings adorned with lightly stained wooden beams. (This is my second favorite space.) The White Room- Aptly named, this room is all white with accents of black, large paned windows and carriage-style chandeliers. It is spacious and often used for large events and specialty dinners. The Wine Room– This dining area rests just behind the bar, and the space is defined by tall planters of greenery. There is wonderful light in this room and the buzz of the bar must make for some great people-watching in the evenings. During the daytime I see busy executives on tablets, sneaking in some work and emails while enjoying lunch. The Bar- This horse-shoe bar is chock full of every type of liquor and wine imaginable. The bar seating is excellent, with tall backs, a bar for ones feet and upholstered leather. I could get quite comfortable on one of those bar stools. Quite comfortable indeed. The bar staff are very friendly and helpful.
Enjoy this French Riviera meets Newport Beach enclave of delicious fun this summer. For private parties, a girlfriend lunch or romantic dinner, this spot is the place to be seen and enjoy the good life. Dine well….
Fig & Olive
151  Newport Center Drive
Newport  Beach, CA  92660
949-877-3005
www.Figand olive.com
Lunch: 11:00am to 4:00pm Monday – Sunday
Brunch: 11:00am to 4:00pm Saturday and Sunday
Dinner: 5:00pm to 11:00pm Monday – Sunday