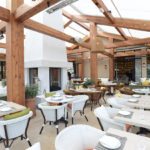 FIG & OLIVE Newport Beach hosted an incredible media event which was perfectly executed by Ali Stanley, Meghan Patke and Emilia Fonda of Wagstaff/LA. In keeping with the restaurant's 10 year Anniversary, they are celebrating a milestone of 8 restaurants now online, with Washington DC the most recent addition. They also unveiled the launch of an exceptional new cookbook, FIG & OLIVE: The Cuisine of the French Riviera. This is in collaboration with renowned publishing house Assouline.
Some may say, "Oh my, another cookbook?" But let me share just five of many reasons why this is a "yes please" in my book…
1) The cookbook is large-format, printed beautifully and spiral bound. My favorite, as is lays flat!
2) The photography is exquisite. It is "eat the page eye candy" to be sure.
3) The foundation of the recipes are rooted in seasonal ingredients from the charming coastal town of Mougins, located in the South of France. Founder Laurent Halasz and his mother Francine bring their heritage for "local market shopping" combined with a passion for cuisine of the sun to this pager-turner of a book.
4) They use a signature selection of olive oils to infuse flavor….in lieu of butter and cream. Recipes are simple, yet rich in flavor. I am flagging some that have caught my eye and I look forward to experimenting. With shopping list in hand, my guests are in for a real treat this holiday season!
5) It's French. And I love all things from "traditional" France.
And about our Dinner On The Riviera…Passed hors d'oeuvres and cocktails in the elegant Garden Terrace setting captured the playful buzz in the room. What a perfect start to the evening. A dual-sided fireplace anchored a commanding center-stage as guests huddled about. It was the epitome of that SoCal ambience we have come to know and love. We were then escorted through the dining room to The White Room, which is one of my favorites of their private dining rooms here at FIG & OLIVE. Each table was adorned with white roses and miniature green hydrangeas. The flower arrangements were worthy of a premier wedding.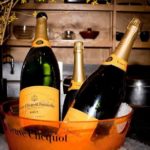 Laurent Halasz welcomed the "in awe" audience with a toast of Veuve Clicquot Champagne from Reims, France. The first course was a delicious Chestnut & Butternut Squash Soup served table side for added drama. The Grenache/Syrah blend from Côtes de Provence stole the show in the wine category. The second course was en Papillote (in parchment paper) and unwrapping this delicate gift revealed perfectly cooked Sea Scallops with Citrus & Chives. Thoughts of the sea came to mind, as we nibbled and sipped a lovely Vermentino also from Côtes de Provence. Third, the entrée, was a Roasted Veal Filet Mignon with Rosemary and Braised Endive. Cooked to perfection and rich in flavors, this was a prize to be enjoyed slowly. This was paired with a Garnacha from Rioja, Spain. Rarely do I consume desserts, but this could not be sent away. Excusing it as a fruit (in my mind), this was truly delish! A Poached Pear prepared in spiced Orange Juice. Sliced lengthwise, with a hint of light whipped mascarpone, it was almost too pretty to eat. But not quite! Each course was paired with sublime wines from France and Spain.
And with this special gift of a cookbook in hand, this grateful home cook is on my way to replicating, as best I can, these fascinating, yet simple, French countryside dishes. What a perfect gift for the holidays! www.figandolive.com