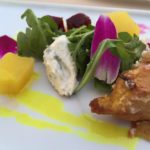 So about the other night… We attended an "over the top" Winemaker dinner at Savannah Chophouse in Laguna Niguel. Executive Chef Chris Tzorin outdid himself, with a jaw-dropping menu. Each course was perfectly paired and his sauces are always so rich and flavorful. I find myself closing my eyes to list the spices and refined nuisances in my head.
General Manager Philip Roberson is just the perfect host of the evening. As always he is welcoming and sets the tone for a lovely evening. The setting was out on the patio with peek-a-boo views of the hillside and Pacific Ocean at a distance. As the sun set and the fingernail moon rose, it was indeed a lovely exclamation point that tonight was going to be special. And indeed it was.
One of our favorite Waiters and Wine Steward Michael was on-hand to offer exceptional insights as always about each wine as it was served and tasted. We missed Sandy this evening but know we will see her again very soon in the restaurant. We were also welcomed by Carrie McCracken who is the SoCal District Sales Manager and just a pleasure. (She also does private winetasting parties so consider that in your upcoming holiday mix of party fun.) Raymond has a really fun looking winery and we are putting this at the top of our list for our next visit to Napa. And for us, I drink more Chardonnay and my husband enjoys more Cabs. In this case we loved the Chardonnay and to our surprise, the Merlot stole the show. Needless to say we purchased some bottles to take home.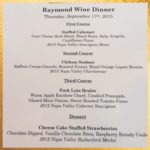 The evening was designed as a four-course extravaganza, as well as welcome tray-passed hor d'ouveres. Wines were paired with each one for a reasonable $75 per person. As we gathered, the tray passed appetizers were delicious and a wonderful start to the evening as we sipped the light and crisp Sauvignon Blanc. It was a lovely way for the wait staff and Carrie to meet everyone. There were dainty ceramic spoons filled with tiny cubed ahi tuna and cucumber in a delicious soy dressing, as well as cubed salmon with dill, lightly tossed in olive oil. The rectangular finger sandwiches were brushed with horseradish and topped with slow-roasted shredded short rib beef. All were delicious and small bites were a surprise beginning. We were off to a wonderful start. And as table-mates joined the party, the conversation was light and interesting—-as we laughed and shared our travel stories and updates on kids.
Let's take a tour of the menu and the pictures will be worth a thousand words as well…
First Course- Stuffed Calamari- This was almost too pretty to eat. Almost! The Calamari is stuffed with a goat cheese and herb mixture, and then was deep fried. This was served atop a red and golden medley of mixed beets, baby arugula salad with delicate eatable flowers, and drizzled with a Cauliflower Puree. The sauce was truly amazing. Wine Pairing: 2013 Napa Valley Raymond Sauvignon Blanc
Second Course- Chilean Seabass– Served on a square white plate the colorful array was the perfect accent to this delicate fish. The saffron cream gnocchi stole the show, with such a complex flavor profile I was in heaven. There were roasted fennel, blood orange liquor berries and the Seabass was cooked to perfection. The wine was a Reserve blend and a step above the Estate wine. I could really taste the difference offering the perfect balance. It was a blend of 60% from stainless steel and 40% from oak barrels. It was amazing! Wine Pairing: 2013 Napa Valley Raymond Chardonnay
Third Course- Pork Loin Brulee- This dish was full of surprises. Picture warm apple rainbow chard, and candied pineapple married with sweet glazed Maui onions. The Pork Loin sat atop this, with an ample side, and swish, of rich a sweet roasted tomato puree. This paired perfectly with the Cab. Wine Pairing: 2012 Napa Valley Raymond Cabernet Sauvignon
Fourth Course- Cheesecake Stuffed Strawberries- A duo of chocolate dipped strawberries were sprinkled with vanilla and chocolate bites, and served with a Raspberry Brandy Coulee. I would not think to pair this dessert with a Merlot, however it was delicious. Carrie also brought some Apple Ice Wine for tasting from another label shared by the parent company Boisset. Wine Pairing: 2012 Napa Valley Raymond Rutherford Merlot
About Raymond…. here is a fun factiod…. The Director of Winemaking is a chick! And a very, very accomplished one at that. As many know, Raymond Vineyards is part of the Boisset Family Estates collection of 27 wineries, and according to Jean-Charles Boisset, the president of Boisset Family Estates, has stated, "Stephanie understands the crucial role Raymond Vineyards has played in Napa Valley's history. We are thrilled to have her join our mission to build on the winery's rich family heritage and pioneering spirit as we continue the Raymond Vineyards' legacy."
Before joining the Boisset Family Estates team, Putnam spent eight years as winemaker at Far Niente Winery where she contemporized their house style. Prior to Far Niente, she was part of the team at Hess Collection, where she began as a cellar worker and rapidly progressed to winemaker. While at Hess Collection, Putnam also worked with the winery's South American partners. Throughout her tenure at these highly acclaimed Napa Valley estates, Putnam has focused on producing high quality Cabernet Sauvignon and Chardonnay. Her wines have won acclaim, including recognition in the Wine Spectator's Top 100, the Wine Enthusiast's Top 100, and being named The Wine News Cabernet of the Year.
The next wine dinner with be held on October 15th at 6:00pm and will be a four course dinner for $89 per person. The menu will of course include wine pairings or all four courses including: lobster cake, quail and wild flower mixed garden salad, buffalo short ribs, and a pumpkin pie disaster. Book it Danno!
Savannah Chophouse 32441 Golden Lantern Laguna Niguel, CA 92677 (949) 493-7107  www.savannahchophouse.net A fabulous happy hour is served daily from 4:00-7:00pm