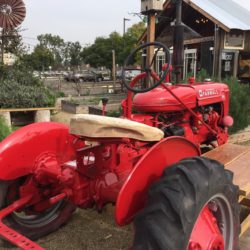 On the menu today was a delicious combination of Soup, a Steak Baguette Sandwich with Coleslaw, and a mouth-watering strawberry biscuit shortcake for dessert.
Spinach Soup As Pascal described it, which was hard to believe, this creamy Spinach Soup did not contain any cream. The richness was rendered with the diced potatoes and onions—all pureed. Add some finely cubed bacon and yes, we were in heaven.
Steak Sandwich and Coleslaw Salad
Steak Sandwich
-A custom made Baguette (made by OC Bread Company/Dean Kim)
-Lettuce
-Handmade Butter and Seasoning Spread (see notes below)
-Flat Iron Prime Steak grilled
Coleslaw Salad
-Coleslaw cabbage is cut very thin.
-Cilantro and garlic is puréed w/olive oil to make a dressing
-Shaved carrots are added for color
-Cucumber would also be a nice addition
Strawberry Shortcake Dessert
-Sliced fresh strawberries
-Biscuit – cut in half
-Pastry cream and whipped cream for the piped filling (50/50 ratio)
-Jam diluted for glaze on top
-Mint leaf garnish
Notes for Herb Butter-
-Container of room temp compound butter
-Add desired items, for example: Shallots, Chives, Tarragon , black pepper, garlic
-Add goat cheese or blue cheese (or another cheese)
-Place on parchment paper and roll into a cylinder
-Place in Saran Wrap and in refrigerate for up to 4-5 days. OR can place in freezer. -Can cut like silver dollars and place on grilled steak or in pasta dishes