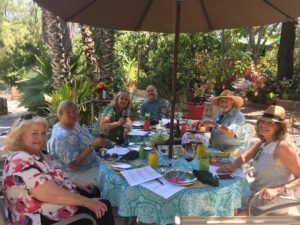 On a recent summer Sunday afternoon, I found myself transported to a lush, tropical garden. The shimmering pool and greenery welcomed us with open arms. I was in for a big treat as a newbie guest—- joining the Wine Council for their summertime gathering. Exploring fine wines, paired with delicious cuisine and of course, wonderful company—what's not to like about that line up!
Robin and Marc Simpson were our incredible hosts. And we all know how much work that is to have company and be cooking too! They are pros at this and had everything all set up and ready to go. Ahead of time, Robin had the wines delivered and assignments were given for wine and food pairings for each attendee. Game on! And as each person arrived with bowls and platters in hand, we were all ready to rock and roll San Diego style.
For this Sunday afternoon, the Wine Council was exploring 7 different Petite Sirah wines. And with a bevy of home cooks, we knew we were in for a fun discovery of food pairings and wine tastings. And these wine aficionados are serious and thoughtful about their reviews. Pencils up…here are the highlights from our exploration…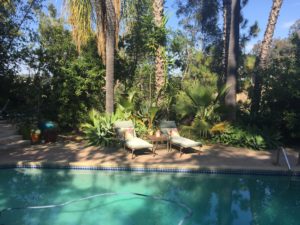 If you are like me, you are saying to yourself—Sirah-Syrah-Shiraz, what on earth is the difference? Well, good question so let me briefly explain… Petite Sirah was first introduced in the mid-1800's. It is exceptionally rare and less than 10,000 planted acres worldwide (however now mostly in CA). The hallmark is the deep color, full-bodied flavors of blueberry, chocolate, plums and black pepper. It is a cross between Syrah and Peloursin (found in the French Alps of all places). The Sirah grape is often called Durif and is from the Rhone Region. Botanist François Durif found his Pelousin had pollinated his Syrah. Now Syrah and Shiraz are the exact same grape. The French call the grape Syrah (Sih-Rah), while the Auzzie's call it Shiraz (sheer-a-zz). Well that makes that part easy!
For today's festivities, the wines were generously donated by Jo Diaz of PS I Love You, a Petite Sirah advocacy organization (www.psiloveyou.org). Here is a sneak peek at some of our "tasting notes" for both the wine and food pairings.
Parducci, 2013 Small Lot-Mendocino County $15 We have friends who live in Mendocino which has small patches of sun, moist days and cool nights. The deep ruby color was lovely. The scent of berries and a strong chocolate to the nose was inviting. Spicy rich fruit flavors, yet dry on the finish was the consensus of this tasting. The winery dates back to 1932 and the wine was aged 18 months in 25% in new French Oak and 75% in seasoned oak barrels. The wine was paired with baked bacon wrapped dates and a Hoisin dipping sauce, which I gladly brought.
Rock Wall, 2012 Le Mur de Roche Reserve- Carver Sutro Vineyard-Napa Valley $60 This wine was the most expensive at $60 a bottle, and was also the group's favorite. This winery dates back to 1902 and was originally planted for a wedding. This wine is aged for 42 months in 100% French oak barrels. This is a non-acidic wine which I prefer. The wine exhibited hints of: blackberry liqueur, creme brûlée, orange zest and coconut cream pie. This was paired with a lovely Duck Pate. I could also see this wine complemented by a grilled pork or ribs too!
Parducci, Reserve 2014, Mendocino $20 Wine & Spirits Magazine gave this 92 points and Wine Enthusiast gave it a 91. With a hearty aroma of ripe and fried vanilla, this was followed by rich fruits, black tea, and dark chocolate. This was a very well-balanced wine, yet was obviously "younger" than the $60 Parducci reviewed earlier. This wine was paired with a colorful hand-cut fruit salad. The wine stood up nicely to the fruit and we found this a refreshing combination for the sunny afternoon. It is suggested to drink this wine after 2020, per Wine Enthusiast, so three years—-tick tock.
Hart Vineyard, 2014 Petit Sirah Brookside Vineyard, Temecula $38 This wine has won numerous awards which is quite impressive for a Temecula wine. With intense deep color, it was bursting with flavor and hearty tannins. It was very well-balanced. The winemaker has blended with a touch of 2013 Temecula Zin—as a nod to the old time field blends. This paired beautifully with the BBQ ribs. These make the perfect welcome to summer and had my mind racing about more grilling menus. The wine was robust enough to complement the beef and it was delicious, garnering a second place by the consensus.
Rock Wall Wine Company, 2014 Jack's Dry Creek, Sonoma $35 The bouquet was fruity— reminding us of ripe raspberries and blackberries, followed by flavors of plum (and some commented pink cotton candy, although that is not the profile I ascertained). This was paired with raspberry and blackberry crostata and it was the perfect complement. We also commented this wine could stand up nicely to another end of the spectrum— that being a curry chicken or curried potato salad. A very versatile wine indeed.
Merisi Wines, 2014, Diener Vineyard-Lake County $35 The Lake County is nearby Santa Rosa with hot days and cool nights. I did not taste the "fruity cherry and vanilla" profile mentioned in the tasting notes. For me, it was light on fruit, very dry and fell flat on the finish. This was paired with Marc's delicious meatloaf and grilled fried green tomatoes. His dish was sublime.
Bogle, 2015 Clarksburg and Lodi $9 The wine was dark in color to the eye, as we swirled our glasses. The flavor profile was light and less fruity than some of the others presented. The tasting notes cited "fruit and spice with wasps of caramel and vanilla". Perhaps if aged a bit longer, I am not sure. It was aged in American Oak for 12 months. This was paired with a robust potato salad. The crunch of the celery and the spices married well with the potatoes. The wine was overwhelmed a bit as the wine was quite light in density.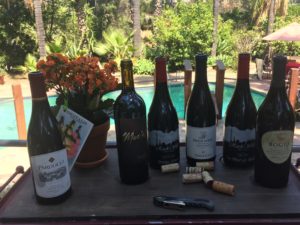 | | | | |
| --- | --- | --- | --- |
| Petite Sirah Wines | Retail Price | My Vote Ranking | Group Vote Ranking |
| Parducci Reserve 2014 | $20 | 1 | 3 |
| Rockwall Le Mur | $60 | 2 | 1 |
| Hart | $38 | 3 | 2 |
| | | | |
| Rock Wall- Jack's | $35 | 4 | 4 |
| Parducci Small Lot 2013 | $15 | 5 | 5 |
| | | | |
| Merisi | $35 | 6 | 6 |
| Bogle | $9 | 7 | 7 |
For me this was a wonderful introduction to an interesting new variety of wine and one that can stand up to my love of reds with a "fruit forward" sensibility. This exploration also reinforced the fact that price is not always the determining factor that drives our preferences. I think I will track down the Parducci Reserve 2014 from Mendocino and park them in my humble wine cellar for three or four summers.
A special thank you goes to Robin and Marc Simpson for hosting this event at their lovely home. Another big thank you goes to all the participants who brought their "A" game with delicious food pairings and especially to Jo Diaz who provided us with the wines for this great exploration. www.psiloveyou.org
@joDiaz
@winecouncil
@ifwtwa
@PsILoveYou