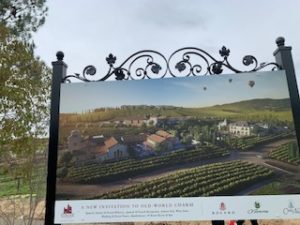 Joining fellow writers (and friends) for a quick visit to Temecula, it was such a pleasure to visit Europa Village. And who does not enjoy a sneak peek at a brand new (still under construction) project? Well, thanks to our knowing some of the Europa Ambassadors we were able to take a "behind the scenes" hard-hat tour of the Bolero Village with Chad who did a splendid job of educating us about the project. This will be opening in April, 2020 and is going to be a spectacular addition to the Wine Trail and the town for that matter. The theme is Spanish, so that means…Spanish-style wines in the Tasting Room, tapas and paella in the restaurant and bar, ten Casitas for romantic overnight stays with secluded patios, a private Members Only Tasting Room and large patios at ever turn with cozy fireplaces. There is an elegant flair and attention to detail here—beautiful pavers, tile work and carved wood columns.  (This visit and tour was hosted.)
And what is next? There are two more villages planned…Italian (Vienza) and French (C'est La Vie). And a 40 room hotel will be built way up on the top of the hill, overlooking the vineyards and villages below.
It is an incredibly creative, ambitious and exciting project. A welcome addition to this Valley. I can't wait to return and enjoy seeing it completed and revealed for us all to enjoy.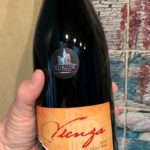 Tip: And in the meantime…please enjoy, as I did, their 2016 Barbera Estate Wine. It is delicious!
See more updates and a video on Bolero here:  www.EuropaVillage.com