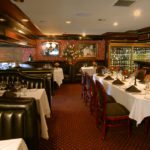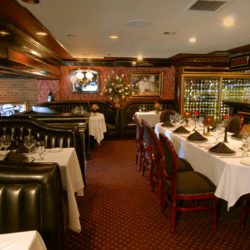 A Georgous Spot for Stellar Classic Cuisine We dine here often and have enjoyed wine dinners and Christmas Eve as well. This year, guests can enjoy Thanksgiving Dinner right here from 1:00-8:00pm and below I have the entire menu for your review. (I will update with the Christmas Eve menu when that gets closer on the calendar.)
When we climb the short flight of stairs, we see an elegant dining room before us. It is elevated ever-so-slightly to enjoy commanding views of the sea. It is truly breathtaking. The dining room features a showcase of large picture windows that gaze out to the boardwalk, beach and beautiful ocean beyond. The half-round black leather booths face the windows, so no one misses a sunset. Crisp white tablecloths and dainty lamps are at attention and the Wait Staff are attending to every detail. They do not miss a thing—super attentive, yet subtle. I like white tablecloths. I like waiters in tuxedos who take good care of me. There I said it! I want great food and attentive service. I want THIS.
This is a classic "steak and seafood" restaurant. The choices are so plentiful I actually have a hard time deciding what to order. My favorites are Crab Cakes for appetizer, or the delicious Lobster Bisque, for main courses, my favorite is the Filet Oscar with a perfectly prepared Bearnaise sauce. Their famous Chocolate or Grand Marnier Souffle is perfect if you enjoy a sweet ending. Readers can also read about an amazing Rombauer Wine Dinner we recently attended here as well.
http://tastesandtravel.com/2017/05/a-great-pairing-rombauer-wine-dinner-at-21-oceanfront/
"We offer the world's best classic cuisine, yet we are at the beach, so we always want to remain approachable—a neighborhood favorite in every way!"
Miroslav Rusev, Executive Chef
Thanksgiving Menu for Thursday, November 23rd, 2017-
And for those who may not be a big fan of turkey, Chef Miro has some great alternatives!
First Course, Choice of:
-Winter Salad with Cranberries, Goat Cheese, Candied Pecans
-Traditional Caesar Salad
-New England Clam Chowder
-Spiced Pumpkin Soup
Entrée, Choice of:
-Herb Roasted Free Range Turkey, Stuffing, Gravy, Sautéed Green Beans, Cranberry Sauce, Mashed Potatoes, Sweet Potatoes
-Prime Flat Iron Steak, Garlic Mashed Potatoes, Seasonal Vegetables
-Linguini with Jumbo Shrimp, Savory Herb Sauce
-Grilled Salmon, Lemon Dill Sauce, Seasonal VegetablesStuffed Portobello Mushroom, Quinoa, Spinach, Asparagus
Dessert, Choice of:
-Pumpkin Pie, Chocolate Chip Pecan Pie, or Warm Apple Tart
The cost is $65 per person, and a children's menu is also available for $20 each for children (ages 2-10). Note: tax and gratuity is not included in this pricing. Reservations are available from 1:00 pm to 8:00 pm. Call (949) 673-2100. A credit card will be required for all holiday reservations.
Historic Restaurant And Their Fun Facts
21 Oceanfront is tucked into the first floor of the historic McFadden Building, with an Inn on the upper floors. This iconic building was built in the late 1890's by landowner brothers James and Robert McFadden. The original McFadden Wharf was completed in the winter of 1888-1889, and connected the transport of goods from incoming boats to the railroad and then inland to Orange, San Bernardino and Riverside. This lasted until 1907 when San Pedro was built. At one time, the upstairs rooms were used to house the railroad workers. The Pacific Electric, also known as the Red Car system, used to pass right along the street—on its route to the end of the line at the Balboa Pavilion. At the base of the pier is the Dory Fishing Fleet, a beachside fishing cooperative founded in 1891. The fishermen used to place their boats on rollers and ride up on the beach with umbrellas to sell their fish. Later a dock was erected, and still today, at 5:30am fishermen arrive with their catch for sale. The Doryman's Inn Hotel above features ten elegant guestrooms (many with patios) and featuring Victorian décor.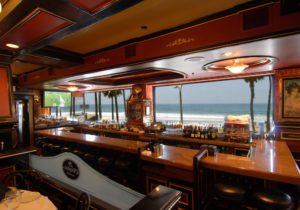 21 Oceanfront has enjoyed many restaurant facades—-from Red Car, to Rex's, Alley West and The Ritz—but it has been "21 Oceanfront" for as many years as I can remember. The Alley West Bar is a lovely spot to watch the sun set and sit down with our favorite bartender Ryan. The Happy Hour is great, and if we are hungry we can even dine at the bar. One cannot beat the view, and as the sun sets the live music starts and is there nightly (except during Monday night football). I think, hands down, this is the most romantic restaurant in town. It has everything I am looking for—a great bar facing the water, friendly bartenders, drop-dead sunset views, live music, great happy hour, and a formal, yet approachable dining room.
21Oceanfront Restaurant
2100 W. Oceanfront (at the Newport Pier)
Balboa Peninsula
(949) 673-2100