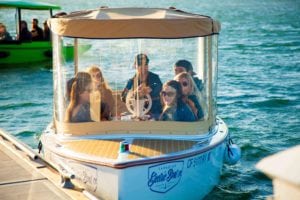 The Lighthouse Bayview Café in Marina Village on the beachy Balboa Peninsula is the perfect spot to enjoy the pairing of one's favorite comfort foods and boating and out on the water. Perfect timing as spring & summer will soon be full-throttle in the Newport Harbor.
[Hosted: Writers and media guests were hosted for this evening by Lido Marina Village Electric Boat Rentals and Lighthouse Bayview Café. However all opinions and words here are my own (sans the menu of course). In addition, I have dined here on my own many times with family and friends. Cheers, Deirdre]
Dock and Dine Made Easy-
Lido Marina Village Electric Boat Rental (LMV) has taken electric boat rentals to a "stylish" new level. With zero noise and pollution, electric is really the way to go for short distances. The team is just so hospitable we had a wonderful time. The boats are actually from Canada and they have an inventory of boats for rent in different configurations. The Fantail 21 has a canvas or fiberglass roof for shade and seats ten passengers. The Volt 18 also seats ten, yet is open air. Both have horse-shoe seating. The Bruce 22 is sleek and seats eight, but more in a front-facing configuration. There are colorful boats, wooden accented boats and everything in-between. There is no boating license to rent their boats. Rentals are $95 per hour with a two hour minimum. They also have a great Club program for $375 a month with unlimited rentals! Score on that! Ask for Scott Tiernan or Ryan Cirkle at (949) 612-8248 and their web site is: www.eboatsrental.com . (A quick note on the parking while renting a boat: The parking garage has 1 hour free parking and LMV Electric Boat Rental have 2 hour validations totaling 3 hours.)
The Café features 23-boat slips so plenty of dock space for individual boaters and for those who have rented electric boats for a few hours. With just a bit of advanced-notice, the staff will deliver dock-side most items from the menu, and they will soon have a Catering Menu on their web site for easy-peasy ordering. One of my favorite is the Charcuterie prepared on a beautiful wooden tray which the guests get to keep!   For those how arrive by rented vessels, they can also pull up and just call for their order to be delivered to the dock, or park the boat and come in to dine!
The New News-
Lighthouse is now celebrating their second birthday and they have recently obtained their full bar license. So you know what that means…. Beer, Wine and inventive Cocktailing!
The Ambiance-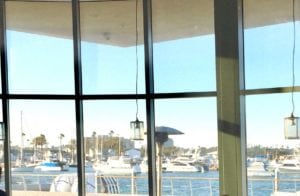 The restaurant actually looks like real lighthouse and is situated right on the bay with stunning views of the water. It is
within a 24,000-square foot sailing and community center that encompasses a park, multiple picnic areas and is
adjacent to a 23-slip marina. The Café's crisp white wood, blue accents and nautical accents are prefect for this location.
The dining room has huge picture windows and numerous booths to snuggle in. There is also an upstairs wrap-around
patio which is pet-friendly, I must add. My dog Riley was pleased to hear this! Open for breakfast lunch dinner
and weekend brunch— that is a lot of meal times.

Chef Ryan Sumner and His Spring/Summer Tasting-
Chef Ryan Sumner is a very involved chef who takes great pride in his menus and the use of seasonal ingredients and a nod to the sea. And he has unveiled some incredible offerings for spring! Close your eyes and just try to picture this— for breakfast, Blueberry Mascarpone Pancakes with maple syrup. For lunch perhaps a Seafood Pasta with clams, mussels, shrimp, spicy tomato sauce atop spaghetti, and for dinner maybe Grilled Marinated Portobello Mushrooms with Cauliflower fried rice, peas, carrots, sweet chili sesame vinaigrette and shishito peppers.
"Growing up in my parents' market in Costa Mesa, I experienced first-hand the seasonal change of fresh ingredients. My inspiration for the spring menu items came from that early education and of course the beach & boating culture here in Newport. The nightly specials I create are really for the locals." Chef Ryan
The lunch menu features new items like the "all grown up" grilled cheese with melted Muenster, smoked Gouda and parmesan on sourdough paired with creamy basil tomato soup. Brunch goes big with decadent offerings like the banana pecan bread pudding French toast topped with a salted caramel drizzle and whipped cream. The menu's newest cocktail, the Buddy's Bloody, is an oversized mason jar Bloody Mary with all the fixings, and the name was inspired by a legendary Newport Beach lifeguard whose decorated career spanned 47 years in these parts. And for dessert, or anytime my favorite are the fluffy Beignets with a cream cheese icing lightly drizzled atop!
Spring/Summer  Highlights You Can Find On The Menu-
Breakfast
King's Hawaiian French Toast
Mango compote, whipped cream, maple syrup
Blueberry Mascarpone Pancakes
Blueberry coulis, vanilla mascarpone sauce, maple syrup
Lobster Thermidor Omelet
Creamy lobster mixture, Swiss cheese, chives
Lunch
Achiote Spiced Chicken Breast Club
Guacamole, lettuce, tomato, pepper bacon, chili mayo
Balsamic Portobello Mushrooms Sandwich
Provolone, roasted tomatoes, arugula, pesto mayo
Chile de Arbor Seafood Pasta
Clams, mussels, shrimp, spaghetti, spicy tomato sauce
Grilled Skirt Steak
Cilantro scented white rice, guacamole, pico de gallo, black beans, chimichurri
Dinner
Steamed Manilla Clams & Bacon
Confit tomato, wine butter sauce, crusty bread
Thyme braised Bone-in Chicken
Summer succotash, corn pudding, roasted chicken jus
Grilled Marinated Portobello Mushrooms
Cauliflower fried rice, peas, carrots, sweet chili sesame vinaigrette, shishito peppers
Stop in and experience this delightful casual restaurant with fabulous views. Morning, noon or night, Chef Ryan and his team are ready to go. And with dock side pick-up they really are just a phone call away!
Lighthouse Bayview Café
1600 W. Balboa Blvd.,
Newport Beach, CA 92663
(949) 933-1001
www.lighthousenb.com
Facebook: facebook.com/lighthousenb/
Instagram: @LighthousecafeNB
And for the History Buffs In The Room… This Space at Marina Park Dates Back To The Turn of the Century! How did this all come to fruition one might ask? After all, this is some coveted real estate right along the Harbor. One only needs to imagine back in time to the early 1900's here on the Balboa Peninsula. The City of Newport Beach purchased this land in 1919 and set it up as a camp ground. Campers paid 75 cents a night to stay here. I know, seriously? In 1955 it was converted to a trailer park, and later a mobile home park. In 1985 it was voted to turn this land into a park, and guess what, it only took 30 years to make that happen. Now we know why everyone was so proud when it was unveiled in December of 2015! Spanning from 19th Street to the American Legion site, the 57 mobile homes were removed. Unlike other seaside locations, this one was a peaceful transition, and 47 of those were relocated to other places in the state. There was dredging, building permits, Coastal Commission approvals and so forth. It sounded like a long process to say the least. But finally construction began in December of 2013. Ecology was a big focus of the project, meeting the LEED-Silver Standards. And here we are today. So let's enjoy this special spot and support our local chef!