Legado Bar + Kitchen  (This was a hosted event at Legado by the Chef.)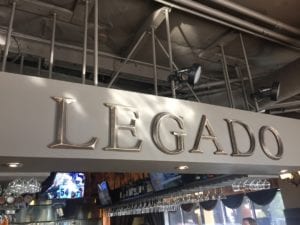 The name Legado is Spanish for the term "legacy" and that name is certainly befitting of this restaurant and bar. Legado Bar + Kitchen is a "chef driven" concept, serving consistently great food with a welcoming ambiance. It has that "locals" vibe and is a great spot to drop in—whether wanting a drink, to graze at the bar, or enjoy a full sit down dining experience!
Meet Executive Chef and Owner, Manual Lopez who has prepared and served food in high-end hotels and restaurants in South Orange County for 20 years. He has a unique way of preparing classic American dishes, and at the same time adding a flare of culture from around the globe. Chef Manny excels in original house-made sauces and plating presentations. He only serves USDA Prime Choice Beef, All Natural and Hormone free chicken and locally sourced seafood.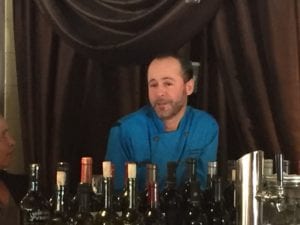 "I love to cook for my guests and I have developed this menu so that you can have exactly want you want to eat and when you want it!"
Chef Manny Lopez
There are 8 unique programs that this restaurant has in place that make it a very special restaurant experience for guests. This includes:
My absolute favorite is that most of the menu items are offered in half orders or full orders. This makes sampling many items and sharing so darn easy! And helps me stay on my diet. This includes a wide variety of 14 different starters and 11 different salads.
For every salad guests can add one of five different proteins, including: Jumbo Shrimp, Skirt Steak, Chicken, Ahi Tuna or Scottish Salmon. What a great variety to choose from.
Happy Hour is offered "daily" from 3:00-6:00pm and the best part is that it is not just limited to the bar. The entire restaurant is a part of this jam. There are seven different menu items, and discounts on house wines, well cocktails and beer. (The two mini-beef sliders and the two shrimp tacos are my absolute favorites!)
Weekend Brunch is offered both Saturday and Sunday from 10:00am – 3:00pm with an a la carte menu. They have everything from make your own omelet, to Eggs Benedict, Monte Cristo, Prime Rib Ranchero, and on it goes. Lots of choices ranging from $12-22. The regular menu is also available. Bottomless champagne or mimosas are $15 (which ends at 3:00pm).
Wine Wednesday and Wine Saturday's they offer half price off bottles of wine.
Chef Manny makes all of his sauces in house and we can certainly can taste the difference.
The Chef offers Prime Rib all day long. Who does that? Typically I can only find that on a fancy dinner menu.
Chef Manny typically offers two soups each day and on this day of my visit they were featuring French Onion and Lobster Bisque.
Cocktails Anyone?

The Restaurant has a full bar, beers on tap, and a robust wine list with many California wines. The bar stools have backs on them making it very comfortable.
A Sampling Of Chef Manny's Favorites-
As Chef Manny entertained some media and foodie folks, he presented us with some of his local clientele's faves. Please note some plating is not as you would receive it when placing an individual order. We were a group, dining in a community-oriented setting designed for sharing larger plates. This included three crowd favorites…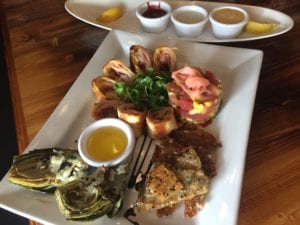 –Zuni Rolls- Probably the most popular item on the menu— a flour tortilla is encased around Ham, Turkey, Bacon, Mozzarella Cheese and Green Onions. (This is a hearty item perfect for sharing.) This is accompanied by a Raspberry Chipotle sauce, House Aioli and a Jalapeno Tartar Sauce.
[On the menu Small orders $9/Large $16]
–Grilled Artichokes– Sprinkled with Parmesan Cheese (this was perfectly grilled and delicious). This was served with House Aioli, Melted Butter and a Honey Mustard Sauce. [On the menu Small orders $10/Large $16]-
Ahi Tuna Tartare– This show stopper is made with fresh Ahi Tuna, ripe Mango, Cucumbers, Red Onion and Avocado. This was lightly tossed in a Sweet Thai Chili Sauce and topped with fresh Ginger served with Tuiles (a thin French baked wafer). [On the menu Small orders $11/Large $18]

-Ceviche- The Basa Sole is cooked for 24 hours in Fresh Lime Juice with Tomatoes, Red Onions and Cilantro. This is served with Avocado and Corn Tortilla Chips.
[On the menu Small orders $10/Large $17]
-Beef Carpaccio- Thinly sliced Italian Piedmontese, Capers, Baby Arugula tossed in a Honey Citrus Dressing, Balsamic Glaze, Olive Oil and Shaved Parmesan.
[On the menu Small orders $10/Large $17]
Some of Our Favorites…–Monte Cristo Sandwich-This is on the Brunch menu both Saturday's and Sunday's. Sliced Ham, Turkey and Swiss are married between two slices of French Toast with a Cranberry Marmalade and Carmel Sauce. This is served with a side of Cottage Cheese and fresh fruit. ($18) –Chilaquiles– Another from the Brunch menu, this is offered with Chicken or Beef, Eggs any style you wish, Avocado, Sour Cream and Pico Del Gallo. Choice of Red or Green Sauce is also offered. ($16) –Chicken Marsala– All natural pan roasted Chicken in a Marsala Wine and Mushroom Sauce ($20) –French Dip Sandwich– Sliced Prime Rib, Caramelized Onions and choice of Cheese on a French Baguette and creamy Horseradish and Au Jus ($21) –New Zealand Rack of Lamb– Char grilled and topped with broccoli and a Rosemary Brandy Reduction ($28) –Scampi Linguine– Sauteed Shrimp, capers, diced tomatoes, basil in a Lemon Cream Sauce and topped with Parmesan Cheese ($21)
Desserts Anyone?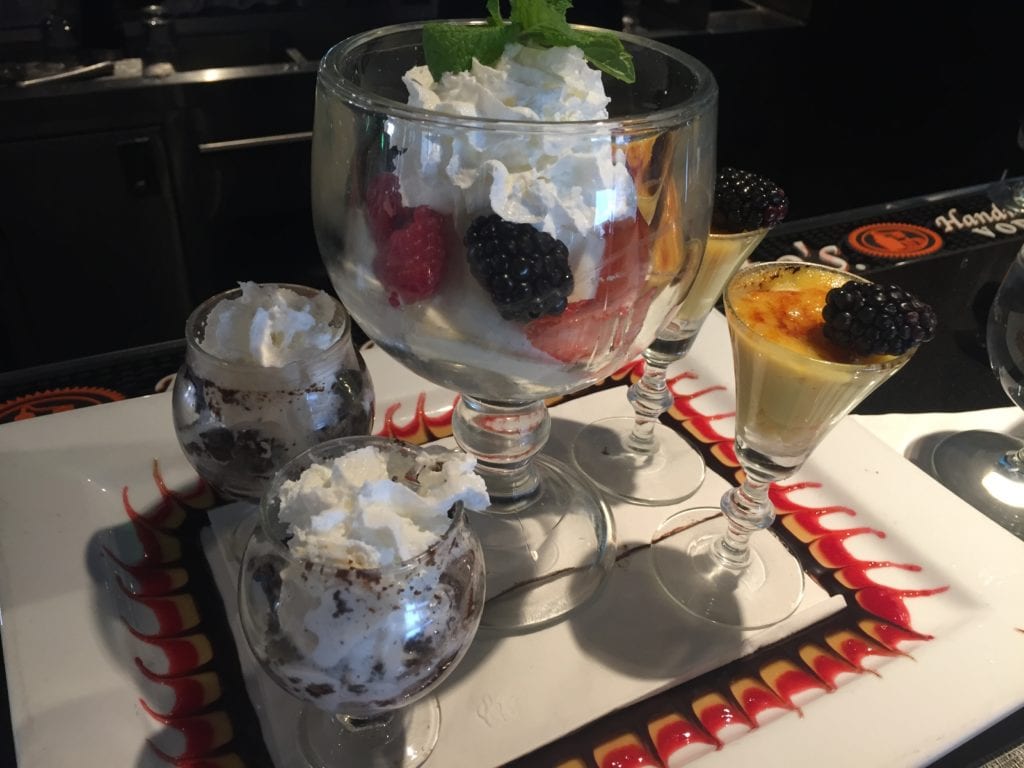 The possibilities are endless, but Chef Manny brought us a wonderful selection to dabble in. This included: Panna Cotta (front and center) and to right a creamy Creme Brûlée and to the left a Chocolate Lava Cake that was so rich and delicious it was hard to put the spoon down and share! They also have other seasonal favorites, such as: Vanilla Crumble served with fresh berries, Bread Pudding served with a caramel sauce and vanilla ice cream, and a Peanut Butter Mouse served with chocolate and whipped cream.
So….check out this incredibly versatile restaurant with lots of choices for every guest to pop in and enjoy whatever they are in the mood to order—-at just about any time of day or evening.  Brilliant and delicious! A win-win!

Legado Bar + Kitchen
30065 Alicia Parkway
(Just one block north of Crown Valley Parkway)
Laguna Niguel, CA 92677
(949) 249-0220
Website: LegadoKitchen.com
Social Media handles: @LegadoKitchen
Hours:
Monday – Thursday 11:00am -10:00pm
Friday 11:00am – 11:00pm
Saturday 10:00am to 11:00pm
Sunday 10:00am -8:00pm