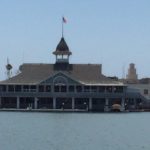 Like shiny pebbles found in the sand, this town is glistening with hidden gems. Discover some of our favorite spots that make Newport Beach truly a "one-of-a-kind" destination. From fine dining to exceptional shopping, premier service and natural wonders of the sea & shore, this town is a fine balance of elegance, charm, and iconic local flavors.
With lovely weather as its beacon for travelers, and with ten miles of pristine coastline, Newport Beach is a flurry of activity year-round.  The pace is fast. Locals and guests alike are constantly on the go— enjoying ferry rides, kayak & paddle-boarding, sports fishing, sailing, bike rides, golf, hiking and exploring the wonders of the beaches and tide pools.
Upscale she-she luxury shopping and dining is very popular in the outdoor venue known here as Fashion Island. With comfortable seating pods along the promenades, and peek-a-boo views of the ocean, guests seem to enjoy this active spot for hours on end.  The town features numerous nationally acclaimed chef-driven fine dining restaurants, as well as authentic seaside cafes for a more casual dining interlude. Accommodations here range from elegant waterfront resorts with spectacular water views, to intimate inns and villas—and everything in-between.
Iconic Local Treasures
Let's begin with some of the special places that make Newport the beloved beach community we share with guests….. Balboa Island – The Island was established in the early 1900's, and today stepping into the little Balboa Museum, one can see the early beginnings in the b/w photographs. This enthralling little village is home to a traditional main street, Marine Avenue, which is lined with shops, restaurants and unusual boutiques. The now famous ice cream Balboa Bar was invented here, and my personal favorite is the Frozen Banana—dipped in chocolate with a tap-tap of peanuts. Impressive homes and quaint cottages line each street off the main drag. A lovely boardwalk surrounds the island with a walking path and spectacular views in all directions. The Balboa Ferry was established in 1919 and provides service between Balboa Island (Park Avenue) and the Balboa Peninsula. Guests can hop on the ferry, with a bike or car in tow, and enjoy the six minute ride across the main channel. It is great fun. Balboa Village– On the Peninsula, there is a Fun Zone, Pavilion and Museum. The Pavilion was first built in 1905 as a Victorian bath house and terminal for the Pacific Electric Red Car line. The ExplorOcean Museum (formerly the Nautical Museum) educates guests about the ocean, with impressive exhibits and programs. Dock and Dine– Boats cruising the Marina can pull up dockside at 11 restaurants to enjoy one of many fine dining restaurants, wharf-side cafes or "to go" orders for enjoyment on-board. Pearson's Port– A floating fish shack selling fresh, seasonal fish daily since 1971. Patrons rub elbows with local chefs. Under the bridge of Newport Bay at PCH and Bayside Dr. Newport Aquatic Center- The calm waters make this the perfect spot for rentals of: kayaking, stand up paddleboards, canoes and they offer guided tours through the Estuary. Location is White Cliffs Dr. near Dover/Westcliff.  Pirate Coast Paddle Company– A unique evening "Glow Night" guided tour. Stand up paddle boards feature a light to illuminate the marine life below. Located on Back Bay Dr. just off Jamboree. John Wayne's Wild Goose Yacht– A former WWII mine-sweeper it was restored and is now owned by Hornblower Cruises. It is docked along the Main
Channel for easy viewing.
Natural Wonders
Crystal Cove- A natural cove made this spot ideal. A Historic District was erected as a movie set in the 1930's. All of the original cottages are still standing today. Sixteen have been authentically restored, furnished and available for rent. The Beachcomber Restaurant reinforces the "vintage beach culture" just steps from the sand at Crystal Cove. They used to raise a flag at 5:00pm to alert the cottage dwellers that it was happy hour and the bar at the restaurant was open for business.  Amazing Tide Pools– Two well-known spots for exploring the wonders of the sea are found at the southern coves of Crystal Cove and Little Corona Beach at Corona Del Mar (CDM) State Beach (near Poppy Street). Lookout Point– This is the perfect spot to capture a glistening sunset, perched high above the water in CDM @ Ocean Blvd. and Heliotrope Ave. Pirate's Cove- This secret spot is located at the opening of the Harbor. Guests climb over some hefty rocks, so sturdy shoes are recommended. The water is calm and small caves are there for exploring. The opening scene of Gilligan's Island was filmed here. Enter from Corona Del Mar (CDM) State Beach to reach Pirate's Cove.  Now on the Back Bay, The Back Bay Muth Interpretive Center and Estuary is a lovely educational facility built into the side of the bluffs overlooking the Back Bay, with ten miles of walking/biking trails surrounding it (on Irvine Ave. @ University).
ROUND UP OF ANNUAL EVENTS IN NEWPORT BEACH
Annual Events in Newport Beach And Reasons To Return Again and Again…
The city comes alive with iconic annual events throughout the year. Just to name a few…..during Winter & Spring months…The Newport Beach Restaurant Week, Whale Watching, Jazz Party, Toshiba Classic, PGA Tour of Champions, Boat Show, NB Film Festival, OC Marathon, Balboa Island Art Walk, and Jazz Festival. And in the Summer & Fall months…The Balboa Island Parade, 4th of July Celebrations, Lido Boat Show, Surf Championships, Triathlon, Sandcastle Contest, Autumn Rowing Festival, Tree Lighting, Christmas Walk, Holiday Home Walking Tour, Holiday Boat Parade and Ring of Lights.
Visitors Resources
Visit Newport Beach offers detailed maps, lists of restaurants, ideas for three day itineraries, and resources for bike rentals, accommodations, shopping and so much more!
~ Visit the web site:  www.visitnewportbeach.com
~ Call (800) 94-COAST
~ Visit the Personal Concierge Desk at Fashion Island for personal assistance
(located on the second level of the Food Court)
~ Pick up a copy of the Official Visitors Guide for Newport Beach. This can be
found at news-stands throughout the city, and on Balboa Island's Marine Ave.
Copyright © 2014   Tastes and Travel. All rights reserved.