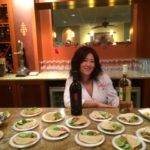 Tucked in a quiet business park in Lake Forest, is a fabulously elegant setting for all kinds of events and social happenings! From corporate team-building to off-site business meetings and testing secret recipes— this is a special spot indeed. The Wine Artist is also the perfect place for personalized cooking classes, private wine seminars & pairings, baby showers, club and charity events and everything in-between.
The Setting…The space is elegant with a Tuscan flair. The décor is cascading in rich marble countertops and tile floors, wrought iron accents and dark wood cabinetry. There is a large reception area as one enters the event space, which is perfect for checking in, or welcoming guests upon their arrival.  Just beyond that is the perfect entertaining area with high top tables, chairs and a long counter & bar area. This is just perfect for:  presenting a wine & food pairing, dining and bartending, doing a demonstration, serving a robust buffet, and so forth. At the far end are two huge counters that are quite flexible for all kinds of events—with built in countertops surrounding the space. From cooking classes to wine and cheese pairings, custom labeling for wine bottles, or assembly of all types of various projects—they can all be accommodated right here!  And behind the scene is a commercial kitchen for preparations, refrigeration, cooking and it makes for an easy clean up. (My favorite is the abundant parking. That is such a luxury to just pull right in to a huge parking lot right out front.)
Our Day Was Team Building On Steroids…On this fine day I was here for a food and wine pairing with a group of food and travel writers who belong to The International Food Wine & Travel Writers Association. In this instance, we were also going to prepare the appetizers from scratch, while the wine patiently waited for our ready. Our fearless leader, Linda Kissam, led the way.  She quickly broke us into two even teams, and reported to our respective stations for the 45 minute contest. Did I mention the word "competition"?  With a bevy of random goodies on a tray, and one secret ingredient displayed at the last moment reveal…each team raced for ingredients and it was Game On! Each team was boasting to the other team of their amazing capabilities in the kitchen—basically talking smack to taunt the other team. Let the taunting being! Together in a huddle, the teams were strategizing what dishes to create (and yes, out-do the other team). With the limitation of a ticking clock, everyone sprung into action. Pots are on the burner, vegetables were being chopped, and recipes were being recited from memory. Updates were being relayed, as each item was fully underway. Fifteen minutes are gone, now it's twenty. The time just flew by, but as we all found our groove, it was really great fun. We knew we had the winning dishes. Roger Paige was recording the goings on, with photos and video— all at full tilt.
All of a sudden a whistle blows, and the speedy action was grinded to a haul in an instant. MJ, our Hostess and Owner, explained that now we are to all switch stations and we would in fact be working on the competitors half-completed dishes. Oh my goodness! As we surveyed their progress on the stove, we could not determine what the items even were! The soupy corn concoction in the saucepan…. "Is this polenta, or for corn muffins? We have no clue…." we screeched.  It was all a mystery, as we muddled our way through, puzzled at times as we regrouped.  Tick tock… ten minutes left.
Lessons Learned- As we plated and presented our appetizers, and began explaining what we had done, we all could not help but laugh at just how the last 45 minutes unfolded.  A seemingly simple exercise was really quite an education for all of us. We reflected on our adventure, and our personal take on the experience. For most, it was a wonderful experience in team work, dealing with change, and a heavy dose of pinpoint communication skills. It was eye opening, and certainly a great deal of fun. The sense of camaraderie was undeniable, and there were smiles, toasts and laughter all around the room.  The sense of working as a true team is what shined through. Each brought our own personality to the exercise—some strong and confident in the kitchen, others amazing supporters— and all working together.  That is really what made it so fun. Our Hostess and Owner MJ shared with us how companies have used this very program for a day of team-building, and what a benefit it has been for the employees who have participated.
The wines we were enjoying, and the reason for our pairing, were from Uproot Winery in Napa. It included: two Sauvignon Blanc's, a Grenache, a Grenache Blanc, a Rose and a Napa Valley Cabernet. The winemakers are known as self- proclaimed renegades. They say they are here to make extraordinary wine from the ground up—with the best fruit, the best oak and the best equipment. Cheers to that! The wines truly were wonderful as we navigated our way from the light Sauvignon Blac and Grenache to the well-rounded  Cab. The pairings were spectacular and we were all quite proud of our accomplishments.
The Wine Artist- This elegant event space is owned by MJ Hong. She is wearing many hats since her career as a Human Resources Executive. Now she is the proud Owner, Chef, Wine Steward, and the most hospitable Hostess that anyone could hope to welcome them. The space is amazing, and she is so flexible! She will work with clients in any way they may need—- to create just the type of special event they envision. They have complete audio visual capabilities and big screen television sets, and can accommodate up to 100 people!
Here is just a sampling of the many day or evening and even weekend events she can arrange, so get your thinking cap on and book one right away! Events such as: corporate team building, unveiling a new product, off-site meetings & brainstorming, testing recipes, cooking classes, wine education programs, wine bottling and labeling, educational programs for children and clubs, charity events and fundraisers, baby showers, girlfriend outings, couples wine dinners, milestone birthday bashes, and the list goes on and on.
A huge thank you to MJ for facilitating such a lovely event and I hope to return very soon with another fun adventure to be enjoyed at The Wine Artist. She was so kind to share with us her amazing Lobster Bisque Soup recipe. (Please see that below.) And if you visit her web site, under Blogs, she has a treasure-trove of wonderful recipes as well!
The Wine Artist
An Event Venue & Winery
21064 Bake Parkway #100
Lake Forest, CA 92630
(949) 297-3656
www.TheWineArtist.com
info@TheWineArtist.com
MJ sends her warmest regards with this one-of-a-kind "delicious" Lobster Bisque recipe.
Lobster Bisque– Compliments of MJ Hong
Pair with Uproot Wines Gray Edition Sauvignon Blanc
Serves 6
Ingredients
• 3 Tablespoons olive oil
• 2 shallots, minced
• 4 cloves garlic, minced
• 1/4 cup Cognac or brandy
• 4 Tablespoons unsalted butter
• 1/4 cup all-purpose flour
• 2 teaspoons Worcestershire sauce
• 1 teaspoon fresh thyme (½ teaspoon dried)
• 1/4 cup dry sherry or white wine
• 1 teaspoon paprika
• 1 cup seafood stock
• 1 teaspoon paprika
• 1 cup seafood stock
• 2 Tablespoons tomato paste
• 2 cups half-and-half or heavy cream
• 1/2 lb. lobster
• 1 teaspoon nutmeg (optional)
• 1 teaspoon old bay seasoning (optional)
• 1 teaspoons salt
• 1 teaspoon black pepper
Directions
In a large saucepan, heat olive oil and sauté shallots and garlic for about one minute. Add Brandy and cook for about one minute. Add butter to pan and once melted, add flour and stir with a wooden spoon.
Add Worcestershire, thyme and sauté for another minute. Add sherry or white wine and cook for three minutes longer, scraping the bottom for any brown bits with wooden spoon.
Add paprika and seafood stock and combine well. Stir in tomato paste, half-and-half and cook, stirring with a whisk, until thickened, about three minutes. Add lobster, nutmeg, old bay, salt and pepper and simmer for about 10 minutes, stirring occasionally until thickened.
Serve with crusty bread (optional) and pair with a lovely Sauvignon Blanc like Uproot Wines Gray Edition Sauvignon Blanc.