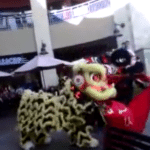 This center really is a GEM. And I do not use that term lightly. With just over 30 various businesses—this corner of Alton Parkway and Jamboree Road in Irvine is bustling with activity from early morning to late in the evening.  This is a haven for the Asian community—a place where they can enjoy cuisine reminiscent of their homeland, and share it with family and friends. It is also a perfect spot for me to locate "hard-to-find" Asian ingredients to make my fanciful creations at home. Score!
On a recent visit to DJ, I count 16 Dining, Restaurants, Bakeries, Tea & Coffee Houses. The dining options are endless, and cover all different types of Asian cuisine—from Korean to Japanese, to Chinese, Taiwanese, and the list goes on and on. I yearn for a geography lesson as I scan the signs! There are also 16 shops and services —with everything from beauty supply to medical/dental, banking and so forth.  A group of travel and food writers parachuted into the center, accompanied by our wonderful Hosts—–DJ's Marketing Manager Suzie Won, and the Destination Irvine Director of Tourism Marketing Wendy Haase. Our group is the International Food Wine & Travel Writers Association, (IFWTWA), and this event was arranged by our esteemed President Linda Kissam.
One of my favorite stops in this shopping center is the supermarket, called HMart Supermarket. This is really a mega-store of Asian products. And as home cook, I parade up and down the aisles and marvel at the jaw-dropping selection and inventory. How about an entire wall dedicated to soy sauces and rice vinegars, stacks of rice makers, live fish, much of wish I have never laid eyes on?  If one begins this trek with an open-mind, it is one big happy adventure!  Guests are thoroughly rewarded.  It is such fun, and I love to watch the people making their selections, and get immersed in the whole experience. These seasoned shoppers know what they are doing, and I just follow along!  I suggest first time visitors not missing the Produce Section. The herbs are delicately packaged and they are as fresh as fresh can be. They are very reasonably priced, which is an added bonus. And if I do not know what something is, the Produce Staff are very eager to help me.  It is just like being transported to another place and time. This is a field trip I highly recommend, however, one suggestion. Arrive hungry!
Our next stop was Chef Hung Noodle Restaurant. Chef Hung is the Kahuna of Taiwanese Beef Noodles and has won many awards for his cooking. Chef Hung is a celebrity in Taiwan as he is a three time winner of the Beef Noodle competition held in Taipei each year. He has opened restaurants in the United States, and we are so fortunate to have one right here in Irvine!
Our host was Manager Eddie Huang. He was a wonderful guide and was very patient with our many questions. Writers have lots of questions!   The dining room is spacious, and bright. The patrons are primarily Asian, which is always a good sign in my book. As Mr. Huang  quietly and proudly explained—- the stock simmers for 15 hours with herbs and spices packed with flavor. The noodles are hand-made and guests can view them making the noodles in the exhibition kitchen behind a wall of glass.  The entire process creates such a delicious bowl of goodness!
The menu is friendly to Americans as well as Asian visitors. Each item is well described, and a photo of each bowl helps too. It was easy to order and for that I am always grateful to my host!  On this fine day, ordering was not necessary as we were welcomed with a shredded, soft dried pork and egg wrap, and a refreshing cucumber salad and Taiwanese style Kimchi.
With that under our belts, we were ready to enjoy the famed noddle bowls and hearing the bones cook for 15 hours, I knew we were in for a treat! Three different large colorful bowls were paraded to our tables. There was Champion Beef Shank with Noodle in Soup, a Champion Beef Brisket with Noodle in Clear, and a third one, similar to the second bowl, however with a tomato  base. The noodles floating in these soups are surprisingly long and a pair of scissors help with managing the noodles without splashing. There is probably an art-form to eating this properly but I had yet to discover that special technique. I looked about at the other tables but no one was at my stage of eating. Hummmm. We made due and had fun with it all.  The broth is rich in flavors and quite delicious. (I later learned that we can order a bowl with flat noodles, thin noodles, rice sticks, and so forth.)  Next we enjoyed the shredded, soft dried pork and egg wrapped in a crispy pancake. This was also delicious.
I counted a total of eighteen different noodle dishes, five rice entrees and five more fried rice & chow mein dishes. There are a staggering number of twenty three different side dishes.  As for Teas, the menu lists twenty three fresh brewed teas— from green tea….to honey grapefruit. Guests can order them, cold, hot, no ice, less ice or less sweet. And there are even seven milk teas listed. Our dessert was mashed red bean cake. It was a delicious start to the day and one steeped in tradition.
Chef Hung
2710 Alton Parkway, Suite 117
Irvine, CA
949 756-0088
www.chefhungnoodle.com.
Urban Seoul Restaurant was our next visit, and what a pleasure this spot was. The cuisine is Korean and Mexican in origin, and focuses on flavorful marinated meats and tofu paired with healthy vegetables.  Local food and culture collide in a most unique way. They use an exotic blend of flavors and I am taken aback by the amazingly rich taste in every bite.
I had recently noticed a new restaurant in the Irvine Spectrum of the same name, and here I was the more well-known, older brother.  The Owner is Restaurateur Bronnie Lee and his Chef is Kacy Jun. Bronnie describes their food as the fusion of many cultures. Together they are a team to pay attention to. They are doing creative things in that kitchen and seem to pay particular attention to "their team". That is for sure. And with an open-kitchen concept we can peek in and see all the action in its free-form.
We started with a traditional Korean Bibimbap. I really cannot say that name without laughing, but it was very delicious.  It is pronounced [pibimbap]  and the word literally means "mixed rice". (According to the source Wikipedia: Bibimbap is served as a bowl of warm white rice topped with namul (sautéed and seasoned vegetables) and gochujang (chili pepper paste), soy sauce, or doenjang, a salty soybean paste. A raw or fried egg and sliced meat (usually beef) are common additions. The hot dish is stirred together thoroughly just before eating. In South Korea, Jeonju, Jinju, and Tongyeong are especially famous for their versions of bibimbap. In 2011, it was listed at number 40 on the World's 50 most delicious foods readers' poll compiled by CNN Travel.)
All of the sauces are made from scratch, using the freshest ingredients possible. Quality is the center of the business. There is a limited breakfast menu, and they are quite busy at lunch and dinner. We had to try the Gogi Slider (marinated rib eye, cheese, spicy pickled cucumber, kimchi, a secret red sauce on a morning bun). It was memorable. We also tried the Japchae Mari (shimmering stir-fried glass noodles wrapped in seaweed, battered and fried in a spicy sauce). The Taco (this one with pork belly, kimchi and queso fresbo) were  just bursting with flavor. Everything was so wonderful.
What not to miss….the popular Spicy Pork Belly Tacos, Elote (street corn), Urban 3B Bibimbap and the Stir Fry Udon. The menu also lists small plates of Gogi Quesadillas, spicy rice cakes, garlic Edamame or sweet potato fries. All are very flavorful and colorful as well. Items such as: marinated meats, cumin, salsa, poblano chiles, cabbage, noodles, cilantro and so forth,  are all part of the flavor profile of this cuisine. It is not for the faint of heart, but rich in flavors and just delicious!
They do serve beer, and this meal really is complemented by such a beverage. They also have soft drinks, iced tea, and a refreshing non-alcoholic "drink of the day" made with fresh fruits of the season.
Urban Seoul –
Diamond Jamboree (also in Irvine Spectrum)
2750 Alton Parkway- Suite 131
Irvine, CA
http://urban-seoul.com
Hours:  Open 7 days a week
11:30 am – 2:00 pm and 5:00 pm – 10:00 pm
85 Celsius Bakery
Our last stop was an incredibly busy bakery 85 Celsius Bakery. The name translates into 185 degrees, which is the appropriate temperature for coffee. We were graciously welcomed by Store Manager Padi Khoe and Ariel Chen, their Marketing Manager. In Taiwan there are 230 bakeries, so this is a well-known name. They have over 800 locations in Taiwan, China, Australia, Hong Kong and the United States. A total of 15 are located in California. The newest addition was the Milpitas location that just opened in March, 2015. Their successful philosophy focuses on "5-star quality, at affordable prices".
Guests can make a right turn as they enter, grab a tray and select from a bevy of 50+ see-thru boxes filled with all types of pastries and rolls. The bins are replenished constantly so it is a dance between the patrons and the workers as they shuffle past with a new tray of goodies.
Straight ahead is the pastry display with rows and rows of goodies and cakes to select from. Guests can dine in, on the patio or have it bagged or boxed to take away. Many tea and coffee beverages are also available. The iced sea salt beverage is really a dessert in liquid form. It was crazy good. We were treated like kings and queens with trays and trays of delicious treats to enjoy—-from taro bread, to cream tarts, mango pudding and fruit pastries. It is all here and delicious. The Iced Sea Salt Coffee beverage was dessert in a glass!  Having tasted so many treats, we soon learned why the lines are so long and from morning to night!
Diamond Jamboree
2750 Alton Parkway
Irvine, CA
http://85cafe.us/#ourstory
This is a fantastic center to visit and enjoy so many cuisines from the Pacific Rim. It is a special spot, with something for everyone!!
Diamond Jamboree, 2700-2750 Alton Pkwy, Irvine, CA 92606
www.diamond-jamboree.com