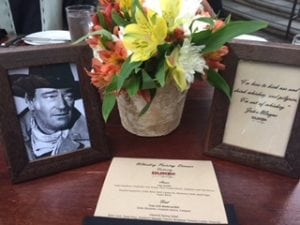 The Hyatt Regency Newport Beach is home to a wonderful summer-filled jazz concert series that runs from June to October. The lush tropical ambience sets the tone for lovely evenings under the stars. This night was no exception, as we were escorted through a canopy of trees and well-dressed tables and into the Wine Cellar. This is a secret little find of a spot as we descended to the cellar. We were welcomed with a refreshing Blackberry Bourbon beverage served is charming mason jars. There were passed hor d'ourves on slate trays and we met the other guests attending the dinner. A perfect way to start the evening I should say! We were here to meet Duke Bourbon—up close and personal.
It was a pleasure to see Miguel Angel Rodriguez, the Regional Sales Representative for Duke Spirits. He had  partnered with Executive Chef Julien Bontron on his menu, and the hotel team for refining the evening's cocktail program and created the perfect venue to unveil the newly designed  label for Duke's Bourbon. We were so excited to meet John Wayne's son John Ethan Wayne there to also share in this proud moment.
John Ethan Wayne was born in 1962 to John and his third wife, Pilar Pallete. (In total John Wayne had three wives and seven children, so it is head-spinning to try to keep track of who is who). Born in Encino, Ethan Wayne grew up in Newport Beach, where he shared his father's love of the beach & ocean. Ethan is quite handsome and engaging with a comfortable self-assured style. He shared with us fond memories of his time with his father. He also unwrapped the story of how this special bourbon came to be created. Among John Wayne's many treasures and memorabilia, the family found old bottles of whiskey tucked away here and there. They also found notes about the making of "the perfect bourbon" and Ethan and his confidant (soon to be partner) were "off to the races" to re-create this special blend. They took their bounty to Kentucky and found a distillery that was off the beaten path and shared in their vision for the future. And thus Duke's was born. It is currently served at many restaurants, and on the retail side it can be found locally at Hi-Time Cellars—retailing for about $40. But that is about to change and will be more readily available as they are just now unveiling their new "labeling and branding" campaign.
Meet Duke Bourbon-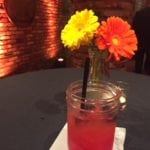 I love bourbon and if someone says Whiskey, my thoughts immediately turn to bourbon with a bit of a bite. Some like a smooth finish (like a Maker's Mark) and others like me enjoy a stronger finish such as Angel's Envy (which is aged in port wine barrels). This bourbon is a perfect balance and that is what is making it so darn popular. It is perfect for sipping, over ice, with a lemon twist, or in a mixed cocktail. Sure, it must be a gamble to name something after a legend in the Hollywood realm, but here it works perfectly. Thumbs up for Duke Spirits and this small batch golden gem. http://www.dukespirits.com/   Guests can find eight delicious recipes on their web site—from the Duke Mule to the True Grit Boulevadier. Distilled and aged in Kentucky the old fashioned way, in small batches and aged in heavily charred new and hand built American Oak barrels. It is a unique blend of 88 proof and aged a minimum of 5 years in barrels hand-selected for perfection.
Meet the Chef-
Executive Chef Julien Bontron led the four-course dinner with picture worthy plating and four delicious courses to complement the bourbon cocktails served. French-born Chef Julien has been here for just over a year, and previously had been with Park Hyatt Aviara in La Jolla, Le Meridien Hotel in Boston, the Trianon Palace in Versailles, France and was educated in Paris with specialties in patisserie, confiserie (confectionery) and haute cuisine.
Our Menu-
As we made our way from the Wine Cellar to the garden, Lindsey Rodriguez the Director of Sales and Marketing was the perfect host. She escorted my husband and I along with our friends Marla and John, to what turned out to be "the best table on the patio". We four were joined by Sid and Diane Ramani and Sid is the General Manager of the hotel. His wife Diane was in the hotel business as well, but now holds down the fort with two very young children at home. They were so much fun and we all laughed and enjoyed stories of how we all met, travel, and of course our love of food and cocktails.
Amuse- We started off with the True Grit Boulevardier. This is made, of course with Duke Bourbon, Carpano Antica and Campari. This was a perfect starting cocktail and we were served thinly sliced Cedar River Beef Carpaccio, Pomme Gaufrette, Bearnaise Aioli, Quail Eggs and Caper Berry.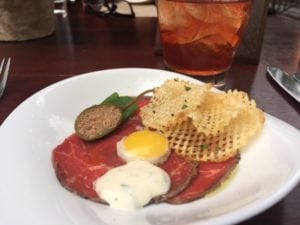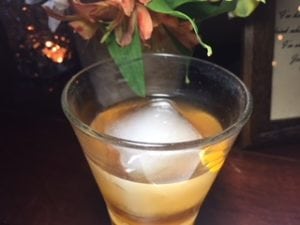 First Course- The next beverage, The Gun Smoke was really a theatrical show-stopper. It was mixed, shaken and then placed into a smoky glass cylinder. This was made with Duke Bourbon, Fresh Bay Leaf Syrup, Yuzu Lemon Blend, Aquafaba (which gives it a frothiness) and Tikki Bitters. With just a slight hint of sweetness, it was so good. The presentation was so beautiful I did not want to ruin it with my fork. But yes, I had to! Gnocchi Fritti were married with Baby Leek, Snap Peas Sunburst Squash, Cherry Tomato Confit, Marcona Almond Dust, Foie Gras Emulsion and Saba. It was sublime.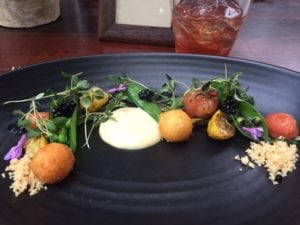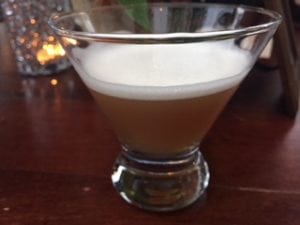 Second Course– The next beverage was probably my favorite, and this was the John Wayne Old Fashioned. Well, that figures as I am "old school" and love the taste of orange with bourbon. This was made with Duke Bourbon, Demerara Sugar Cube, Dashes of Angostura Orange & Aromatic Bitters and a splash of club soda. This was served with the most incredible slice of Seared Duck I think I have ever enjoyed. It was so delicious and hails from Sonoma Liberty. This was served with White Corn Crema, Balsamic Cipollini, tiny, tiny vegetables, Wild Mushrooms and Blueberry Jalapeno Sauce. Oh my goodness.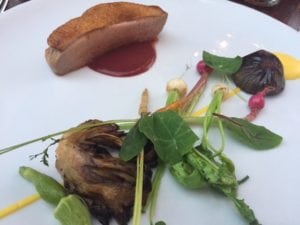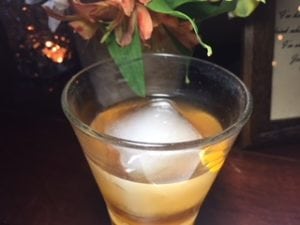 Dessert- In a snifter and served up, one could really see the elegant color of the bourbon. The dessert was a deconstructed S'More with Triple Chocolate, Toasted Marshmallow Fluff and Golden Grahams. It had us all day dreaming of roasting these over the campfire as kids.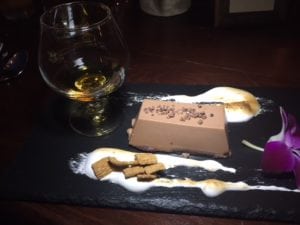 The SHOR Restaurant-
The hotel restaurant serves breakfast, lunch and dinner, with a lovely outdoor patio and indoor seating as well. They do a great job with appetizers on the terrace for jazz nights, or evening cocktails and networking. They do not offer a Happy Hour. Yes, I did ask. The restaurant is an American Seafood Grill and offers soups, salads, shared plates charcuterie, pasta, fish, meat and big ole' burgers.
We are looking forward to our next adventure here at the Hyatt Regency Newport and the summer concert series that will soon be getting underway. We will also be looking for places that serve Duke Bourbon so we can continue to enjoy this incredible whiskey!
Writer's Note: We were not hosted at this event and dinner. We purchased our own tickets and all of the writing (sans the menu) is my own. Cheers! Deirdre
Hyatt Regency Newport Beach
1107 Jamboree Road
Newport Beach, CA 92660
(949) 729-1234