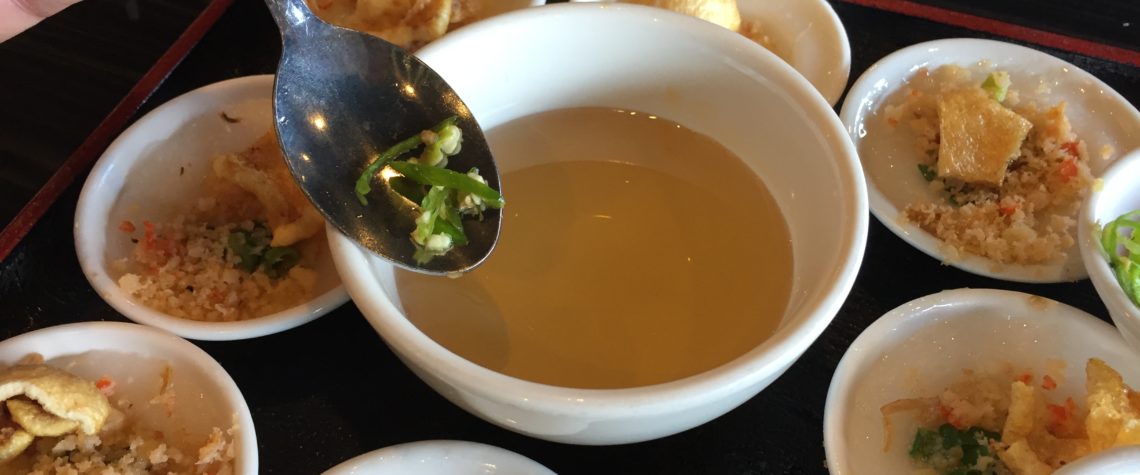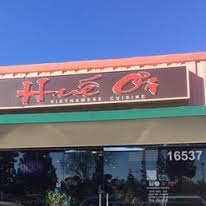 I was recently invited to visit an authentic Vietnamese restaurant in the heart of Little Saigon. It was delicious, unique and quite a family affair. The name is derived from the famous city in Vietnam, called Hue. Hue Oi Restaurant began in Garden Grove, but soon outgrew its location and moved to Fountain Valley just across from the Mile Square Golf Course. They will be adding a second location in just a few weeks in the South Bay/Redondo Beach—but more on that later.
Little Saigon in Orange County is the largest population of Vietnamese outside of Vietnam. The cities of Garden Grove, Westminster and Fountain Valley are at the heart of this transplanted enclave. The restaurants, shops and supermarkets offer a step into an entirely different culture and it is phenomenal that it is so close at hand for those of us who live here in the OC and thoroughly thrive on this style of cuisine.
Everything is different to my experience of "western-style" of cooking. And that is probably why I enjoy it so much. I feel as though I have been transported to another country. The produce is so fresh, colorful and bursting with flavors. Lots of herbs are used, such as: mint, basil, cilantro and lemongrass. The sauces and condiments are plentiful and tasty. Items commonly found on a Vietnamese menu include: steamed rice, fried rice, shimmering noodles and pancakes. And such a variety of cooking techniques are used as well—from high-heat woks, to grilling, steamed, pan-seared and poached. The possibilities are endless! And as a result— a walk through an authentic Vietnamese menu is truly a welcomed travel adventure. (Suggestion: If you are a newbie, I suggest going to an authentic Asian market and just roam the aisles. You will see things you have never seen before and when you go to a restaurant to order you will be surprised how much you have retained.)
Hue is a city in central Vietnam. It was the seat of the Nguyen Dynasty Emperors and the national capital from 1805 to 1945. The 19th Century Citadel is surrounded by a moat and thick stone walls encompass the Imperial City. Today, the Forbidden Purple City (once the Emperor's home) features palaces, shrines and even a replica of the Royal Theatre.
Hue Oi Restaurant is a family run business in every sense of the word. It is truly a warm and friendly family environment. The Chef duo is a husband and wife team used to cook for royalty in Hue. They immigrated to the United States in the early 1990's. The dining room features a calm tan and violet color palate that is very inviting and the dangling lights and light wood accents are pretty by day or night.
Meet Chef Linh and his lovely wife Chef Vinh. Their warm smiles are welcoming and I can see they pay attention to every little detail in their restaurant. The watchful eyes are not just in the kitchen but in the dining room as well. Are the plates coming back empty? Chef Linh is carefully observing and always with a twinkle in his eye. Their son went to chef school here in Orange County and Chef Long works in the restaurant as well. Long's sister Ny Duong is one of the managers of the restaurant. Ny Duong's sister Thuy Duong and her husband Kenneth Nguen are also part of the Hue Oi management team. Kenneth is very creative and provides graphic design, photography, menu design, logo development and furniture expertise.
This family is very fortunate to have such an impressive and equally passionate son-in-law Dao Tran (husband to Ny Duong) and he is the perfect "spokesman" for the restaurant. He and his brother (Quan Tran) are both professional Chiropractor's with a focus on health and wellness. However, brother Quan Tran and his family are equally busy in the world of restaurants as well. Quan, along with his wife Mai and Uncle Chris and his wife Tina own and operate three Pho Saigon Pearl restaurants in Orange County. They are located in Irvine Spectrum, Diamond Jamboree/Irvine and one in Costa Mesa that just opened last month. The fourth Pho Saigon Pearl restaurant is located on Fairfax near The Grove in Los Angeles. There the Tran family owners include: Quan and Dao's other three siblings, brother Nhien, sisters An and Phuong and her husband Bernard. So as you can see the restaurant business is an integral part of each of their lives!
Healthy Benefits of Key Ingredients Used in Vietnamese Cooking-
Did you know that cilantro is an antioxidant? Or that parsley is good for better digestion? Dao Tran explained during our visit the many benefits of various herbs and ingredients. Balsamic vinegar is known to boost our immune system and protects against heart disease, and lemongrass is often used graded or steeped in tea for treating digestive tract spasms, high blood pressure, achy joints and exhaustion. I should be using more of all of these in my cooking too!
A Walk Through This Diverse Menu-
The restaurant menu is pages chalk-full with delicious, authentic dishes and lot of pictures to add that extra level of enticement to my selection. The various sections of the menu include:
-Appetizers (Khai Vi) – From Spring Rolls to egg rolls, lettuce wraps, salads, grilled pork with lemongrass and a plethora of options.
-Specialty Hue Dishes (Mon An Hue) – This is my favorite section with lots to choose from. There are Traditional Soups with many options, such as: meat balls, rice noodles, crabmeat, shrimp, pork, clams, dumplings and rice cakes. There are Pan Fried Rice Flour Crepe (Banh Khoia) dishes filled with sliced pork, shrimp, onions and Hell's Rice (Com Am Phu) which includes crispy roast pork, grilled lemongrass pork, thinly slice pork quiche, cucumbers—topped with mint leaves and ground shrimp served with steamed rice and garlic vinegar fish sauce. Wow! And the list of specialty items continues.
-Rice Noodle Soups (Pho) – There are six options from free-range chicken, to brisket, shrimp and vegetables served in a large, ceramic bowl.
-Rice Plates (Com Dia) – There are nine different options here and I had the pleasure of enjoying one of these on my visit. This entrée is served on a bed of rice with various options, such as: chicken, grilled pork, shrimp, pickled vegetables and a plethora of sauces.
-Vermicelli & Garlic Noodles (Bun & Mi Toi) – There are nine choices on the menu and this is very popular section of the menu. These noodles are white in color and a tad smaller than a spaghetti noodle. Like other dishes, there are many options for protein such as: chicken, pork, shrimp and so forth. Many are adorned with bean sprouts, chopped cucumber & mint leaves topped with roasted peanuts and served with a lime chili fish sauce.
Creative Spring Roll Presentation-
Hue Oi has a fun way to present spring rolls and allow the guests to creatively build their own.
A colorful tray of ingredients arrive, based on the guest's order. A protein (pork, shrimp, and so forth), perky green lettuce, mint leaves, vermicelli noodles and sauces. The spring roll rice wrappers (Banh Trang) itself feel like paper and looks like a stiff tortilla. It arrive standing up in a tray. On the other side of the tray is a narrow container of warm water. As I watch the locals they know exactly what to do! They dip the wrapper into the water and rotate it all the way around until it is all wet. They set that on their plate and being to build their roll, as they add their favorite ingredients. They roll it up quick as can be and enjoy it! What a creative idea and so much fun to build your own!
My Tasting Menu-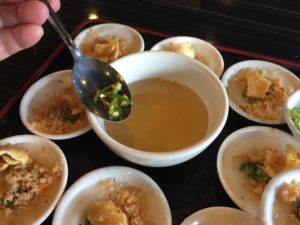 On this day I just had to order the Banh Beo Chen. Aptly named, Banh means cake, and Beo Chen refers to water fern or lily pads. If this is good enough for Brad Johnson (OC Register Food Critic) to place on his "Top 25 Vietnamese Dishes for 2017" well— it's one I have to have! Served on a tray are numerous tiny saucers (think children's saucer from a pretend tea set)
And atop each one are these delicate, diminutive rice-flour pancakes. Each little disc is topped with ground shrimp, chopped scallions and a treasure-trove of fried pork rind. Sprinkle this with their non-fishy fish sauce (thank goodness) and a dash of the chili. Bite size— but robust in flavor. One by one these are enjoyed.
The second item I ordered was #C9- Com Bo Luc Lac. The Com translates to rice, the Bo is beef, and the Luc Lac is shaken beef (referring to the sauté motion in the pan as it cooks). This was delicious. Atop the fluffy rice was cubed filet mignon that had a marinade with the perfect blend. This was served with a green salad that was so fresh and the Balsamic vinegar house-made dressing really was the simple, yet perfect accompaniment.
Planning My Next Visit
It is not often that I start a list of what I am going to order next, but here goes. On my next visit I cannot wait to order these three items:
1) The Spring Rolls—so I can build my own as described above!
2) The Hells Rice (Com Am Phu) described above
3) Bun Bo Hue Dac Biet #H1- This is Hue traditional soup with beef tender shank, pork hock, pork meat balls in a rich broth served with Vietnamese greens.
Announcing A Grand Opening of A Second Hue Oi Restaurant!
A second Hue Oi restaurant will be opening in Redondo Beach within the next few weeks and I will provide an update at the top of this article just as soon as we have the exact date. The name is PHO HUE OI Vietnamese Kitchen.
It is a smaller venue with 40 seats vs. 94 here at Brookhurst. They will be adding patio seating, a bar, and the décor is rustic with reclaimed wood, tile work and Edison Bulbs for that slightly retro-vibe. Both locations utilize a host of popular "take-away" delivery services (Door Dash, Grub Hub and Amazon). Hue Oi is very smart to embrace this new dining delivery trend!
I look forward to returning to Hue Oi and to visiting their new location just as soon as they say it is open! This is well worth a visit and hope you will enjoy it as well.
Hue Oi Vietnamese Cuisine
16537 Brookhurst Street
Fountain Valley, CA. 92708
(714) 531-1305
www.hueoirestaurant.com
Hours: Wed-Mon 10:00am to 9:00pm (Closed Tuesday)
Opening In The Next Few Weeks!
Pho Hue Oi Vietnamese Kitchen
4051 Inglewood Ave. – Suite 101
Redondo Beach, CA 90278
(310) 263-1123
www.hueoivietnamesecuisine.com
(Disclaimer: I was hosted for this lunch while interviewing the restaurant representatives and owners and Chefs. All of the research and opinions are my own, as always!)