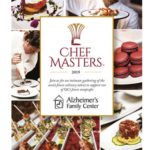 Another fabulous event is in the books for Chef Masters 2019. In its second year, it was held on October 27th, 2019 at the stunning Pasea Hotel & Spa in Huntington Beach, CA. The evening began on the expansive outdoor lawn which overlooks PCH and the Pacific Ocean beyond.  Our beloved chefs, favorite wineries and local luminaries all rally behind this event because it benefits the Alzheimer's Family Center in Huntington Beach.  The amazing Kristin Martin, is the producer and does a phenomenal job. I always marvel at how calm, cool and collected she looks as she greets all the guests with a big smile and warm embrace. With so many moving parts—over 60 chefs, wineries and various vendors, entertainment and all the catering details—- it is a staggering responsibility.  Just try to imagine keeping track of all that! Kristin is also the producer of the Table for Ten—a chef-driven extravaganza held in the springtime that also raises thousands of dollars for two other charities.
PLEASE ENJOY THIS TWO MINUTE VIDEO OF THIS AMAZING EVENT!
Chef Masters 2019 Video 2 Min.
Gourmet Tasting On The Terrace-
The culinary extravaganza begins with a two-hour gourmet tasting of food and wine on the resort's alfresco grass covered terrace featuring 32 top chefs, restaurants and wineries. Chefs showcase their favorite bites and guest meander through the reception visiting with the chefs and their staff. There was everything from delicious pasta, to oysters, paella being made before our eyes, ahi tuna, wines galore and even tastings of various flavors of honey and gelato. (Please see below for a complete list of the wonderful chefs and wineries donating their time, effort and products for us all to enjoy.)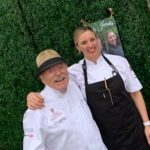 The Honorary Executive Chef Chair Chef Pascal Olhats and his new chef partner Jessica Roy from Café Jardin (at Sherman Gardens in CdM) had quite an interactive display. Their best bites featured a variety of oysters along with other delicacies laid out over several stone slabs, along with smoke and music. Chefs Olhats and Roy are bringing this type of creativity and enthusiasm to Café Jardin with a brand new menu. I was just there and it was delightful. Who doesn't want to dine on French cuisine in the heart of a garden?
Auction Items-
Tucked along the foyer were long tables overflowing with amazing silent auction items and the live auction items were showcased as well. Everyone was looking at the various items and wishing they would be the winner of, perhaps a Pelican Hill Resort Package, or a Chef collaboration "Garden and Fine Dining Experience" at Sherman Gardens for 20 guests, or maybe a Napa Valley wine experience.
The chimes then signaled it was for time for guests to step inside the Grand Ballroom to enjoy a dessert presentation, entertainment, and of course the live auction!  Entertainment was provided by The Johnny Holiday Show with the Dean Mora Orchestra. For more information please visit: www.chefmasters.org  .
All For A Great Cause-
The Alzheimer's Family Center in Huntington Beach is the first and only day care program in Orange County, exclusively devoted to treating people with Alzheimer's disease or other dementia. For over 40 years the center has been helping dementia patients and their families successfully cope with the many challenges of memory loss. They are affiliated with Hoag, and was recently awarded the Alzheimer's Foundation of American (AFA) "Excellence in Care distinction for meeting AFA's rigorous national standards for dementia care settings. To learn more, please visit their web site at: www.AFSCenter.org .
We would like to thank and recognize the many chefs, restaurants, water companies, wineries and media sponsors for their generous donations of food, drink, time and effort!
Food Network Celebrity Chef
Chris Tzorin, Eddie Perez, Manny Valasco- Xclusive Restaurants- Ladera Ranch
Venue Host Executive Chef
Prabeen Prathapan- Tanners Restaurant Pasea Hotel & Spa
Honorary Executive Chef Chair
Pascal Olhats, Café Jardin
Participating Restaurants and Chefs:
-Adam Navidi, Oceans & Earth & Future Foods Farm
-Amy Cripps & Christine Ferrian, OC Local Honey
-Andy Arndt, Newport Beach Marriott Resort & Spa
-Antonio Roa, Seahorse at Pearl Street
-Ben Lafleche, Waterfront Resort, a Hilton Hotel
-Charly Houegban, Scott Renny & Dom Shelton, Renaissance Palm Springs
-David Martin, The Pacific Club Newport Beach
-David Shofner, Dublin 4 Gastropub, Fable & Spirit
-Diego Bernal, Coliseum Pool & Grill- Resort at Pelican Hill
-Donald Lockhart, Monarch Beach Resort
-Eric Mickle, Orange Hill Restaurant
-Jessica Roy, Café Jardin, Corona del Mar
-Jorge Valines, Bluegold/LSXO
-Kelly Carter, Hula Girls
-Keith Prante, Haute Productions
-Kevin Myer, TGiS Catering
-Linda Johnsen, Filomena's Italian Kitchen & Market
-Lindsay Smith-Rosales, Nirvana Grille
-Manfred Lassahn & Adrian Legoy, Watertable Hyatt Huntington Beach
-Michael Doctulero, Mah Jong's
-Miguel Luna, 90 Pacifica at Doubletree Irvine Spectrum
-Noe Moreno, True Food Kitchen
-Paul Buchanon, Primal Alchemy
-Markus Hagan, Cannery Seafood of the Pacific
-Riley Huddleston, The Mayor's Table at Lindo House
-Samantha Meyers, Sugared & Iced
-Sara Guiccione & Christian Estrada, Tustin Ranch Golf Club
-Scott Raczek, Meritage Kitchen & Bar, Trinitas Cellars
-Sean Gebo, Current Coastal Cuisine, Renaissance NB
-Ugo Allesina & Victor Sanchez, Prego Ristoranti, Tustin District
-Zach Geerson, Journeyman's Food + Drink
Participating Wineries:
-Trinitas Cellars
-Jean-Charles Boisset
-Duckhorn
-Justin Wine
-Crowne Point
-Notorious Pink Rose
-Acqua Panna
-S. Pellegrino
Media Sponsor:
-KUDOS Newport Beach
Media Partners:
-Saute Magazine and Dining Out Magazine