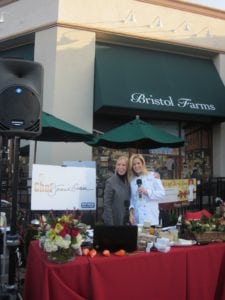 It was an early breakfast call on Sunday December 9th as we settled in to watch the magic happen here at Bristol Farms in Newport Beach. Somewhere between a living room and studio setting—observe as we did.  The food was parading out to welcome early arriving guests, Melissa's Produce booth—-check. Eighty or so chairs are huddled on the sidewalk and parking lot adjacent to the Bristol Farms entry. Yes, they are on it! Fans quickly begin to fill. Front and center, Chef  Jamie Gwen looks like she is about to launch a space shuttle. But she is as calm as a cucumber. Juggling balls left, right and center as she checks in with the station, "Hello, how are we doing?" she queries. She is on it. Her Producer (and Mom) Lana Sills with a warm smile is checking the list of guests as her precious lap dog reads along. The Sound Engineer has his sound board lit with buttons, knobs, sliding levers, and ear phones to listen to the KFWB Home Base (980AM). There are Chestnuts roasting, no really there are! And a big basket of nuts for everyone to enter a contest to guess how many are in the basket.  Chris Capehart's Mobile Sharpening Truck was in the Parking Lot! It was a fun environment with activity all around us.Jamie reminds me of a music conductor. She flawlessly recites "on air" promotions and commercials, interviews guests, rattles off recipes like she's noting today's weather. Jamie checks the next wave of breakfast fare to come out from the kitchen, grabs cookbooks for quick give-away drawings during commercial breaks, waves to fans, and calls out to radio listeners to "come on down". This is sheer fun, and this lady is on fire!
Now, mind you, this is all happening at 8:00am on a Sunday morning, and what I have just described took probably 3 hours to assemble prior to the start-time. The broadcast began with Jamie welcoming her fans and setting the stage on location and radio-esque particulars. Each live segment was engaging and I found all of it very helpful with the holidays soon to be upon us. Ida Rodriguez, Head Chef for Melissa's Produce previewed lovely centerpieces made of vegetables and guilded fruit. Jamie described how she easily sprays fruit with floral gold spray. Brilliant! They also discussed cheese plates and entertaining company. Jamie had a great suggestion that in retrospect is quite easy. She cut figs in half, dips them in sugar, and then browns that end with a propane torch. Looks so lovely on a cheese tray—and as she demos this I realize even I can do this!
Steve Dobbins was introduced from Young's Market presented four wines—-and all with excellent price-points. Chef Jamie who is also a Sommelier, offered details on style of the wines as well. All are available at Bristol Farms:
Spanish Cava- Polema Cava  Brut Sparkling Wine $11.99 Made in the French "style" with tiny bubbles, sweet finish.
Hahn Chardonnay- Monterey $11.99 ~ nWith bit of Pinot Gris for balance.
Rioja Antano Tempranillo 2007 $12.99
Hartland Sharaz 2009 South Australia $15.99 ~ Great with Christmas Prime Rib!
Next up was Rick Stitum– Manager of the Meat Department at Bristol Farm. He described the "dry aging" process, involving special coolers, light and temperature to make it ultimately tender and flavorful. He brought out a delicious and huge Prime Rib and proceeded to carve it. We all enjoyed the tasting with horseradish sauce. Perfecto!  Then we had Amelia Saltsman, cookbook author of "The Santa Monica Farmers' Market Cookbook". The book specializes on seasonal foods, simple recipes and stories from the market and farm.
She was a pleasure to hear from and offered some wonderful ideas.  Chef Jamie also shared with all the attendees her recipes for Holiday Butternut Squash Soup (secret ingredient is Coconut Milk) and Pumpkin Mascarpone Carmel Trifle. (both should be on her web site.
Meanwhile on air we could hear pre-recorded interviews with Chef Tyler Florence and Chef Rick Bayless—- sharing their new ideas for Fresh Food & Creative Cocktails!
Chef Jamie Gwen ~ Radio host ~ TV Chef ~ Author ~ Food Columnis www.chefjamie.com
Upcoming Events: Catch Jamie on THE MARIE SHOW on The Hallmark Channel on January 14th, 2013. I'm sharing recipes for the ultimate Super Bowl Party with Po'Boys, Gumbo & Beignets!