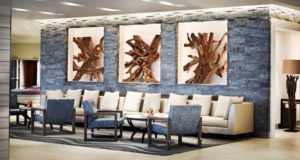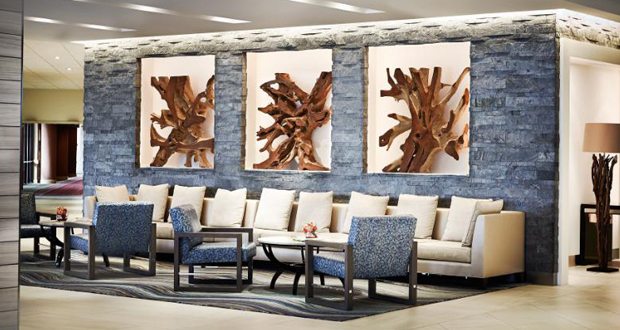 I recently attended a fantastic event at the Irvine Marriott to unveil their new renovation and you will want to make it a point to stop in ASAP! They were showing off a recent mega-renovation with an incredibly hip new look. The event focused on "all of our senses". Chefs escorted us thru—the sense of smell, sound, feel, and so forth with small bites and sips along the way. An A cappella group serenaded us as well. It was such fun and this unique event idea allowed us to visit all the new spaces—-from fire pits on the patio to a cozy Speakeasy called "YNB" (you never know) and you really don't! There was live music showcased on a small stage at the expansive bar's edge. The lobby decor is coastal calm—with hues of blue and cream colors and is accented with light woods. Quite impressive, yet relaxing.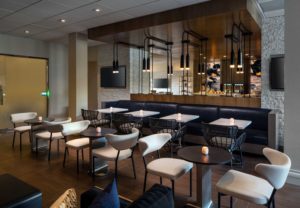 Sense of Sight– We visited the business-traveler pampering M Club Lounge designed for loyal Rewards Members (and one of the first for the brand)! And with flashing colored wrist bands, media guests were divided into groups and we rotated thru the numerous interactive venues. Let the fun begin!
Next, we entered the very impressive FLOE Lounge. And yes Tuesdays and Thursdays they have live music from 5:30-7:30pm. More on the restaurant and lounge later in the article…. and yes there is a Speakeasy too!!! This place is just full of surprises!!!
Sense of Smell– Executive Chef Adrian Hernandez here at the Irvine Marriott charmed us on the patio with insights on herbs and how they impact our bodies. Rosemary is for relaxing and garlic is for strength. It was a dramatic presentation with a roasted tomato, zucchini squash blossom, sliced steak and lettuce all under a glass dome infused with smoke just prior to delivery. It was so colorful and delicious! We toasted with one of my favorite wineries in Napa—from Chappellet Winery-Mountain Cuvee. This winery sits high atop Lake Hennessey at the north end of Napa.
Sense of Sound– Visiting Executive Chef Thomas Horner from JW Marriott Desert Springs loves working with nature to grow food. Using sound waves and how it travels and creates patterns in the ocean was his inspiration. With tasting spoons before us…we began with a delicate taste of ceviche with duck, lime and cucumber. Our second bite was a cold-smoked scallop with celery-seed gastrique, and the third was a sous-vide octopus nori with crispy crunch finish. It was all so fresh from the sea.
Sense of Touch– The Executive Chef from Coronado Marriott, Michael Poompan also joined us at our third venue. Armed with specialty Chantenay Carrots from Rutiz Farms in Central California, he created a delicious Carrot Puree. This was delicate yet rich with flavors…fresh tarragon, lime, shallots, a hint of cinnamon, nutmeg, coriander and cardamom. Thinly sliced carrots were placed on top with a coffee and almond butter mixture and a light drizzle of olive oil atop. Delicious!

Sense of Taste– The Speakeasy YNK is a wonderful step into another time and place. The lead bartender (Ravin Buzzel from Singapore) is so personable he makes the entire experience very extra-special. My favorite drink is the Applewood Smoked Cardamom Old Fashion and the smoke contraption he uses to infuse the cocktail—it is just fun to watch him make them! And a sheer classic to sip! (Ask to see his book of hand drawn drinks with all the descriptions.) Every few months the theme changes to another place around the world. At the time of this event, the theme was Asian. Right now it is all about Spain, and this means the specialty beverages follow suit. To celebrate Spain, guests can find drinks such as: Gin and Tonics, Sangria, Queimada, Rebujiot, Calimocho, and Spanish Armada. There are videos playing on the walls to transport you to each international destination!
A Tad About the Hotel: Perfect for business or pleasure, the Irvine Marriott is less than a mile from the airport, but you would never know it! They do offer complimentary shuttle service to John Wayne Airport. The lobby is modern with a hipster vibe. Instead of the restaurants and bar tucked away, it is all out front-and-center. If checking in—you can just scan the entire space and see if you want to throw your luggage down and join the fun! Not at all "cookie-cutter" the guest rooms offer contemporary decor, luxurious bedding & modern technologies. There is an M Lounge (the Great Room) for Marriott Rewards Members to hang out. The FLOE Lounge offers a variety of tempting coastal dishes with a lanky bar serving handcrafted specialty cocktails. Offering indoor and outdoor seating it is so California! The hotel also features a sparkling swimming pool and modern fitness center. An onsite Starbucks® provides a jolt of java any time of day, and 38,000 square feet of flexible event space says they mean business too.
FLOE Lounge: There are four eclectic areas to meet friends and enjoy a casual cocktail and dining experience. And with a drum roll, here they are: 1) the Gather Spaces where "sea meets city" vibe and features local artisans, 2) the Bar in a European pub-style bar area with illuminated colorful bottles that seem to dance along the back wall illuminating all the amazing liquors available, 3) Indoor Dining in a modern seaside setting features up-lit stainless steel cables, sculptures, and even large communal tables, and my favorite spot, and 4) the Outdoor Patio featuring a heated outside terrace with fire pits. It is a playground for adults—by day the umbrellas shade the patio and there are ping-pong tables and a 70-inch TV, and by night the space comes to life with LED lighting, fire pits, and dive-in movies by the pool area. The all-day menu (breakfast/lunch/dinner) features modern coastal cuisine and signature cocktails. In the morning there are classic dishes and pancakes, along with signature breakfast fare. For lunch and dinner the menu is quite flexible. It is more like a grazing menu versus a dinner house. There are quick bites, share-able bites like fish tacos and flatbreads, heirloom caprese, soups, salads and casual dining big meal bowls that guests can customize with their favorite starch, protein and seasonal vegetables. Yes, numerous sweets are here as is an impressive wine and beer list. There is seriously something for everyone here!
On Tuesday and Thursday evenings there is live music from 5:30-7:30pm. They also offer 3 hour complimentary valet parking with Lounge validation. 949-254-5713 Monday-Friday: 6:00am-Midnight Saturday-Sunday: 7:00am-Midnight
YNK Speakeasy: Because "You Never Know" and thus the name YNK! This is where classic cocktails meet travel and innovation and they are re-defining what it means to have the perfect cocktail experience. It is an ever-changing beverage experience created by the Ellis Adams Group. The cocktail journey varies seasonally, so you don't get bored and YOU NEVER KNOW where the cocktail journeymen will take you next! This month it is an immersion in Spain. This means specialty beverages, such as: Gin and Tonics, Sangria, Queimada, Rebujiot, Calimocho, and Spanish Armada. There are videos playing on the walls to transport you to another place on the map. Come along for the ride. Their passion for veiled & smoky concoctions is magical and intoxicating. 949-553-0100 Open Tuesday through Saturday from 5:30pm to…well…you-never-know…
Irvine Marriott 18000 Von Karman Avenue Irvine, CA 92612 949-553-0100 www.marriott.com/laxir