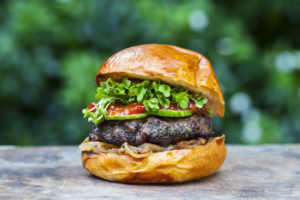 Explore Orange County, LA and Long Beach one Burger at a time beginning Sunday, July 12th and running all week thru Saturday July 18th! Participating Restaurants and Chefs are creating seriously delicious Burger Week menus with a variety of selections, sides and beverages. Imagine….everything from classic cheeseburgers to veggie burgers and beyond. There is something for everyone.
Burger Week menus are priced at $10, $15 and $20 and $25 . No passes, tickets or coupons required for this TASTY event. Diners simply visit their favorite participating restaurants during Burger Week or order take-out. Either way you can enjoy fantastic burgers all week. There are plenty of options, such as: beef, ground skirt steak, veggie burgers, chicken, turkey, lamb, mushroom, and the list goes on!
As of June 23, 2020 there are 61 restaurants all over Orange County, LA & Long Beach that are participating in this program. More are being added daily so check the web site often.  From Santa Monica, Long Beach, to Fountain Valley, Santa Ana, Costa Mesa, to Newport Beach, Laguna Hills, San Juan Capo to San Clemente too!  Their web site is awesome (as usual) offering guests an opportunity to search by price-point, city and restaurant name. They are adding menus now as each chef develops their special burger for us all to enjoy.  Check it out here… by location, price point or name   www.burgerweek.com
Partners Include: OC Foodies.com, The Fork Report with Neil Saavedra, Orange Coast Magazine, LA Times, Food Beast, Knob Creek, Maker's Mark and Shamrock Foods.