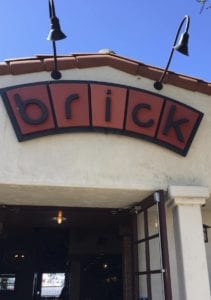 As I sauntered into this restaurant last week in the heart of San Clemente to meet some gal pals, I was instantly impressed with the wood décor, the amazing light fixtures and the long bar where each bar chair is quite unique. There is probably a story to be told about each one, but wait…. I got totally distracted.  Peeking around the corner and behind the long, open-format kitchen line were two huge Santa Maria BBQ grills. And to the right was a huge fire brewing that you just cannot miss! This 750-degree wood-burning Italian Valoriani oven cooks flavorful pizzas, breads and all kinds of roasted goodies. White oak wood was piled high in a tin pail to stoke the fire. It was only 11:30 in the morning, but heck, life was running at full-throttle here at Brick Restaurant in San Clemente.
Meet Executive Chef and Owner David Pratt. The Chef was moving like he was directing a sixty-piece orchestra! One minute this conductor was stoking the fire, the next he was lifting the huge grill up a notch, and then just steps away he was cutting fresh beets and trimming stems off of fresh broccolini. It was serious art in motion as he set the tempo. And each movement was made with intense purpose. This is a Chef who loves what he does! And he exudes this passion to all who enter.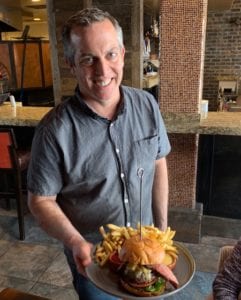 He describes his food as "Rustic Brick-Oven Cuisine Inspired by Seasonal Local Harvest" with a hint of creative Italian flare (ok, I added that second part, but it is true).  He picks up his produce daily at the Ecology Center in San Juan Capistrano and proudly brings it in to be instantly incorporated into the daily menu. That is "farm-to-table" my friends. He even does butchery of a pig that is delivered to him weekly and he uses every bit of it. It is all incorporated into a variety of hand-crafted dishes. (When I tasted the bacon I could really tell the difference vs. what I purchase in the grocery store. What a burst of flavor!)
San Clemente is a laid-back coastal beach town. I have been coming down here on and off since I was a little kid. I used to arrive by train and my friend and her family would meet me as I would toss out my duffle bag and jump-off the train directly onto the sand. And flash forward—fifty years later I can proudly say this town is still much the same. Chef David knows that this town wants flavorful food with a twist, good value, personalized service and a welcoming, friendly setting to just chill.  I was so impressed how David walks around and talks to each table. Why do some Chefs not do this? It is so important to get a sense of the feedback and also to thank the guests for stopping by. This town serves an eclectic mixture of customers—from long-time locals to tourists visiting from all over the world. Chef David has his pulse on it all.
For the history buffs in the room…In 1602, a Spanish explorer Sebastián Vizcaíno named the island off the coast as San Clemente Island to honor Saint Clement. The town was founded in 1925 by Ole Hanson as a planned real-estate development called "Spanish Village by the Sea". Hanson wanted to develop a Mediterranean-style coastal resort town. And the rest is history, as the highway connecting Los Angeles, to Newport Beach and down toward San Diego had begun. Today San Clemente's city slogan is "San Clemente by the Sea". The official city flower is the bougainvillea, and the official city tree is the coral.
A Fabulous Lunch- We were treated like Princesses by the staff and Chef David. What an honor this was and he enhanced our selections with some seasonal specialties. We were so happy to enjoy each and every item.  I will now describe here are items that are not to be missed!
Five Starters Get Us All Humming- We were first presented this amazing bowl of veggies. Roasted Farm Vegetables- I have never started a foodie list with vegetables as being a favorite bite, but here goes—as you can see from this dreamy photo, the flavors just bounced off the plate. Roasted to perfection each bite was great and this was a special treat from the Chef!  Beet Salad- Roasted farm beets, Rock Shrimp, Farm Citrus Supremes, Lemon Vinaigrette and micro-greens atop. This is the perfect starter—light and refreshing but full of earthy beet love. $15 Caesar Salad– Blistered Cherry Tomato, Grana Croutons (and guests can add Mary's chicken breast for $9). I love that they offer two sizes of a salad and the dressing was honestly one of the best I have had.  $14/$20 Crispy Squash Blossoms – Stuffed with Herbed Ricotta Cheese and fried in a very light batter. They served with a Marinara Sauce were so delicate and flavorful. I have a friend who always orders these when she sees them on a menus so we will plan a trip in to enjoy these for sure. $13 Grilled Artichokes- Roasted on the grill with Garlic Tapenade with a Romesco Lemon Aioli smear. There are three halves cooked to perfection and so artfully presented on a wooden tray. $14
Wood Grilled House Ground Angus Burger– This should just be called a "steak burger" as it made with a trio of meats that is ground daily right here. This includes: Angus Short rib, Brisket and Chuck. It is manly huge and is served with delicious hand cut fries, Basil Aioli, with Little Gem Lettuce, slice of Heirloom tomato, pickled onion and thick slice of house made bacon for an additional $3 (which is worth adding for sure). The burger is $17 and quite sharable.
Risotto Entrée- Chef David uses Gran Riso (rice) Carnaroli from Italy. Of course he does! This adds a sprinkle of great authenticity to the dish and it cooks differently than other rices. On this day, he was serving a rich Risotto prepared with Chanterelle Mushrooms, Braised Oxtails, Roasted Farm Torpedo onions, Parmesan Reggiano and parsley. $20
A Lunch Special: Tuesday thru Friday guests can enjoy a three-course prix fixe  lunch which includes: a Caesar Salad, Margherita Pizza and a scoop of seasonal Gelato for $18.
Did Someone Say Dessert? We did not partake as we were so full but they have four different items to choose from: Molten Chocolate Cake, Cannoli, Chocolate Budino and Daily Gelato Trio.
Beer, Wines & Cocktails- Brick offers a fine selection of Artisan and local beers on tap. The bartenders create seasonal hand-crafted cocktails that incorporate fresh, local and sustainable ingredients. I cannot wait to try the Lavender Lemon Drop on my next visit. Sounds delicious! The wine selection was carefully selected by Master Sommelier, Troy Smith, with an emphasis on Italian varietals. They offer 50 Italian wines by the bottle priced under $50, along with a variety of domestic and international wines by the glass to complement the pizza, pasta and the myriad of other wood-fired entrees.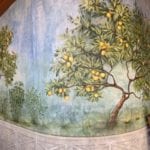 Patio and Private Dining Area– It is so hard to find a restaurant with a fun patio or private dining area for a gathering. This spot has it all, seating about 50 and he is updating it as we speak with even more bells and whistles. It has a beautiful Trompe l'oeil ('trick of the eye') painting of lemon trees along one wall and offers peek-a-boo views of the ocean below.
Something Special For the Kiddies Too- Chef David doesn't miss a beat, and the kids in tow are also welcomed with open arms. He even offers a "Build Your Own Pizza" for $10 which allows the kiddos to play chef too. They select their fave ingredients, and all the items appear at the table with a crust ready for decorating! The kids set it all up and then get to place it in the oven (with assistance of course). They even can use a meter to test the temperature inside the wood-burning oven! What fun and the kids just love doing this. There is also Rigatoni, Meatballs and Roasted Chicken as other options.
On My Next Visit- I cannot wait to return and enjoy their Margherita Pizza from their wood-fired Brick Oven.  And yes, for sure that Lavender Lemon Drop. I also have my eye on the Orecchiette pasta. Their pasta is handcrafted daily, and this dish is created with house-made sausage, Cheng Farms Flowering Broccoli, a Mushroom Medley and Pecorino. The Salads and most of the Pizzas can be ordered in two sizes which I think is perfect for sharing!
About Chef Pratt- David Pratt, Executive Chef and Owner of Brick first studied at the California Culinary Academy in San Francisco and went on to teach culinary courses at the Art Institute of California-Santa Ana on and off for the past decade. David spent the past few years as the General Manager of Studio restaurant, at Montage Resort and Spa (a Forbes Five-Star modern French with California inspired restaurant located in Laguna Beach). Previously he was chef and co-owner of Mirabeau, an upscale authentic French Bistro in Dana Point. Other prior experience includes positions as Executive Sous Chef for Julian Serrano at Picasso Restaurant at the Bellagio in Las Vegas, Chef de Partie at Masa's in San Francisco and General Manager for celebrity chef Todd English at Olives in Washington, DC.
Brick Restaurant
216 N El Camino Real
San Clemente, CA 92672
(949) 429-1199
http://www.brickrestaurantgroup.com/home.php
Tuesday-Friday     11:30am-10:00pm
Saturday                 11:00am-10:00pm
Sunday                   11:00am-  9:00pm
Monday                  Closed