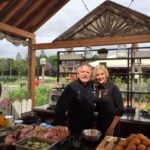 Mother's Day weekend is ideal with this fun adventure with Chef Pascal Olhats (of Pascal's Restaurant and Café Jardin) and Anne Manassero of Manassero Farms. Here was our delightful menu including Chef notes. Enjoy!
Smoked Salmon on Brioche
-Smoked salmon with cucumber, a cream condiment, served on a brioche bun.
-Mix the sour cream, lemon and shallots with splash of Worcestershire sauce and fresh dill.
-For the Cucumbers slice them and sprinkle with salt (to extract some of the water).
Mason Jar Poached Eggs
-Cook the egg in adorable squatty Mason jars (found at Ace Hardware).
-Place chopped fresh tarragon in the bottom, and the cream mixture described below.
-Heavy cream, pepper, salt. Pour a little into the bottom of the container.
-Crack each egg in a separate bowl to make sure no shells. Pour the egg into the container.
-Add more of the cream mixture on top.
-Prepare a Bain Marie (Mary's bath) and bake for 40 minutes in a 400 degree oven.
(See below for possible explanation of the origin of the name Bain Marie….)
-This was served with a delicious French Bread that was toasted and topped with a Tomato Purée.
Fresh Vegetables, Bacon and Spicy Sausage
Fresh picked from the garden, a selection of colorful zucchini, squash was sautéed and sprinkled with warm bacon.  A grilled sausage was also served.
Judy Tolentinno's French Toast
Anne had a fun contest, offering guests to submit their Mom's recipes and Judy won. She created along with Anne and Pascal her special French Toast. The recipe is attached and we were fortunate to take it home with us. I would add a splash of Grand Marnier too!
Assortment of Breads
Anne made a delicious Orange Marmalade Butter, using four sticks of butter slightly soft, mixed with one jar of Orange Marmalade Jam. It was delicious!
Coffee and Champagne, and other juices were also served. It was a lovely day in the barn as we celebrate all the Mom's out there! Thank you Pascal and Anne… until next time….
Make Your Plans To Enjoy Upcoming Events-
You can find out more about their Upcoming Events….. Off-site Farm to Fork Cooking Class and Ingredients to take home at The Wine Artist in Lake Forest May 31st, and Breakfast in the Barn
on June 6th with guest Chef Greg Daniels of Haven Gastropub and Provisions Market in Old Orange.
http://www.manasserofarms.com/events/
You can also enjoy Pascal Olhat's wonderful restaurant Pascal's in San Juan Capistrano, and he has some wonderful wine and cheese pairings, dine in or complete meals to go as well. The quiche is wonderful too. He also has Café Jardin at Sherman Gardens which is a real treat with girlfriends in CdM.
http://pascalrestaurants.com/
(I was curious, so looked up in Wikipedia what the origin was of the name Bain Marie, which is a French term for this cooking technique.  Bains-marie were originally developed for use in the practice of alchemy, when alchemists needed a way to heat materials slowly and gently. In that early form of chemical science, it was believed by many that the best way to heat certain materials was to mimic the supposed natural processes, occurring in the Earth's core, by which precious metals were believed to be germinated. The name comes from the medieval-Latin term balneum (or balineum) Mariae—literally, Mary's bath—from which the French bain de Marie, or bain-marie, is derived. There are many theories as to how the name Marie came to be associated with this equipment: 1) The device's invention has been popularly attributed to Mary the Jewess, an ancient alchemist traditionally; according to The Jewish Alchemists,[4] Maria the Jewess was an ancient alchemist who lived in Alexandria. Mythical traditions have suggested that she was Miriam, the sister of Moses.2)  Alternatively, according to culinary writer Giuliano Bugialli, the term comes from the Italian bagno maria, named after Maria de' Cleofa, who developed the technique in Florence in the sixteenth century.,[5] but earlier mentions (e.g. by Arnold de Villanova in the fourteenth century) seem to invalidate that attribution. OR,3) Finally, some consider the name a reference to the Virgin Mary, whose proverbial gentleness can be likened to the gentleness of this cooking technique.)