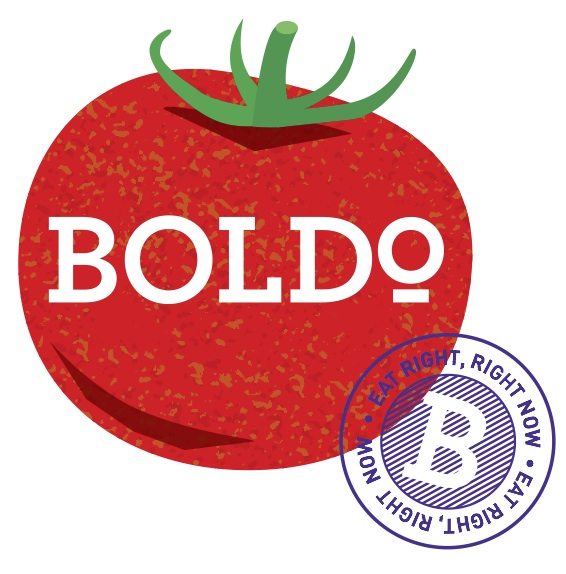 Written by: Guest Blogger- Jamie Wood
Know Thy Farmer.  Who grew the tomatoes in your salad? Who watered the peach tree? Who raised the chicken?  The folks at Boldo, a new type of restaurant located in Downtown Santa Ana's vibrant and burgeoning new East End, know every farmer, rancher and fisherman that lovingly care for, harvest and hand deliver their products. In fact, they visit the independent farms and ranches, and travel to the seaside to make sure these purveyors meet with the Boldo "Stamp of Approval".
The list is long and thorough, but suffice to say, there are no synthetic pesticides, fertilizers, antibiotics, hormones, or genetically-modified organisms (GMOs) utilized in the cultivation of any food products. And all food suppliers must show an interest in fostering environmental health and implement conservation-based practices.
You see, community includes people, animals and land for Chef Paul Chamberlin and his wife Judy, owners and operators of Boldo. They walk the talk here, partnering with several local organizations to improve their guest's connection to food and farmers. And that includes mentoring local school kids to grow fruits and veggies in urban gardens throughout Orange County.
Boldo serves up their local, sustainable, daily-delivered goods in a bowl with a choice of one grain, one legume, three vegetables, a sauce, and if you're interested, a protein. So the choices are endless, particularly as the menu changes with the seasons, bumper crops, new inventions from the kitchen and of course, your endless imagination. They also do an incredible business for "to go" ordering, so don't be afraid to do that and take away! Now the question you are asking yourself is how good is the food? And does it really make a difference? Well that's a resounding yes! The garlic broccoli is verdant green and savory, the herb-flavored sauces unique and layered with flavors, carrots mixed with sunflower pesto, pinquito beans with Aztec spinach.
Boldo is located in the heart of Santa Ana's "Wellness Corridor". This is an action-oriented name given to the area by local advocacy group, Latino Health Access, and surrounded by chef-driven restaurants, such as Playground, a restaurant owned by Jason Quinn, chef from The Lime Truck and winner of Food Network's The Great Food Truck Race, and Chapter One, local gastropub serving local produce, seasonal fare, craft beers and culinary cocktails.
And coming in late 2014, 4th Street Market, a gourmet Food Hall, will open just a couple of blocks away. This unique food hall features ten mini-restaurants, a wine bar and beer garden, butcher, bakery, coffee roaster, ten incubator kitchens (including gluten free and confection), a demonstration kitchen and a multitude of culinary adventures, from chef demonstrations to hands-on cooking classes.
It's time to craft your own bowl at Boldo and see for yourself! It's a revitalization—a revolution of taste and culture with attitude.
Boldo Restaurant
305-105 E 4th Street
Santa Ana, CA  92701
(714) 558-2653
www.boldobol.com
Jamie Wood– TastesAndTravel.com is pleased to have Guest Blogger Jamie Wood share this story with us, and get us all excited about many new initiatives that are coming to this area. Jamie is a published author & writer, and also a marketing, public relations and events expert. Her agency is  www.skippingstonesnation.com . Her focus is on three key initiatives: uniting community, cultivating brand loyalty & building business.