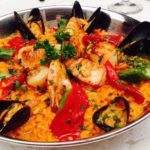 Every Wednesday during summer, Paella & Sangria will be served on the patio, along with live Flamenco music from 5:00-9:00pm. The restaurant will serve up pequeña paella ($12) and sangria ($7) , as flamenco music fills the night air (pricing excluding tax & gratuity).
Executive Chef Timothy Doolittle touts paella as a delicious classic Spanish rice dish made with vegetables, and/or a mix of various meats or seafood. Saffron and rosemary are typically added as are other herbs and spices to lend a lively flavor. Paella originated in ancient times in Valencia, along the eastern coast of Spain. "We are delighted to announce Spanish Nights at Bistango Gardens each Wednesday throughout the summer," said owner John Ghoukassian. "I can't think of a better way to celebrate 'hump day' than by enjoying paella and sangria while listening to live music in a gorgeous, secluded environment."
With mature trees, plants and flowers creating natural intimacy and an enormous circular fountain as its centerpiece, the patio offers conventional dining, private cabanas for larger groups and high-top cocktail tables for those seeking a more casual experience. Oversized red umbrellas offer plenty of shade.
This restaurant has been a critically-acclaimed Orange County dining institution since opening its doors in 1987. It is renowned for its diverse menu of fine American cuisine set in an airy atmosphere and distinguished by fine art exhibits and white linen fabrics that suspend from the ceiling to lend intimacy to the space. An extensive cocktail list of classics and house specialties and a 400-bottle wine list that was heralded by Wine Spectator round out the lovely offerings. Also available are 20 craft beers by the bottle, which include some "hard to obtain" selections.
Bistango serves lunch and dinner weekdays and dinner-only on Saturdays. Live entertainment can be enjoyed each evening in its sophisticated lounge, adjacent to the bar and dining room, where couples enjoy dancing as well.
Bistango is located at The Atrium
19100 Von Karman Avenue ~ Irvine
(949) 752-5222
Web Site: www.bistango.com
Music Schedule: http://bistango.com/live_music.html