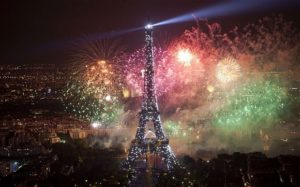 FRENCH-STYLE SMALL PLATES AND SUBLIME ROSÉ WINES? YES PLEASE- While Americans have the Fourth of July as their "day of Independence" the French have Bastille Day celebrated 10 days later on the 14th. In celebration of this French holiday, Bistango restaurant features a special small plates "French" menu and hand-picked selection of rosés. This will be served in the Bistango Gardens, the restaurant's 70-seat lushly landscaped al fresco lounge, beginning at 5:00pm.
Imagine a puff pastry cup with escargot, garlic butter & parsley for $10; Tart Oignon Chèvre with caramelized onion, goat cheese & Balsamico d'Oro for $10; Pan-Bagnat of tuna, olive oil, hard egg, sweet onion & pommes gaufrettes for $8; and a lamb sausage sandwich with onion & pepper on a baguette with pommes gaufrettes for $9. French desserts will include: Crêpe Suzette, $7 and a variety of Macarons for $3. As you can see, Executive Chef Tim Doolittle has crafted a number of "French-inspired" items for this special occasion.
And did someone mention summer wines? Rosé wines have been hand-selected for the occasion by Bistango's sommelier Bill Blank, including two favorites: a Château de Campuget, Costières de Nîmes for $8 per glass and Gerard Bertrand Coté des Roses for $11.
And for the "history buffs" in the room… you can thank me later for these answers to "possible" quiz questions posed at the bar—typically late in the evening.
Bastille Day's origins can be traced to July 14, 1789, when Parisian revolutionaries and mutinous troops stormed and dismantled the Bastille, a fortress/prison and, more importantly, a symbol of corruption of the aristocratic government. Shortly after, King Louis XVI and wife, Marie Antoinette, retreated to the elgant King's residence, Versailles. Meanwhile, the peasants pillaged and burned the Bastille and much of Paris, destroying most records of feudal dues. This dramatic action signaled the beginning of the French Revolution, a decade of political turmoil and terror in which King Louis XVI was overthrown and tens of thousands of people, including the king and his wife Marie Antoinette, were executed.
Bistango has been a popular Orange County dining institution since opening its doors in 1987. It is also fondly noted as the first date for my husband and I. Now married for 18 years, it is a spot we return to often and reminisce of our chance first meeting. It is renowned for its diverse menu of fine American cuisine set in an airy atmosphere and distinguished by fine art exhibits (which rotate often) and white linen fabrics that suspend from the ceiling to lend intimacy. It is an elegant space. An extensive list of classics specialty cocktails, and a 400-bottle wine list round-out the offerings. Also available are 20 craft beers by the bottle, which include some hard to find selections. Live entertainment can be enjoyed each evening in its sophisticated lounge where couples enjoy dancing the night away.
Bistango at The Atrium 19100 Von Karman Avenue- Irvine, CA (949) 752-5222 www.bistango.com
Hours:
Lunch: Mon – Fri 11:30am – 2:30pm
Dinner: Mon-TH 5:00pm – 9:30pm and Fri & Sat- 5:30pm – 10:30pm
Happy Hour: Mon – Fri 5:00pm – close
Closed Sundays (available for private events)