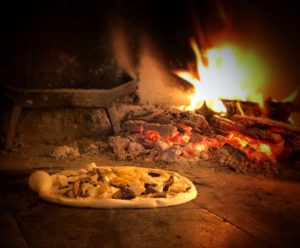 Bravo! The recently opened Italian restaurant Bello by Chef Sandro Nardone has just this week added lunch to their offerings. They quote an Italian phrase, "lento o veloce" which translates to slow or fast.  This means that if guests are looking for a quick in-and-out lunch, the team is on it! Velocemente! Pronto! Quickly….just say the word.  And if they prefer to linger and chat, that is fine too. They even offer "take out" with the integrity of each dish in mind when packaging it to take away.  They have been offering dinner since opening and now expanding it to the lunchtime is perfect! Bello is known for its blend of both traditional and modern Italian cuisines.
As Sandro noted, "We're definitely approaching the lunch menu with the same love and care that we do at dinner and we wanted our lunch service to have its own identity and that's why we've taken our time to launch a well thought out menu."
Lunch is Served- The lunch time menu focuses on just want we want… salads, sandwiches, pizza and a few specialty pasta dishes. The salads and pizza steal the show. Let's take a walk thru some of the lunch menu highlights….
Salads-
We began our visit with a Conserva di Pollo which was a hen poached and marinated in the Taiwanese cooking method, as the chef described. This was tossed with carrots, Treviso, celery, lemon and a delicious dressing.  The second sald was my favorite. It was Gorgonzola with arugula, candied walnuts and lemon. Very flavorful. The third salad was baby gem lettuce with fresh herbs, croutons, and Bagna Cauda (mixture of garlic and anchovies) to create a great take on the Caesar Salad. There is a crispy octopus salad I have my eye on for my next visit.
Pizzas-
The "wood burning pizza oven" adds so much to all the dishes but is especially pronounced with the pizza crusts. The first pizza we tried is a heartfelt fave, and that is the Margherita pizza with basil and cheese and tomatoes from San Marzano of course. (And as legend has it…on June 11, 1889, to honor the Queen consort of Italy, Margherita of Savoy, the Neapolitan pizza maker Raffaele Esposito created the "Pizza Margherita". This was a pizza garnished with tomatoes, mozzarella, and basil, to represent the national colors of Italy as seen on the Flag of Italy.) It was delicious—light and warm and full of flavor.  The second pizza was one  I have never heard of before. Dolce Diavola is devine. It is made with San Marzano tomoatoes, Calabrese Salame, Fior di Latte, and then… are you ready… walnuts and honey are added on top. It was utterly sublime! The third pizza we enjoyed was the Filetto with mozzarella, cherry tomatoes, garlic and basil. It was delicious as well. There are a selection of other choices as well—but these were amazing!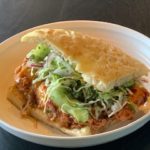 Pasta and Sandwiches-
There are also two pasta dishes on the menu and I am sure specials will be added as they get centered in lunch time fare.  There are four sandwiches on the menu and the one we tried was quite spicy so be forewarned. It was a Fried Chicken sandwich with a crunchy slaw and house made pickles They also have an eggplant, prosciutto and porchetta sammies to select from as well.
The Bar and Dining Room-
The restaurant is in an expansive space with a large bar area (and comfortable bar stools that are cushioned and with backs on them). They have a robust bar program featuring seasonal craft cocktails with an Italian twist. Bellini's made with seasonal fruit complement the bar's more complex cocktails, including Il Bello with Campari, Vermouth, blood orange juice and egg whites and La Dolce Armata made with rye, cream sherry and plum shrub. BELLO strives to present one of the best Italian wine lists in Southern California. In addition to well known favorites, such as Super Tuscans, Brunellos and Barolos, BELLO also focuses on smaller artisanal wineries from different regions in Italy.
They have two large dining room areas, a lovely covered patio outside, and a display kitchen bringing the cooking action and flames from the pizza oven, all
front and center for us all to enjoy! There is also a Chef's Table to watch it all up close and personal.
Deirdre's Tips-
-Most items are cooked in their WOOD BURNING Italian pizza oven which gives it the perfect amount of blistering and flavor. So authentic!
-The service is impeccable and a pleasure at every turn.
-There is a Chef's Table and what fun to sit up at that table and overlook all the going's on in the kitchen.
-Lunch "Must Try" Items: Gorgonzola Salad with candied walnuts and the Dolce Diavola Pizza with Walnuts and Honey…. who does that?? Both are so delicious.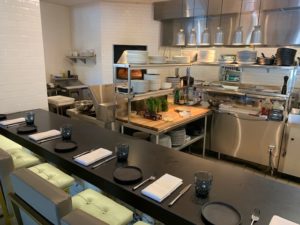 Details-
Lunch is served daily from 11:00am to 2:30pm.  For more information, including menu for lunch and dinner and for making reservations you can find more details on their web site at:  https://bellobysandronardone.com .  They are located at 1200 Bison (at MacArthur) in Newport Beach.
About Chef Sandro Nardone-
Born in a small town located between Rome and Naples, Chef Sandro comes from Atina, Italy, where he was raised in a family of chefs. From an early age, he adopted food as his passion as his parents ran a small chain of restaurants, with his mother, Giovanna, as chef. At BELLO, Chef Sandro's menu revolves around the very best ingredients and simplicity, the two guiding principles that have always been the foundation of traditional Italian cuisine.