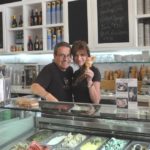 My insatiable appetite for everything "Italian" can now be satisfied right here at The Camp, in Costa Mesa.  No Tent Required.
Vitaly Caffé has arrived.  And it is my new best friend. Italian dishes I dream of, are lovingly replicated right here on-site. And Vitaly Caffé is so versatile— one can order a steaming espresso and Danish in the morning, a delicious soup, salad, Piadina
or calzone for lunch & dinner, and anytime of the day or evening choose from 16 different gelato flavors. Delizioso!
The Filicori coffee is imported, and many of the ingredients are brought in directly from their favorite "hand selected" vendors from Italy.
The dining menu is built around an interesting flatbread that is round and referred to as a Piadina (with a smaller version called a Tigelle). As history has it, the Piadina was a transportable mainstay for the Roman troops. The dough is made of flour, water, salt, olive oil and a splash of milk. It is formed into a round flat shape and cooked on a beautiful round ceramic plate called a teglia. It is filled with all kinds of meats, cheeses and vegetables and then folded in half and cut for easy consumption and best of all—-sharing. It is the perfect sandwich.  (Ask to see their book by Photographer Pier Paolo Zani who has captured this ancient cooking tradition in a delightful book on the Region. The Publisher is Pazzini Editore.) Here are a couple of examples of the many interesting photos found in the book!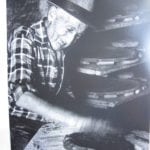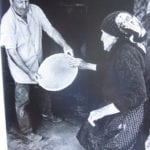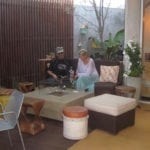 I instantly gravitate to the flexible seating arrangements. There is a corner table tucked against a backdrop of lush greenery and skylight in the courtyard. Tables and chairs dot the exterior patio with a canopy of shade above. Small dogs are welcome at the first two tables near the center courtyard (to the left).  Inside there is an espresso bar for quick takeaways, and around the corner an array of tables designed for inside "sit down" fun. This seating option is perfect for "people watching" as guests hover around the Gelato freezer case— with choices too numerous to even point and say, "I'll have that one!" The restaurant begins serving espresso and danish at 7:30am when they first open, and breakfast entrees are served from 8:30am to 11:00am daily. From there they roll right into lunch service and then dinner.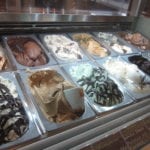 I can almost list the Gelato flavors by sight, as the creamy, fruity, luscious selections call to me. No place cards are require here. Pistachio, Fresh Strawberry, Coffee, Salted Caramel. Close your eyes and just listen to this list…. Cantaloupe Sorbet, Mascarpone and Fig, Ricotta and Pear with Cinnamon, Honey and Lavander, Vanilla with Chocolate, Chai Latte, Tiramisu, and the list goes on and on. Although "gelato" may conjure up a big scoop of ice cream on a cone—gelato is so much more than just that! At Vitaly there are: wafer cones, wafer shots, gelato flights, on a stick, in a sandwich, as a sundae, or a frappe! Magnifico!
Vitaly owner Maurizo proudly described to me what makes his gelato so different from all the others we might find in The OC. There are two factors—one is that they pasteurize the liquid mixture before it is frozen.  The second— and this is key— is that each of the recipes are created one by one—-with all the ingredients carefully measured to construct the perfect taste and texture. (Many gelatos are made from two or three "base recipes". This limits the flavor nuances that are even possible.)
"Vitaly is such a treat— serving up vibrant tastes of Italy with warmth, creativity and delicious cuisine at any time of the day or evening! Grazie."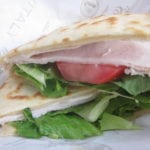 The iconic Piadina's are available in three different flatbreads: Classic, Whole Wheat, and Gluten Free.  Guests are able to build their own Piadina, with ten different suggestions such as: The Capri (sliced roma tomato, basil, and imported buffalo mozzarella), or the San Marino (Prime choice roast beef, wild arugula, shaved parmesan, Italian mushrooms and truffle cream) or my favorite, the Riva Bella (with wild smoked salmon, cream cheese, lemons, caper and chives). The perfect blend of tasty ingredients!  [Prices are from $9-10.50]
The mornings begin with coffees and danish at 7:30am, and then by 8:30am, breakfast items begin streaming out of the kitchen. With a plethora of choices, it makes morning decision-making all the harder. We have Scrambled Eggs and Omelettes offering various proteins, vegetables and cheeses inside. Guests  get to play chef, and select their faves. They also have fresh fruit bowls (and yes you can add yogurt, sorbet Vitaly Gelato or even fresh whipped cream). Now for the trail nut crowd, there is Granola Cereal with Yogurt & Berries. What a way to start the day, or even have a breakfast meeting.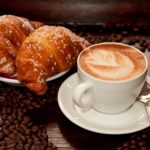 During the lunch hour and dinner time they also serve Cassone's (a Piadina Calzone with various ingredients inside), a Tagliere (a colorful cutting board filled with assorted Italian cold cuts and cheeses) [$19.50 for two], and of course hearty Soups and tempting Salads.  Their menu harkens to their family recipes of home, and they are already famous for their deliciuos  homemade sauces—a Bolognese Meat Sauce, an Italian Porcini Mushrooms & Truffle Sauce, a creamy Bechamel Sauce, Prosciutto San Daniele e Arugula, Pesto, as well as others that change out seasonally to complement the pasta dishes.
Each evening guests will also find a special, they affectionately refer to as "Mama Dinners".  The menu will rotate, featuring signature dishes such as:  Lasagna Bolognese, Fettucini  with Porcini Mushrooms & Truffle Oil, and Filet Mignon. Ask about their evening "Mama Dinner" specials. I was lucky enough to be there on the day that Chef Danilo Venturi, also a Bologna native, made the Lasagna , which is a marriage of delicately thin homemade pasta, their famous Bolognese Sauce and a creamy Bechamel sauce. It is baked and lightly browned to perfection!  Beer and wine are also available, which adds a nice touch in the afternoon and evening.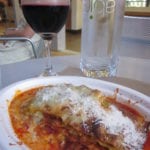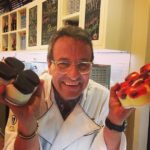 It is not easy to replicate what is created in Italy, but this Caffé does just that, and with such finesse.  Sympatico was instant when meeting the charming Owners Maurizo and Barbara Cocchi. They hail from Bologna, the largest city in the Emilia-Romagna Region of Northern Italy. And both nodded at the love of our favorite restaurant in their hometown— including Diana's, a well-known carvery in Bologna's hip downtown district. What fun to be so far from Italy and falling in love with it all over again. Come join the fun of Italy right here!
Vitaly Caffé
2937 Bristol Street, B100
The Camp
Costa Mesa, CA 92626
(714) 662-5500
www.vitaly.net
Mon-Fri  7:30am to  9:30pm
Sat/Sun   8:30am to 10:00pm
Breakfast ~ Lunch ~ Dinner- Served Daily!