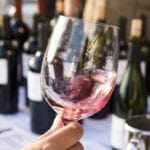 And Yes, That Means Libations! Whether you are the host of the upcoming Thanksgiving dinner, or just a guest hoping to score an incredible meal, this can be a challenging day. First we have the week long preparations, and as we know, Rome was not built in a day, and neither is this meal. From artful table décor, to shopping, making of pumpkin cheesecake, and sautéing the stuffing ingredients. It's all on the schedule. One by one we check things off the list as we approach the big day with anticipation. Second, we have distractions. Aunt Sue invited some wine snob, brother Bob has issued his "not to be discussed at the table" list, and then of course there is football to contend with. It is a busy day!
But here is where the fun part comes sneaking in—-selecting the wine for this epic day-long binge fest of an event! Don't make the mistake of having this be a lonesome chore. Look at it as a discovery as you traverse the many options of wines, and suggestions made by experts and friends alike. My suggestion is to select some wines and start tasting weeks ahead of the big day. Check out what will work with the appetizers, sipping during the day, at the dinner table and perhaps for the after dinner crowd settling in for the game and lively banter with the family.
For those who don't have that kind of time, or perhaps interest, boy are YOU in luck! That's because I just returned from a wonderful Wine Tasting event at The Wine Exchange in Santa Ana, and all I can tell you is I have a cheat sheet of incredible finds and some serious value-driven bottles that are dressed to impress. I was surprised, but very pleased, that there was not a Pinot Noir in the bunch. And toward the end of our visit they even shared some gift giving ideas that they have sourced, and we think there are some worthy ideas for those of us who are always trying to think of just the right gift. So grab your highlighter and let's take this journey together…
Wine Tasting- Where We Were Hanging Out On Sunday Afternoon-
The Wine Exchange is a ginormous, mega-store of wines from around the globe (literally). It is located in Santa Ana right off the 55 freeway, and I finally figured out a really easy for me to get there, since there is not an off-ramp at Warner. Heading north, I just exit the 55 freeway at Dyer, left turn, right on Grand and right on Warner. Right there on the right side!
Surprisingly, this emporium is really easy to navigate. And that is because of these seven key factors:
The Owners cull through so much to find the real gems in the vino world. They seek out small lots, with exceptional profiles.
They have friends. All over the world. On speed-dial.
Extremely knowledgeable on-site staff.
Great signage in this warehouse setting.
Super e-newsletter and updates that showcase great values &new arrivals.
You Tube videos online that they produce, and provide us with a glimpse of a winery, interviews with the winemakers and a sense of being more hands-on in the process.
Great on-line store—patrons can place orders and then go pick it up!
Owners Kyle Meyer and Tristen Beamon are both so passionate about what they are doing. And what's not to love in this business? They want to make it approachable and by executing so well on all of the above mentioned items, their success is guaranteed. They are just a joy to listen to and every time I see them I learn so much. They have been living and breathing this for thirty years, so their experience and finesse are unmatched.
The Recommendations From Kyle & Tristen (With Commentary by Me)-
Sparklers and Whites…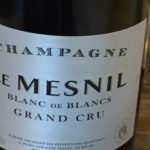 In France, most afternoon gatherings or dinner parties begin with Champagne. A Grand Cru is among the finest. We tasted an incredible Brut Grand Cru Le Mesnil NV ($39.98). It is created with 100% Chardonnay grapes grown in the French village of Le Mesnil, and is considered to be the best town for Grand Cru Champagne. This Blanc de Blanc-style bubbly had hints of fruit, yet was light and refreshing. With hints of white chocolate, and a not-too-dry finish, this was very well received by our group. The perfect start to an appetizer course, or just a welcome beverage. This wine could easily be double this price, yet Kyle and Tristen work closely with Mannie Berk (Rare Wine Co.), who is a boutique importer who actually selects the tanks he will be purchasing for import. Who does that?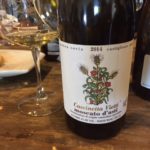 Vietti Moscato d'Asti Cascinetta 2014 from Piedmonte, Italy ($12.98) is an "ever-so-slightly" sweet muscato with an effervescent tingle. It is 100% muscat grapes, and all I can say is that this sparkler can do double duty. Your choice. It pairs wonderfully with cheese and appetizers, prior to a meal, and equally as well with a dessert, such as a crème brulee or apple galette.
Kyle cautions that this menu is not the time for that robust and buttery California- style Chardonnay, which I know and love. The Wine Exchange suggests trying something with a subtle flavor and aged in barrels and steel. With super high elevations and lots of sun, this is a flavor forward wine, yet does have a hint of fruit—such as apples and nectarines. Luca Chardonnay G Lot 2012 from Mendoza, Argentina ($28.98). Laura and her father, Dr. Nicolás Catena are very well respected in the industry. In doing a little research on the family, here is one quote that kind of sums it up nicely…. "Nicolás Catena was the true pioneer and is still the most important wine personality in Argentina. They are so forward thinking and smart as they are still at the head of quality wines in the country, doing amazing research and never resting on their laurels". Luis Gutiérrez
Red… For The Dinner Table….A Few Suggestions….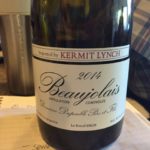 A light-bodied, food-friendly, sipping wine is the Domaine Dupeuble Beaujolais 2014 ($12.98) from France. There is nothing 'nouveau' about this easy to drink value-play. And will work well with ham, turkey, or other poultry items. With a dark purple color, and hints of floral and light expressive fruit—- this is a stand out at $12.98 per bottle. They utilize a "semi-carbonic maturation process" which means that it has a shorter shelf life. It is aged in stainless steel, exclusively. The tannins are on the light side, so it is not overpowering and comes in at about 12% alcohol. Tristen and Kyle recommend pouring a couple of lightly chilled bottles into a jug so it can 'breathe' and release the aromas. This was probably my favorite.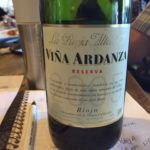 My second favorite was the La Rioja Alta Rioja Reserva Vina Ardanza 2005 ($29.98) from Spain. There is a rejuvenation of the Spanish region of Rioja Alta and 2005 was a great vintage, as our hosts explained. It was aged for 3 years before its release and was placed in American and French barrels. The terroir give it a bit of an oaky taste, but that is not so much from the barrels. The barrels are "racked" meaning they rotate a lot during fermentation. The rich, red color of this ten year old prize makes me stop and take notice. It is a blend of 80% Tempranillo and 20% Grenacha—with hints of things found in my kitchen for baking—vanilla, cinnamon and dark cherries.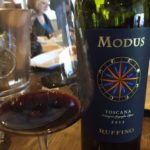 And for the Italians in the room, we also tasted the Ruffino Modus Toscana 2012 ($23.98). This was not as favored by me, as the two above, however it is a lovely blend of Sangiovese, Merlot and Cabernet Sauvignon. This wine would stand up to a thick juicy steak, and the like—with hints of black berry, cherries, with a nice dry finish. It received 94 from expert James Suckling (who was the Wine Spectator Italian wine critic for 25 years).
Another, more spendy choice, sends us into the stratosphere of what wine aficionados call "Library Wines". These are wines that are at least ten years old, and have been aged in impeccable circumstances. The Laurel Glen Cabernet Sauvignon 2005 from Sonoma Mountain ($74.98) would be an impressive bottle to bring to dinner for sharing, or for holiday gift giving. It was an honor to enjoy a tasting of this, especially after they shared that this was a find. There are only 36 bottles of this classic Cab. I felt as though I should pour it back into the bottle. Well, almost! Laurel Glen is an old winery with that true "Napa-esque" style that is just hard to ignore. Delicious!
Gift Giving…
Here are a few of the suggestions they had to offer that are going to be big sellers during the 2015 holiday season.
-Wooden gift boxes to make your gift a stand-out—and easy to wrap ($8)
-Wooden corkscrews in a box ($15)
-Bottle Totes- the Connor foldable bottle tote ($18) or the 2 bottle Whittaker with leather accents ($25)
Whether shopping online or in the store, they are glad to help you and can make it quick and easy for you to get what you may need, and get back on the road. Such a wonderful experience, thoughtful hospitality and a breadth of knowledge that is unmatched. In other words, you need to go there!
Be the HERO at the Thanksgiving table this year, and let Wine Exchange help you do just that. I hope some of these suggestions are helpful as you navigate through the world of vino. Happy Thanksgiving all!! We have so much to be grateful for.
Wine Exchange 1544 East Warner Avenue (Just off the 55 Freeway) Santa Ana, CA 92705 (714) 979-1509 www.winex.com
Disclosure: I was a guest of Wine Exchange but the opinions above are my own.
Biography of Owners-
Tristen Beamon – CEO – Ten years as the General Manager of Wine Exchange in Orange and their high profile Bordeaux buyer. In 2011, Tristen and partner Kyle Meyer created Best Wines and bestwinesonline.com then purchased Wine Exchange in 2015. Tristen has also been a successful entrepreneur in the restaurant and auto industry. He lives by strong, honest relationships befitting all players.
Kyle Meyer – Director of Operations & Purchasing – Twenty years as the renowned wine buyer at Wine Exchange in Orange prior to launching Best Wines in 2011 and the subsequent purchase of Wine Exchange in 2015. High reputation in the industry as a wine savant, published writer, and the ultimate professional with a personable, true connection to everyone he meets.