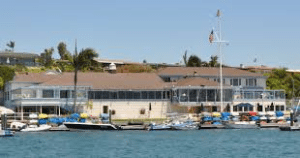 Melville Winery Visits Newport Beach-  Just prior to the holidays, we had the pleasure to join members Karen Rhyne and Michael Michel for a lovely Wine Dinner at one of our favorite spots along Bayside Drive, and that is the charming member's only Balboa Yacht Club. As we gathered in the Ship Model Dining Room we sipped on a glass of wine and introducing ourselves to the other guests for the evening. With one of the best views on the Harbor, we enjoyed four delicious appetizers displayed aside bottles of the wines we would soon be sampling. Executive Chef Joseph Flores did an impeccable job of describing how he prepared each of the items featured. This is always a delight to me.
Crostini with Radishes & Mozzarella– Chef describe using a mandolin to slice the radishes ever-so-thin. The toasted bread (from Cream Pan Bakery in Old Tustin) was rubbed with oven roasted garlic. On top was added: crème fraiche, buffalo mozzarella, chives and parsley. The parsley is placed in hot water to soften the leaves and mixed well. Kale Salad with Butternut Squash– This was served with a light Vinaigrette. And Chef explained how at home we can easily pull kale off the stem. Easy! Pork Belly Confit– This was a mini-roll, with Smoked Gouda cheese and Pork Belly cooked in Duck Confit. Pumpkin Creme Brulee- As Chef Joseph explained, the raw pumpkin was poached in a simple-syrup for 45 minutes. A Creme Brulee mixture was prepared, the pumpkin pureed and added and then placed back into the oven and chilled overnight. It was served with dainty and delicious cookies for a bit of added crunch.
A Warm Welcome… General Manager David Robinson did the honors of welcoming everyone to the Wine Dinner and was proud to introduce Melville Winery to our little slice of heaven here in Newport Beach. It is always an honor for us when the owner of a winery is the person attending the wine dinner and introducing his wines. Their insights are always spot on, and they seem to enjoy sharing wine stories, are quite open to input, and yes indeed, to hear the accolades as well. Chad Melville made his way around the room and you can just tell he loves the business he is in.
"We don't use the term Wine makers. We are Wine Growers."
Chad Melville, Co-Founder & Head Winegrower of Melville Winery
Situated amongst the beautiful rolling hills of Western Santa Ynez Valley, Melville is dedicated to producing exceptional cold-climate Pinot Noir, Chardonnay, and Syrah grown exclusively in their estate vineyards throughout the Sta. Rita Hills appellation. Founded in 1989, Melville is a family-owned and operated estate winery with its roots in Sonoma County's Knights Valley, where Ron Melville grew high-quality and greatly sought-after grapes. In 1996, Ron's desire to grow cold-climate Pinot Noir, Chardonnay, and Syrah brought Melville Vineyards to the Sta. Rita Hills, located in the Western Santa Ynez Valley of Santa Barbara County. Today, Ron and his son, Chad Melville, uphold Melville's tradition as one of the most highly-regarded estates in California.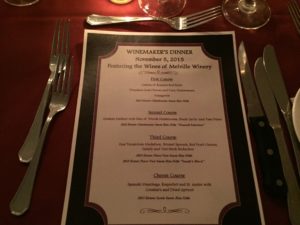 FIRST COURSE
Gateau of Roasted Red Beets- Served with Drunken Goat Cheese and Fuyu Persimmons, Pomegranate Seeds and Arugula with Vinaigrette.
Paired with: 2013 Estate Chardonnay Santa Rita Hills (retails for $26 a bottle)
Wine Growers Notes: We use 8-10 year old barrels, but want no distractions so no "new oak". This gives our wines a sense of purity. We use seven different clones with no Malolactic fermentation.  My note: Malolactic (also known as malolactic conversion or MLF) is a process in winemaking in which tart-tasting malic acid, naturally present in grape must, is converted to softer-tasting lactic acid. Tasting Notes: Pale gold in color with bright aromatics of grilled lime, dried stone fruit, lemon cucumber and magnolia blossom emerging from the glass. Fresh and vibrant on the palate, notes of macadamia oil, star fruit and agave nectar mingle with salty nuances of sea urchin, fleur du sel and nori leaf. The mouthfeel is rich and unctuous with a firm streak of acidity maintaining the wines' focus and drive. Parker: 91 points – Jeb Dunnuck and Galloni: 93 points – Antonio Galloni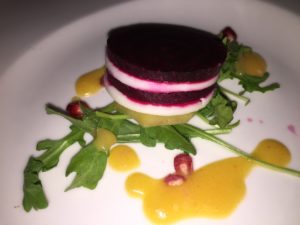 SECOND COURSE
Alaskan Halibut- Served with Hen of Woods Mushrooms, Black Garlic and a tasty Yam Puree.
Paired with: 2012 Estate Chardonnay Santa Rita Hills "Hanzell Selection"
(the "Hanzell Selection" is not available on their web site)
Wine Growers Notes: We took the tiny buds and transplanted them to new vines. A process called grafting. They are not a cover band… but they do their own thing. We planted 2.5 acres, generating 220 cases and used the whole cluster. Tasting Notes: Tropical fruit elements of pineapple rind, kiwi, honeydew melon and lime weave alongside denser components of oyster liquor, citrus oil and macadamias. Focused and vivacious on the palate, with a salivating component that adds significant weight and structure.
THIRD COURSE
Veal Tenderloin Medallions– Served with Brussel Sprouts, Red Pearl Onions, Salsify (similar to a parsnip root vegetable) and a rich Veal Stock reduction.
Paired with: 2013 Estate Pinot Noir Santa Rita Hills "Sandy's Block"
(not available on the web site-sold out)

Wine Growers & Tasting Notes: 4 acres La Tosh #114 clone- May Edwards-in the Napa Area and produced 400 cases. 80% old cluster … fermented fruit with stems as it brings out the smells of tea, dry herbs, fruit, powerful Pinot, and garnered 96 points—completely sold old.
Also Paired with: 2013 Estate Pinot Noir Santa Rita Hills
(retails for $36 a bottle)
Wine Growers & Tasting Notes: This is 100% Melville fruit from our Sta. Rita Hills estate, and is a collection of 16 pinot noir clones. 40% of the fruit was fermented as whole-clusters with 60% gently de-stemmed in small open-top fermenters. Parker: 92 points – Jeb Dunnuck- The ruby red in color, fresh fruit aromatics of mandarin orange, black raspberry and grilled watermelon spring from the glass. On the palate, nuances of rose petal, gardenia and oolong tea mingle with herbal notes of sandalwood, star anise, fresh thyme and fennel seed. The mouthfeel is plush and velvety yet finishes with significant persistence and volume.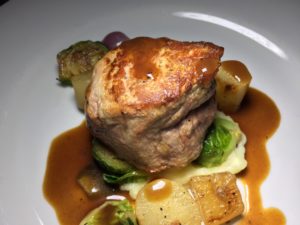 CHEESE COURSE
Spanish Manchego, Roquefort and St. Andre with Crostini's and Dried Apricot
Paired with: 2013 Estate Syrah Santa Rita Hills
(retails for $32 a bottle)
Wine Grower and Tasting Notes: Produced 1,100 cases. The fruit for this wine comes exclusively from our Sta. Rita Hills estate and is a combination of two different Syrah clones (Estrella and Clone 99). The Estrella is from Donna's block which is planted on well drained, nutrient deficient sand. The neutrality of this soil always lends an intoxicating and high toned bouquet of flowers and spice while the Clone 99 from Block I is planted on denser sandy loam soil, bringing depth and richness to the resultant wine. 70% of the fruit was gently de-stemmed with 30% remaining as whole clusters and was fermented in small open top fermenters. Total skin and stem contact averaged 30 days (7 day cold soak, 2weeks fermentation, and 1week extended maceration). From the press the wine was transferred directly to neutral barrels (5-20 year old French oak) where it remained sur lie with no sulfur until May when it was gently pressure racked for the first time and prepared for bottling in August. Parker: 93 points – Jeb Dunnuck and Vinous: 90 points – Antonio Galloni. Boasting a deep crimson hue, fresh and ripe aromatics of red delicious apples, black cherries and blueberry compote are immediately apparent. It is a meaty grape. In the background, denser notes of salt caramel, beef carpaccio and balsa wood intermingle with high toned components of rose water, orange oil, toasted nori and lavender. The palate impression is tender and polished with a firm presence finishing with significant weight and focus.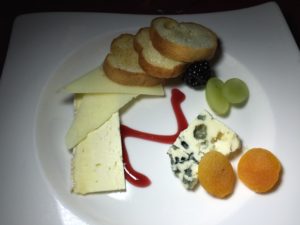 Melville Winery does have a Wine Club. Guests can visit them at their web site or in person.  www.melvillewinery.com