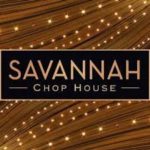 A "Welcome Home" Fireside Chat with  Executive Chef Chris Tzorin
Savannah Chophouse in Laguna Niguel is ready to shout from the hilltop, that Executive Chef Chris Tzorin is back at the helm of the culinary program. In fact, at his first return dinner service, each table featured a picture frame, with his picture announcing "Chris is back"!  And who could miss that iconic red chef's jacket? It is his signature attire while making his magic in the kitchen. He is non-stop energy, and full throttle in the kitchen—cooking, grilling, mixing, working the pass. He does it all and does not miss a beat. He is all over it—all night long.  And when he finds his moments of calm for planning, those who know Chris, know that he can be found writing his recipes to music. He claims the creative juices flow better when accompanied by music. I concur!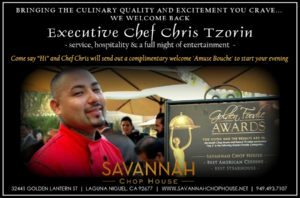 Chris was spotted by Pascal Olhats after a successful second win at the OC Taste Fest Chef Competition. Pascal was consulting with Savannah Chophouse at the time, and was on the search for the next great chef to take this restaurant to the next level. He offered Chris the opportunity, and it turned out to be a perfect match. Chris meshed nicely with the team and brought a new perspective to the scene. He changed up menu items, introduced special events in the bar and winemaker dinners. He was sourcing the best produce by his favorite purveyor, and friend, Bryson Ingarta, who is known for uncovering the best ingredients, and knows just what Chris needs.  New cooking classes were introduced, and Tequilla Dinners became signature "sold-out" events.  Chris was humming along for years with a fantastic following.
In 2014 Chris found love again, and re-married to wonderful woman, affectionately known as Neesa . She was his biggest fan, and cared for his young son Armani. Life seemed grand, but the lure of returning to Laguna Beach soon followed. The Beach House in Laguna had been is home for ten years, in a previous life, shall we say.  So it seemed only natural to return and open a new restaurant there. He spent almost a year at Tortilla Republic, with an ocean view and a busy clientele. However, it turned out to be way more "corporate" than expected, and this free-spirit chef needed to soar once again.
When Phil Roberson returned to Savannah Chophouse as GM, and Sandy Caouette the Operations Manager was cheerleading on the side-lines, Chris explored returning home to Savannah Chophouse.  In the meantime, he and Nessa had a baby boy, Kristopher and unfortunately he has required numerous heart operations. It is still a tough road, but the stability of Savannah has been a saving grace for Chris and his family.
Signature Savannah-
The venue here at Savannah Chophouse is all about celebrations. The restaurant sets atop Laguna Niguel, with peek-a-boo views of the Pacific Ocean below from the outside Terrace. It is a contemporary American restaurant, serving an extensive variety of steaks, chops, seafood and Southern specialties. The Pistachio Encrusted Halibut is a featured dish on the menu, and often recommended. It has a warm clubhouse lodge vibe, featuring dark wood, half-round booths, soft lighting and stone fireplaces. The Lounge is the place for crafted martini, a single-malt scotch, or glass of wine while listening to live music by the fireplace. The dining room is an elegant white table cloth affair. There is a private dining room just adjacent to the main dining room which is perfect for private parties, winemaker dinners and cooking classes too—especially now that Chris is back in town…
Looking Ahead-
Savannah Chophouse is stepping up their game. They are going to be bringing a new look and feel to dining room. And Chris is re-vamping the menu to include some brand new items. Check out some of these new items that will start to roll out Tuesday, May 12th. Great new dishes will include: Tempura Squash Blossoms, Artisan Cheese and Meat Boards, Pork Belly Cornbread, Skate Wing, Caprese Grilled Cheese Sandwich, Deconstructed Bacon-Wrapped Shrimp and Shredded Fried Chicken. And some of the new ingredients he will be working with include: Rainbow Chard, Bison Short Ribs, Basil and Arugula Pesto and Sonoma County Foie Gras. Stay tuned for photos!
Special Events-
Chris's Special Wine & Tequila Dinners are back! Join Chris and his Team on Thursday, May 28th at 6:00pm for an ultra-special 5-course Tequila Tasting dinner featuring Partida Tequila's award-winning authentic Mexican tequilas. Welcome Chris back, and I just know he will be honored to see you again!
Cooking Classes Are Back– Beginning Saturday June 6th at 11:30 Enjoy Chris' cooking demo and lunch. So much fun to watch him work and share his expertise. Also Cooking Class with Kids will begin too June 14th with a "Taste of Asia" theme.
Private Events and Celebrations- Savannah's offers two exceptional and secluded venues for intimate parties. The Private Dining Room has a warm ambiance, with its own fireplace, and windows to create an intimate gathering place for up to 60 guests. The Sunset Terrace accommodates 100 guests for an outside,  sit-down venue, with a fire pit and distant ocean view. Both are available for private parties, cocktail or wedding receptions, holiday parties, or corporate events.
Weekly Happenings-
There is always something going on at Savannah, and here is the current run down….
-Month of May- Some half-priced wine selections each day in May!
–Happy Hour  |  Monday-Sunday @ 4:30-7 pm  |  $6 Small Bites  |  $5 Cocktail
–Uncorked Wednesdays  |  Wednesday – All Night  |  Up to 2-Free Corkage
–Lipstick & Libations  |  Thursday – All Night  |  Free Craft Cocktail or Glass of Wine for Lipstick Wearers with Food Purchase
–Late Night Happy Hour  |  Thursday-Saturday @ 8:30 pm – Close  |  $6 Small Bites  |  $5 Cocktail Specials
–Prime Rib Dinner  |  Sunday & Monday @ 5-10 pm  |  3-Course Dinner for $29.95 pp
–Live Music featuring: Le Grand Barr  |  Tuesday, Wednesday & Saturday @ 6:30-9 pm  and Brian Young & The Blues Station  | Thursday & Fri. @ 6-10 pm
–Magic Night with John George  |  Sunday @ 5:30-8 pm  |  Up-Close Table-side in the Lounge
A big, warm "Welcome Back" to Chris Tzorin and his family. My friends and I cannot wait to enjoy one of your amazing Wine Dinners and Cooking Classes. Seeing your smiling face brings such joy, and watching your passion in the kitchen is truly inspiring! Join me in welcoming Chris back…. stop in and say hi, and try some of his amazing cuisine!
Savannah Chophouse
32441 Golden Lantern Street
Laguna Niguel, CA  92677
(949) 493-7107
www.savannahchophouse.net