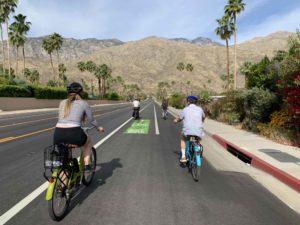 While hiking and walking tours are a great way to explore Palm Springs, my favorite way to discover the area is on a bike. The benefit is also getting to enjoy nature—you know— the babbling streams, palm trees, beautiful flowers and the majestic mountains are the perfect backdrop! (This event was Hosted.)
Meet Big Wheel Tours
Since 1998, Big Wheel Tours has been providing bike service for a number of local high end hotels, offer bike tours for customized groups, and also do small group tours daily. Big Wheel Tours can create a custom tour. From the serious cyclist in town on business who wants to put in a 50-mile training ride, to the family on a sightseeing vacation to the fellas on a weekend getaway who want a serious Palm Springs mountain bike tour, Big Wheel Tours will arrange a tour for you and your guests. Price do vary by tour so do inquire.
I interviewed Owner Eric Trubee and we discussed two of his most popular tours. The first one I am going to mention is the tour we participated in. It is called the "Indian Canyons Bike and Hike Tour". Guests meet at the bike shop and take off from there with a really knowledgeable guide. This tour combines the two best ways to see this gorgeous Valley, by bike and by hike. We started riding from their shop in downtown Palm Springs. The bike route is ten miles round trip and goes through some of Palm Springs older, charming residential neighborhoods including the Canyon Country Club area.
Heading to The Andreas Canyon Trailhead
We entered Indian Canyons, ancestral home of the local Agua Caliente Band of Cahuilla Indians, and started the climb to the Andreas Canyon Trailhead. From there we parked our bikes and took an easy and scenic nature walk that included several stream crossings, incredible rock formations, (no wildlife sightings this time), a canopy of native palm trees, and stark desert canyon scenery. Our guide knew every plant and even showed us deep holes in the rocks where the Indians used to grind their herbs. We then  got back on our bikes and retraced our peddling right back to the store. With a gently declining grade, it was a nice leisurely return. A lovely 3-4 hours indeed. Back to nature and yet so close to downtown Palm Springs!
The second most popular tour is one that interestingly, was closed for a long time and just re-opened in May of this year. This one is called the "Earthquake Canyon Tour" and that is one he has been doing for 20 years. Riders are treated to a geologic extravaganza on this 20 mile tour that descends through the heart of the San Andreas Fault zone on a paved road to the heart of grape country near Mecca. There are no cross roads, no turns, and very little traffic which makes this a relaxing sightseeing adventure. Riders will see the stark beauty of the desert as they descend a total of 1,600 feet over the route. The course takes riders from the transition zone between the Colorado and Mojave Desert, winds its way through the narrow canyon walls of Box Canyon and finishes with spectacular views of the Salton Sea, Mt. San Jacinto, the All-American Canal, and the agriculture of the eastern Coachella Valley. The tour ends with a visit to the Oasis Date Gardens for a date shake and restroom break. Doesn't that sound like the perfect day-ride?
Did I Mention I Cheat?
Oh, speaking of riding, I forgot to tell you that I cheat. Yes, you read that correctly. I like to ride an electric bike. I ride them at home along the Southern California coast, and it is such fun. The pedal assist allows me to get up and down the hills and still have a great time. So when this opportunity presented itself, I inquired if it might be possible to rent an electric bike? They were so kind to accommodate me and I was so excited to join the group going. Then we are all in a campfire-style circle at the bike shop and the host asks the question, "who was the lady who wanted to ride the electric bike?" I raised my hand and was all ready to go. Next thing I know—one by one—- every person in our group was asking if they could also have an electric bike to ride? And so it went. The Big Wheel Tours staff were so great to accommodate us all, but please inquire when making your reservation, as they do not have nearly as many electric bikes as regular bikes and they do go at a different pace of speed. Best to consider that too when in a group of riders.
Our Amazing Bike Excursion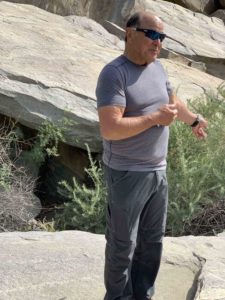 We mounted our bikes and rode around the parking lot just to make sure everyone was comfortable, and then off we went. We meandered through some beautiful residential neighborhoods as we made our way up a slight incline to the Indian Canyons, ancestral home of the Local Agua Caliente Band of Cahuilla Indians. And we then climbed to the Andreas Canyon Trailhead. Yes I was glad I had the electric bike as the incline to the start of the trail was something else.  We dismounted the bikes and enjoyed our Guide sharing the history about  the Agua Caliente Tribe and insights from long, long ago. I think he knew every plant and flower we passed. He was so impressive.  We shifted from bike riding to hiking and it was simply beautiful as we traversed our way into the hillside. The trail followed a stream that wandered through groves of canopies of California fan Palms and the sound of water was so welcoming. We followed along for about 45 minutes before returning to our bikes. It was a wonderful respite and with the photos I snapped, I was able to capture that "in nature" vibe. We then returned to the bike shop in reverse mapping.
The cost is typically $105 per person (plus gratuity and please do that). However I do not know if Electric Bikes garner an additional charge. Ask when you book your reservation. This event was Hosted, however all the photos, insights and opinions are my own.
Big Wheel Tours
42160 State Street
Palm Desert, CA 92211
www.bwbtours.com
760-548-0500