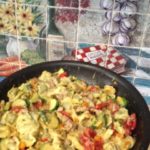 Sometimes dinner is a daunting task. Even for someone like me who loves to be in the kitchen. With so many things to choose from, sometimes I would stare into the refrigerator and ponder what to do. Overwhelmed and underwhelmed all at the same time. Can you relate?
So here is what I do now, and it has been helpful to me. Below is an example of one quick meal I just did the other evening with various ingredients I had handy. This can be done with just about anything on your  menu.
My quick and easy "Assembly Line" process makes cooking dinner so simple! This example was for a pasta dish, but honestly you can do this same procedure for so many different dishes—from won-tons, to a chicken salad. So, here we go….
Step #1- Look in the refrigerator and pantry and jot down a quick list of 6-7 ingredients. I typically include a protein, vegetables and a starch.
Step #2- Prepare all the ingredients in batches. One by one I wash, chop, trim, all the ingredients and place in bowls. If doing chicken or something that takes some time, start with that and get that in the oven first. Or start that one item in the morning in the crock pot. Then turn to the other items.
[Note: At times I will throw a few items together if I think I can use them later. For example, onions and a bit of orange pepper— the perfect match for a homemade pizza the next day! Prepare more of a few items if you can use for a second meal.]
Step #3- One by one, I cook them and place back in the bowls. Fresh zucchini, sautéed onions & orange pepper, garlic, ground turkey, pasta. Set back in bowls.
[Note: I only use bowls that I can toss into the dishwasher.]
Step #4-  I make a quick sauce in a large saucepan and throw everything into the saucepan to reheat. As mentioned, be thinking if you want to save some of the ingredients for another dish the following day.
[Note: Get smart on making 2-3 "go-to" sauces quickly for pasta, pizza, or to drizzle on grilled chicken.]
Here are a couple to get you started:
1) Light Cream Sauce– I make a rue with equal parts of butter and flour, whisk in half & half, chicken stock (or beef stock), and as it thickens add more milk.
2) Pesto Sauce- I make this from scratch, but I have also purchased Pesto in a glass jar at Trader Joes and just spoon that into the mixture or stir fry of  vegetables with a bit of Olive Oil, and it is delicious.
3) Tomato Sauce– I make this from scratch, but if in a rush,  I use one of the jar sauces and they are quite good. Consider thinning it a bit with a touch of half & half. And add fresh basil.
Step #5- Taste and season accordingly. (I often forget this step but it is important!)
Step #6- Plate the dishes from the stove and dinner is served!