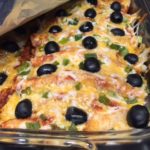 This is one of my favorite things to make fast and easy. Once you have all the ingredients lined up, two large Pyrex dishes make assembly quick as can be.
Ingredients:
-Chicken- I purchase one chicken at Costco. It is quite reasonable at $5.99. I then take all of the meat off the bone and place in a bowl.
-Chop the Green Onions
-Place shredded cheese in a bowl
-Cut black olives in half lengthwise
-Open a large can of Enchilada Sauce (I prefer Mild)
Directions:
-Pour a small amount of the sauce to coat the bottom of the Pyrex dish.
– Assembly the chicken enchiladas and with fold side down place them in the Pyrex dish.
-Spoon sauce on top of each one.
-Sprinkle cheese on top and then place three olives along the top of the enchilada. (This helps to identify each enchilada for easy cutting after the cheese has melted.)
-Cover with aluminum foil.
-Bake at 350 degrees covered with aluminum foil for 40 minutes.
-Cool uncovered for 10 min. or so. Can also cool completely and place in the refrigerator for reheating later or the next day.
Enjoy!