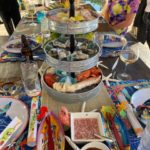 As we all know, right now is not the time for big parties and gatherings. But we still want to kick-off summer 2020, right? For us, being in a small group that we know, who have all had limited exposure, no recent travel on a plane and will honor social distancing—that is our best bet. We had the honor to attend a "Summer Seafood Soiree" that Janell and Dave Adams had created.  It was a wonderful evening in their beautiful home. All I can say is WOW!  I have never in my life been quite so spoiled.
The team that brought their wonderful vision to life was Dawn and her catering team at Party In A Box Catering. And that is really what they do! The menu is, of course, all pre-determined and they bring all the ingredients with them to create each delicious course. Chef Dawn and Mark worked in perfect harmony like a well-oiled machine. They both danced from station to station—chopping, cooking and plating in the airy open-concept kitchen. They are masters at their craft. And on this evening, we had the ever-charming Sylvia serving tray-pass appetizer and pouring wine & champagne to our hearts content.
The setting was Janell and Dave's lovely residence, perched above Lake Mission Viejo. As the sun set, the floating lights illuminated the fountain & pool area. The long table was adorned with all kinds of tropical flair and colorful place settings.
Tray Passed Hors D'Oeuvres Are Presented-
We gathered in the family room to visit, pour fancy cocktails, and enjoy the amazing starters. Everyone had so much to catch up on—given we have all been in isolation. With many of the guests working from home and travel plans placed on a long pause, we were all enjoying the time to visit.  And while all that was going on, one-by-one the most incredible Hors D'Oeuvres were served. Each item was so fresh and delicious! You will wish you were there—that I can guarantee!
-Assorted Sushi Skewers of salmon, tuna, shrimp sliced with sushi rice, avocado & cucumbers
-Just Seared Scallops presented on Asian-inspired white spoons
-Rich Lobster Bisque in shots glasses
Dinner Is Now Served-
As the French doors opened to the backyard, we all gasped as we gingerly approached the spectacular table. It was adorned with tropical accents, a stunning flower arrangement, place settings and even starfish—my favorite! From table-scape, to floral place-cards and menus at each setting, every attention to detail was on-point. We could hardly wait!
*Seafood Tower-
This stationary Hors D'Oeuvres was on the table with three tiers with fresh Oysters, Shrimp, Crab Legs, Lobster Claws all on ice with dry ice for a dramatic, magical affect. There were three sauces, including: a spicy Remoulade, Mignonette and Cocktail sauce.
*Amuse Bouche-
A dainty Grapefruit Granita with a Grey Goose float. (Granita is a semi-frozen dessert made from sugar, water and
various flavorings and originally was from Sicily.)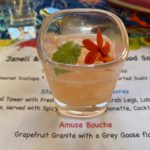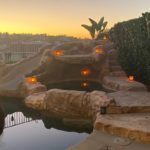 *First Course-
Beef Carpaccio, shaved Parmesan cheese, capers on an Arugula Salad
*Second Course-
Beet salad, with Goat cheese, Cara-Cara oranges and aged Balsamic
*Third Course-
Ahi Tuna, Pickled Cucumbers, crispy Onions, Peanuts, Sesame Soy Sauce
*Fourth Course-
Duck Confit, Whipped Potatoes, Haricots Verts
*Fifth Course-
Beef Filet and Vegetable Skewers on Aromatic Basmati Rice
*Sixth Course-
Butter Poached Lobster with a delicious sauce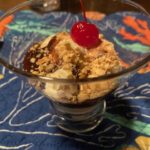 *Dessert-
Hot Fudge Sundae
It was truly a feast for the eyes and tummy. I adored every single course. Everyone had a wonderful time and after dessert we visited by the pool. When we departed we walked through the house and were amazing that everything was put away. It did not even look as though anyone had been there cooking and serving so many courses! A big thank you to Dawn and her team, and to Janell and Dave for sharing their beautiful home and evening with us! Here's to an "over-the-top" kick-off to summer! Janell wouldn't have it any other way! Cheers to her!
Cheers To You Events-
Marla Lackey is the owner of this events company and has been planning creative events with those special touches for parties, weddings and special affairs for over twenty years. She takes a client's dream and brings it to life with the perfect settings and environment so guests are wowed every time! It's the little details that make all the difference!    www.cheerstoyouevents.com
Party In A Box Catering-
They are noted for creating "Memorable Food. Exceptional Events."  Acclaimed as one of Orange County's premier catering companies, Party In A Box Catering specializes in being a "one stop shop" and able to plan an event from start to finish. Yes they take care of the: service, food, music, lighting, draping, photography, floral design, rentals and so much more. From intimate dinner parties, to weddings, baby showers, birthdays & anniversaries and business luncheons to large corporate functions. They are personable, professional and welcoming. If you have a dream, Dawn will execute it for you with her flair for events, delicious cuisine and all with her adoring smile. http://www.partyinaboxcatering.com/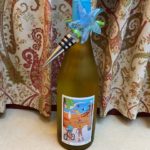 Color Wines-
Color Wines provided many of the wines served that evening and Cheers To You Events provided the darling Starfish corks for the perfect "send home" gift for the guests.