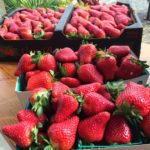 SEARCH BY DAY OF THE WEEK for Seasonal Offerings From The Farm This Month- July, 2015
Farmer's Markets are a wonderful way for all of us to support our local growers, and at the same time, enjoy fresh produce that we have hand selected. Oftentimes the markets generate a fun atmosphere, and what better way to enjoy shopping while visiting with the very family that harvested the produce or baked the goods. Now that summer is here, we are welcoming delicious strawberries and peaches, sweet corn, Asparagus, heirloom tomatoes, zucchini, rainbow chard and lettuces galore.
I have researched each and every Farmer's Market to bring you the most updated information on all the Farmer's Markets In Orange County. It is such fun to shop directly from local farmers for fresh fruits, vegetables, honey, baked goods, flowers and so much more! Let's support our local Farmer's and other craft vendors who march out there wares so early in the morning, for us to enjoy.  My personal favorites include:
–Irvine at Mariner's Church Parking Lot- Saturday- There must be over 90 vendors here, including crafts and so many various items it is great fun. And there is typically someone playing the guitar near the entry. Whatever ingredient I am looking for to include in a recipe I can find it there!
–Old Towne Orange- Saturday- This is a small market, but I enjoy going there to see the local offerings, pick up some bread from one of my favorite bakers (Dean Kim of OC Bakery). My other favorite bread is found at The Camp by Chef Rachel at Blackmarket Bakery. I also like the small-town vibe of this market. They also often have guest speakers many Saturday mornings and that is always enjoyable.
–The Great Park in Irvine- Sunday- This is probably the second largest, behind Irvine on Saturday's. The setting is lovely with a tree lined pathway that meanders through in a horseshoe shape trail. The market has many vendors of all types— from fruits and vegetables, to honey, teas, and other products such as: fabric purses, bicycles, wine holders and other crafts. At the far end is a food truck court, so no one should be going hungry here. In the center there is often a musical group playing under the shade of the trees. It is really a lovely setting.
It's A Farmer's Market Every Day at Manassero Farms in Irvine and South Coast Farms in South County- SJC!!
I am passionate about my local Farmers Market's, however it is not always convenient for me to head off on Saturday or Sunday morning (to my favorite ones) to go shop. So for me, this is a wonderful alternative.  I can pop in and purchase the best in-season fare, with vegetables galore. They have fresh Strawberries back in season and they just planted their Heirloom Tomatoes!!!  It is a treasure-trove of goodness and I am always thrilled to look in the display cases to see what is here this week!  This past week, I had delicious  zucchini, and root veges, fresh beets and even Golden ones which are hard to find. I roast them they were packed with flavor. (Unlike what I receive in the market which  just lacks flavor all-together.) Open 7 Days a Week!
As I scan the fresh produce, I marvel at the tractor out the back that is humming along the dirt trail— off to work the land. It is a little plot of heaven right here in my little urban Irvine. The Pascal Scarecrow stands guard at the entrance to the fields, and it is just a bit of timelessness. I feel at one with the earth, if just for a few moments.
Here you can clip your own herbs, purchase homemade jams and gift items, and great produce. They have breakfast, lunch and dinner events with local Chefs featuring gourmet fare!  (And thanks to Liz Rooney of OCTV, they are even talking about Manassero Farms on the news!  http://stream.octv.com/oaoc_media/manassero/MF-ABC7-080414-02.mov  )
www.ManasseroFarms.com  The location with the barn and various home products is on Jeffrey Blvd. just south of Irvine Center Drive, at the Irvine Valley College campus. Open 7 Days a Week!
VISIT THEIR WEB SITE FOR  FUN EVENTS…. COOKING CLASSES, BREAKFAST IN THE BARN, AND FUN!!
In addition to Manaserro Farms in Irvine, for those in South County there is South Coast Farms in San Juan Capistrano. They are a Certified Organic Farm, and are open Monday thru Saturday from 9:00am to 5:00pm and on Sundays til 4:00pm. South Coast Farms is located right next to The Ecology Center at: 32701 Alipaz St, San Juan Capistrano, CA 92675 The phone number is:(949) 661-9381.
So, every day but Monday there seems to be a market somewhere nearby. I have gone through to create this list, and updated the information as changes or additions occur.
Saturday
Laguna Beach
Lumberyard Parking Lot next to the City Hall
http://www.orangecounty.net/html/farmersmarkets.html
8am – Noon (rain or shine)
Irvine
At Mariner's Church Parking Lot (Bonita Canyon near Newport Coast Blvd.)
Huge Market with over 90 vendors: Fruits, vegetables, baked goods, flowers, plants, craft items, popcorn, and entertainment! A must visit.
http://www.orangecounty.net/html/farmersmarkets.html
8am – Noon (rain or shine)
Corona Del Mar
Margarite & PCH (behind Bandera Restaurant)
Rather small market but includes various fruits, veges, and other vendors with a local vibe.
www.cafarmersmarkets.com/index.cfm?fuseaction=detail&id=1687
9am to 2 pm
Just west of Pacific Coast Highway at Marguerite Avenue in CdM is a perfect corridor of parking lots that are transformed at sunrise to create a strolling pathway of market envy from one end to the other. One by one, the market unfurls—-awakening to a quaint "neighborhood market" in every sense of the word.  Many of the customers are greeted by name as their weekly selections are passed, like cards in a quick game of twenty-one. On this fine day, the market featured 25 vendors, including 8 different farms all providing exceptional fruits and vegetables. Other vendors were offering:  fresh fish, beef & sausage, baked breads galore, olive oils & balsamic vinegars, fresh mushrooms of many types & truffle oils, pistachios and almonds, hand-crafted soaps, French market baskets, herbs and succulents, as well as a wide variety of flowers. Prepared foods included: kettle corn, gourmet tamales, juices, homemade salsa (eight varieties), pesto (numerous choices), as well as Italian pastas, sauces and dessert items from a local restaurant and wholesaler. My head was spinning with ideas from my basket of treasures.
SoCo Mix in Costa Mesa
SoCo Mix in Costa Mesa (Just North of Harbor Blvd. at the 405 Freeway)
Between Surfas Culinary District and the SoCo Mix Plaza, this farmer's market sets up for five hours of fun. In addition to various fruits and veges,
this market includes: honey, meats, eggs, seafood bakery, seafood, jams, and so forth. Parking is free but suggest coming early as the parking not easy to find once everyone wakes up.
http://www.socofm.com/
9am to 2pm
Dana Point
PCH & Golden Lantern
www.cafarmersmarkets.com/index.cfm?fuseaction=detail&id=1699
9am to 1pm
Old Towne Orange
Orange Farmers & Artisans Market
Located at 304 N. Cypress Street
On the corner of Cypress & Palm in Old Towne Orange
fruits, vegetables, breads, candy, and guest speakers most Sat. mornings
www.orangehomegrown.org/
9am – 1pm (rain or shine)
Mission Viejo
Mission Viejo Farmers Market
Mission Viejo Civic Center
200 Civic Center
http://cityofmissionviejo.org/farmersmarket/
Open 9am to 1pm (rain or shine)
Buena Park
Corner of La Palma and Stanton Sears Parking Lot
www.cafarmersmarkets.com/index.cfm?fuseaction=detail&id=1654
9am to 2pm
Yorba Linda
Main St. & Imperial Highway
http://www.ylfarmersmarket.com/
9am – 1pm
Sunday
Farmers Park Market- Anaheim (Next to The Packing District)
Farmers Park is located adjacent to the historic Anaheim Packing District. Farmers Park is a beautiful two acre park featuring a grassy knoll, redwood boardwalk, community gardens and an olive grove. On the south end is the Packing District which is also a pleasure to explore. This is a restored building that operated at the turn of the century as a real packing house for fruits and vegetables being crated for railroad shipments heading off to other states. Today it is a tri-level enclave with small-scale restaurants and community seating all around. They feature cuisine from around the globe—from Indian street food, to Southern fare, burgers, sushi, craft beers, juice bar, ice cream, and even a prohibition speakeasy bar.  On the north end of the Park is the Anaheim Brewery & Tasting Room. This was originally a pre-prohibition brewery from the turn of the century.
On Sundays, the Farmers Park is transformed into a neighborhood fun zone for all ages. It is a vibrant spot for the community to mingle and relax. Front and center is, of course, the Farmers Market, where certified local growers proudly displayed their fruits and vegetables. Guests can find seasonal vegetables, such as: avocados, tomatoes, carrots, kale, broccoli, cauliflower, radishes, herbs, potatoes, chard, beets, onions and celery. Seasonal fruits that can now be found for summer include: pears, grapes, figs, kiwi, peaches, apricots, cherries, citrus and strawberries.  Gourmet artisanal foods can also be found here. This includes: fresh eggs, hummus, pita, sheep & goat cheese, handmade yogurt and spreads, salsas, artisan breads, olive oils, toffee, cookies and cakes. And last, but certainly not least are flowers! Other activities can also be found at the Park on Sundays. From 10:00-11:00am there is a complimentary Yoga session on the lawn. Guests are encouraged to bring their own mats. And from 11:00am-12:00 noontime, SuperHooper will offer a unique hula hoop class
Each week various "fashionista mobile boutiques" arrive to display their clothing. For example, Mod Owl will be there 6/21, Waves of Attire will be on site 7/19, 8/2 & 8/23, and Fashion on the Run on 6/28, 7/12, 7/26 & 8/9. Each week different musical acts play— adding to the casual, neighborhood ambiance of a lazy summer Sunday afternoon.
Anaheim Packing District
205 Center Street Promenade, Anaheim, CA 92805
http://www.downtownanaheim.com/Home
10am to 3pm
Irvine
The Great Park in Irvine
Marine Way off Sand Canyon
Fruits, Vegetables, Crafts, Honey, Teas, Entertainment & Food Trucks
www.orangecounty.net/html/farmersmarkets.html
10am to 2pm (rain or shine)
Note: Opens at 9am on the first Sunday of each month
The Square Shopping Center
(MacArthur & Main Street- North Side of Main)
17901-17971 MacArthur Blvd.
Irvine, CA 92614
9:00am to 2:00pm (rain or shine)
Crossroads Shopping Center
(Barranca Parkway & Culver Blvd.)
3720-3992 Barranca Parkway
Irvine, CA  92606
9:00am to 2:00pm (rain or shine)
Laguna Niguel
Plaza De La Paz Shopping Center
Corner of La Paz and Pacific Park
www.orangecounty.net/html/farmersmarkets.html
8am – Noon (rain or shine)
San Clemente
200 block Avenida Del Mar Dr.
www.cafarmersmarkets.com/index.cfm?fuseaction=detail&id=1980
9am – 1pm (rain or shine)
(Closed- Due to Construction this Farmer's Market has lost its home and is searching for a new location.)
Newport Beach – Newport Beach Farmers Market
Lido Marina Village
http://www.newportbeachfm.com/
Fans and past customers can keep in touch and learn more as they search for a new home at these links. https://www.facebook.com/newportbeachFM and https://instagram.com/nbfarmersmarket
Monday- None
Tuesday
Huntington Beach
Weekly Street Fair and Certified Farmers Market
Main Street- Between PCH and Orange Street.
90 Vendors & Entertainment
http://www.hbdowntown.com/SURF_CITY_NIGHTS.html
Open 5pm to 9pm
Orange/North Irvine
Irvine Regional Park
I Irvine Park Road, Orange
Parking Lot #2- no fee to park
http://orange.cfbf.com/
Open 9pm to 1pm
Brea
E. Birch St and S. Brea Blvd.
http://www.cafarmersmarkets.com/index.cfm?fuseaction=detail&id=1650
Open 4pm to 8pm
Wednesday
Irvine
Kaiser Permanente Irvine Farmers Market
6670 Alton Parkway
www.localcuisine.com/event/kaiser-permanente-irvine-farmers-market.html
10am to 2pm
Tustin
Corner of El Camino Real and 3rd Street
http://orange.cfbf.com/
Open 9am to 1pm (rain or shine)
Fullerton
Fullerton Certified Farmers' Market
801 W. Valencia Drive & Euclid
http://www.cafarmersmarkets.com/index.cfm?fuseaction=detail&id=1745
Open 8am to 1:30pm
San Juan Capistrano
El Camino Real and Yorba Street- Historic Downtown
20 vendors-fruits, vegetables and flowers
http://www.sanjuancapistrano.org/Index.aspx?page=422
Open 3pm to 7pm (April to Oct)
Open 3pm to 6pm (Nov-March)
Thursday
Anaheim
Downtown Anaheim Farmers' Market & Craft Fair
200 West Center Street Promenade, Anaheim, CA 92805
Center Street Promenade & Lemon Streets
Parking: Parking Structure with 2 hours free with validation at Information Booth
www.downtownanaheim.com/downtownanaheimfarmersmarket
Open 11:00am to 4:00pm
This Farmer's Market was first established in 1995 and has been running strong ever since. It is one of the larger markets offering not only fruits, vegetables and gourmet foods, but also features crafts, entertainment and food cooked right there on-site.  As the Center Street Promenade and Lemon Street grow, it is creating a great collection of retail shops, restaurants and boutiques. There is a sense of community here. Many of the establishments open their doors & patios, and really become an extension of the activity on Farmer's Market day. There is the Colony Wine Merchant on Lemon Street, restaurants galore, a Center Street Cheese Shop, Barbeer (a barber shop with a brew pub in the back), a yoga store, home goods, a cigar shop is coming soon, and so much more. It is a vibrant area on Thursdays, and with the street being closed to cars, it creates the perfect walking path to stroll along.
On a recent walk-thru I found friendly vendors at every stop. Certified local growers proudly displayed their seasonal fruits and vegetables including: asparagus, sweet corn, broccoli, avocados, tomatoes, carrots, kale, cauliflower, cactus, radishes, herbs, potatoes chard, beets, onions and celery. Seasonal fruits include: nectarines, peaches, cantaloupes, apricots, cherries and strawberries.  Gourmet artisanal food was also a treat to find, and we had a vendor selling 50 flavors of hummus and spreads (Mom's Specialty Foods), roasted peanuts, sausage, ham and turkey, pot pies and artisan breads.  Jav's BBQ was grilling delicious chicken right there, as was Piazza Pie with a wood burning oven cooking made-to-order Italian style pizzas. There is also a craft section to this market, selling handmade clothing, hair adornments for girls, leather goods, and so forth. Flowers, herbs and a lovely selection of plants were on hand from Laguna Nursery. There are typically two musicians playing on Thursdays—offering continuous music and song. One performer sings and plays from 11:00am to 1:00pm, and a second musician plays from 1:00-4:00pm. The music adds a celebratory atmosphere to the market experience.
Costa Mesa
Orange County Fairgrounds
88 Fair Drive
http://orange.cfbf.com/
9am to 1pm (rain or shine)
Foothill Ranch
26612 Towne Center
Foothill Ranch, CA
In the Regal Cinema Parking Lot
https://www.facebook.com/FoothillRanchCertifiedFarmersMarket
3:00-7:00pm
Fullerton
Wilshire & Pomona Avenues
www.cafarmersmarkets.com/index.cfm?fuseaction=detail&id=1744
Open 4pm to 8:30pm (April to October)
Orange
The Village at Orange
1500 E. Village Way
Between Katella and Lincoln on Tustin Street
http://orange.cfbf.com/
9am to 1pm (rain or shine)
Santa Ana- Downtown
Market Location: Spurgeon Promenade
Between 3rd and 4th Street on Spurgeon Street
http://www.dtsafarmersmarket.com/
 4:00-8:00pm

Friday
Anaheim
Anaheim Kaiser Permanente Farmers Market
Lakeview & Riverdale
www.downtownanaheim.com/downtownanaheimfarmersmarket
Open 9am to 2pm
Each Friday at Kaiser Permanente facilities all over Orange County, Certified Farmers Markets are nurtured. Encouraging healthy eating is an important message for Kaiser, and making fresh fruits and vegetables easily assessable is one way to reinforce that effort. Certified local farmers display their treasures just across from the Kaiser parking structure, and the market hours allow many locals to sneak out during their lunch hour and stock up for the weekend.
Huntington Beach
Pier Plaza
Main Street & Pacific Coast Highway (next to the pier)
http://orange.cfbf.com/
1pm to 5pm (rain or shine)
Laguna Hills
Laguna Hills Mall
Parking Lot @ the 5 Freeway and El Toro Road
http://orange.cfbf.com/
9am to 1pm (rain or shine)
The End… but if you hear of a new one please send me a note and we can add them!