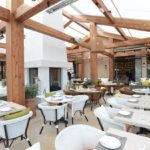 There are endless possibilities for dining at Fashion Island, and as the weather turns to perfect, most of us prefer to be outside.  It is so Southern California!  Some days I am yearning for a cup of coffee and a muffin on the patio, while other days I am on the hunt for a beer and appetizers with friends. And yes, there are even times when I am looking to eat out with my dog Riley in tow.  Let's explore some of the best outdoor venues, and I have found some places where even Fido will be welcome!
Outdoor Mall Patios and Sitting Areas-
The Irvine Company has certainly done a great job adding all kinds of conversation areas, tables & chairs and umbrellas for dining and even working on a laptop. Dogs are welcome at all of these outdoor venues.  If with a friend, you can have them go in and order the food and enjoy it outside while all the shopper's parade past.  Here are some of the best spots…. On the East side of the mall, we have Pain du Monde (next to R&D Restaurant and a lovely fountain), and on the weekends, there is live music from noon to 3:00 in the courtyard. By accessing food in the downstairs Food Court, a winning spot is out by the Koi Pond. It is the perfect setting to enjoy lunch and watch the children at play on the stepping stones.  And just outside the Food Court in the other direction (towards Dick's Sporting Goods) is another outside patio with lovely umbrellas and tables for outdoor dining. On the other end of the mall, to the west, is a new café owned by Macy's, called Taste Bar Café. They serve Starbuck's coffee, salads, sandwiches, and my favorite is their Chicken Chili. There is outside seating nearby. Up at the north end just outside of Nordstrom is the Nordstrom e-bar. This is one of my favorite spots to sip a cappuccino, and contemplate the day. There is a lovely fountain creating the perfect backdrop for day-dreaming. On the weekends live music plays from 1:00 to 4:00 in the afternoons. It is just like being at a resort! Nordstrom Café Bistro (on the lower level) has a small outside patio.
Dog Friendly Al Fresco Dining-
There are more places than you might think that welcome dogs, on  outside patios. Dogs are never allowed inside the restaurants.  59th & Lex Café offers a free-standing outdoor eating area adjacent to Bloomingdale's. They have a full menu, and seems to be a popular "ladies lunch" spot.  For beer-lovers, Yardhouse has two patios on both sides of the restaurant and offer a menu for day or evening.  Another beer-lover spot with a patio is the Back Bay Tavern. This is tucked in the corner of the Whole Foods market. They have their own restaurant with a nice menu, and offer 24 beers on tap. Our dog was welcomed and offered water and treats. In the center of the mall, Café Beau Soleil is a French-inspired restaurant and has the best French Onion Soup around. They are welcoming to dogs and have a water bowl for thirsty pups.  Upstairs near the theatre, Lemonade and Blaze Pizza have patios that are dog friendly. Lemonade has draft beer and a cafeteria-style selection of healthy foods—-both hot and cold items. Blaze Pizza is fun, as guests can build a pizza just the way they want it.  Blue C Sushi is located next door and has three or so tables on a patio alcove.  I have also found two secret "to go" windows—-P.F. Chang's and Café Beau Soleil. Both have this easy access, if you do have a dog with you and want to do take out. Le Pain Quotidien wins the prize for having the best ocean view at Fashion Island for dog friendly venues. It is located right next to Macy's and the patio faces westward with the Pacific Ocean below. On a clear day it offers a commanding view. At first glance, it appears to be a bakery, with the pastries and breads across the counter, however they have a complete menu offering soups, salads, sandwiches and specials of the day. They even teach bread baking classes, and have a window to peek in on all the action.
One of my favorite spots is Cucina Enoteca which has a covered patio, hanging succulent plants and greenery all around. They have assigned the four tables on the patio next to the walkway as dog friendly, where guests can bring their dogs if they have them outside on the sideway. My dog would never go for this arrangement, but I see well-mannered dogs perfectly content there in the shade with a bowl of water and a chew toy. This spot has such an incredibly diverse
menu , I can always find something for all my friends to enjoy. They also have a huge bar with craft cocktails, wine and beer. The wine shop offers bottles of wine at retail prices (vs. restaurant markups) and charge $8 for corkage. My favorite items are the flatbreads, burgers, and the short rib pasta. They also have a fun program for children. Youngsters can build their own pizza with their favorite toppings tableside, and then walk it into the kitchen to help place it in the oven with the Chef. Who does that? Splendid idea and the kids are smiling from ear to ear.
Al Fresco Dining Sans The Pooch-
There are a host of restaurants that just say "no thanks" to the hassles of a dog in tow, and that's ok too. Here are some spots that offer a quite lovely al fresco dining experience out of doors. Canaletto's Italian Ristorante, for example, offers one of the best happy hours in town, and has a lovely patio with high-top tables in perfect view of the valet stand which is always full with high-end sports cars, the names of which I cannot pronounce. Next door is R & D Café, where there always seems to be a line for seating, so make reservations—and yes they are on Open Table.  I just spoke to the chef and the tuna sandwich is back on the menu. Yeah! That's my favorite, along with the Ahi Tuna Salad, and the French Dip sandwich. The patio faces the fountain and for people watching, the parade is endless. True Foods Kitchen (near Fleming's) has a large patio, with ample seating.  Great Maple has a covered patio that is close to Nordstrom and a huge fountain. On the weekend, guests can enjoy the live music playing from 1:00-4:00 in the afternoons.
Elegant Al Fresco Dining For Special Occasions-
The Fig & Olive has a Garden Terrace that is somewhat covered, but with the windows and open facade, it is just the perfect spot for a special al fresco dining experience. The fireplace is front and center, setting the mood for romance or celebrations.  Just a few days ago, F&O unveiled their new spring and summer menu, and the selection is California cuisine all the way, with deliciously refreshing choices. Red-O Restaurant has a charming outdoor venue, again, slightly covered with a fireplace, only this one is placed against the wall. It is a striking room with hand crafted tilework, mood lighting and a Latin flair. The food is always good at Red-O and has two al fresco venue for private parties. This place has attitude and there is always a party underway.
So there you have it! Some fun Al Fresco spots at Fashion Island for you to enjoy as the weather calls us all out of doors.  Whether wanting a quick cup of soup, a coffee, or an elegant dinner, it is all here. Dine well.