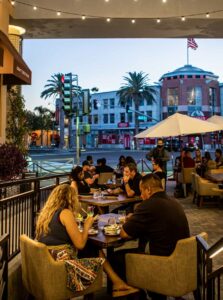 Who doesn't love a "classic" steakhouse?  The Old Brea Chop House is just such a restaurant experience, yet with a modern twist. The restaurant is on the corner of Birch St. and Brea Blvd. and adjacent to the Brea Improv. They are serving an amazing selection of steaks, seafood, timeless craft cocktails and an impressive wine list.  It is reminiscent of a classic New York steakhouse, while paying homage to its historic "Old Brea" roots.  And Orange Coast Magazine just named OBCH a TOP new restaurant in Orange County in 2020! Now that is something to be proud of indeed.
Spearheaded by Owner and passionate restaurateur Tony Fasulo, his impressive background includes more than 35 years of experience in the restaurant industry (20 years with Morton's The Steakhouse).
"We are proud to be in the heart of Downtown Brea and to share a memorable steakhouse experience with our guests. Our team has worked tirelessly to ensure we deliver on everything guests expect in a quality steakhouse experience—-from the food and drinks to the service and atmosphere. Our goal is to make every guest feel special from the moment they cross the threshold. We strive every day to deliver on that promise."           Tony Fasulo- Owner
The menu has been curated by a team of talented culinary professionals dedicated to bringing together the best of the best in steakhouse dining. The food offerings are diverse with something for everyone no matter their taste preferences or appetite size. In addition to classic steakhouse fare with a modern twist, the gorgeous scratch bar will offer timeless craft cocktails and an impressive list of wines by the glass, while the wine locker will boast a selection guaranteed to inspire even the most discerning oenophilia.
The restaurant features an open kitchen and dedicated charcuterie station where artisanal meats and cheeses will be prepared to order. The menu offers the very best locally sourced prime beef, with specialty cuts butchered in-house. To ensure the highest level of quality and freshness, Old Brea Chop House has partnered with local vendors including Anderson Seafood and Melissa's Produce.
The restaurant blends old-world charm with contemporary accents, marrying classic elements like exposed brick, featuring photos of historic Downtown Brea, and big, comfy booths with modern lighting fixtures and bold accent walls.
Old Brea Chop House is also offering a variety of takeout specials including:
Lunch for Two, $40 – Includes two sandwiches, French fries, a field greens salad and bottle of wine. Sandwich Choices: Lobster Grilled Cheese, Cheeseburger, Filet Mignon Sandwich, Patty Melt, Prime Rib Sandwich
Dinner for Two, $75 – Includes entrée portion for two, field greens salad, two sides and bottle of wine. Entrée Choices: Steak Diane, Double Cut Prime Rib, Scottish Salmon, Chateau Briand
Prix Fixe Dinner, starting at $65 – Includes Starter, Entrée & Side
Note: The entire menu, including cocktails, is available for takeout. Takeout hours are Wednesday –Sunday  from noon – close.
Hours:
Monday – Thursday:
Lunch: 12:00 – 2:30pm (indoors only)
Dinner: 2:30 – 10:00pm (indoors & courtyard)
Happy Hour: 3:30 – 6:00pm and 9:00pm – close (bar only)
Friday:
Lunch: 12:00 – 2:30pm (indoors only)
Dinner: 2:30 – 11:00pm (indoors & courtyard)
Happy Hour: 3:30 – 6:00 pm and 9:00pm – close (bar only)
Saturday:
Dinner: 4:00 – 11:00pm (indoors & courtyard)
Sunday:
Brunch: 11:00 – 4:00pm (indoors only)
Dinner: 4:00 – 11:00pm (indoors & courtyard)
Happy Hour: 3:30 – 6:00pm and 9:00pm – close (bar only)
www.oldbreachophouse.com
(714) 592-3122
Social Media:
Facebook: www.facebook.com/oldbreachophouse
Instagram: www.instagram.com/oldbreachophouse