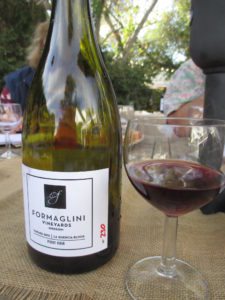 Have you ever sat down in an award-winning Wine Master's backyard, and just chatted the afternoon away as he unveiled his favorite wines and even some "yet to be released" treasures? Well, this just happened to me. And yes, I already know you are extremely jealous.
Meet David and Anya de Lancellotti who reside in a charming neighborhood know as Floral Park. This town has been around since the 1920's. You can just imagine the surroundings— filled with farms and fanciful orchards of oranges, avocado and walnuts. Farm houses and small clusters of homes began to flourish and palm trees were planted—all reinforcing the Southern California dream was developing right here.
Yes, in first hearing David de Lancellotti's name, I too thought Sir Lancelot du Lac, however du Lac was one of the Knights of the Round Table and not related to David…as far as we know…
About The Winery…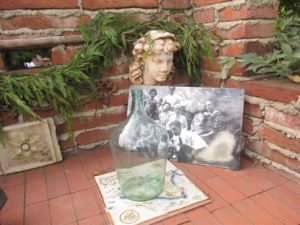 David's winery is called Formaglini Vineyards, and is the namesake of his Grandmother is to honor to his Father's mother's maiden name (which means "oak leaf" in translation). Ahh….this explains the delicate oak leaf in the vineyard's logo. Going back to their heritage for a moment, the family originated from the tiny town of La Quercia, which is just south of Bologna in Italy. A lovely picture is displayed on the brick tabletop and honors them with a 1925 vintage portrait of the entire family at home in Italy—many years ago.
David calls himself a "winegrower" not a winemaker. The reason is because everything about his wine comes from the vines. He describes his winery as "New World Oregon wines intermingled with Old World Italian style". I just love that description!
His project began in 2006, and as a fourth generation grower of grapes, this is a passion of the heart to be sure. David's winemaking "style" if you will, is a combination of Old World with some modern techniques as well. He focuses on well-balanced Italian wines, with some level of minerality. His interest was sparked when he visited the Montalcino area of Tuscany in the early 1990's. In terms of winegrowing, David has adopted the "biodynamic" approach to growing. This equates to thoughtful consideration of natures at work. This includes the soil, the vines, weather and even the spiritual factors like the moon & calendar. For example, he harvests only on "fruit" days. All of these considerations are part of the equation in producing superior wines. We had the pleasure to learn about tasting wine based on a Biodynamic (Lunar) calendar. Turns out there are four types of days, based on this calendar. Two days are good for tasting (fruit or flower day) and two days are not (root or leaf day). So, that may explain why when I taste a wine one day and it doesn't taste just right, perhaps this is why? Imagine building a winetasting trip around this calendar. Yikes! Yes, there is an app for that. For the iphone it is called "Wine Tonight?". Also, I have since found a great, easy to read article on the topic: http://www.chowhound.com/food-news/77519/fruit-leaf-flower-or-root-tasting-wine-according-to-the-biodynamic-calendar/
The winery is located in the Willamette Valley area of Oregon (about an hour outside of Portland), and is famous for their Pinot Noir wines. This area seemed to complement, in so many ways the family's homeland in Italy. From the soil, to the weather it all seemed to be in sync. And it fondly reminded him of the area of Friuli, just northeast of Venice in Italy. It was 2007 that marked the year when he planted his first vines. He planted four clones of Pinot Noir and given that he just started to explore this idea in 2006, I would say David moves rather quickly. Since that time he has added Chardonnay and Lagrein vines too. Each bottle of wine is numbered with a red pen, and that is easily recognizable when you look at his bottles. It adds that personal touch he is famous for.
Enjoying a Sunday afternoon of discovery with my fellow IFWTWA writers (the International Food, Wine & Travel Writers Association) we were greeted and escorted to a lovely green grass garden setting with a huge umbrella to shade us from the sun. David's lovely wife Anya paraded out platters of mouth-watering cheese, olives, fruit, crackers, baguettes and even chocolate. As fortune would have it, David had just returned the night before from an epic trip to France's Burgundy region. He brought back with him a lovely cheese selection and I was momentarily transported back to France. I was impressed he was standing, let alone being our chaperone for the afternoon. It was an honor indeed.
Our Tasting Begins…
It's pretty special when a Winemaker is more than willing to take a turn "off the reservation" of their own brand, and share some wine that he just happens to enjoy and wants to share. Our first tasting of the afternoon was just such a find. The Rosata, Raffaele Palma Salicerchi 2011, hails from the Amalfi Coast. This is a new one for me, and was light, and had a dry finish. Perfect for the appetizers we were enjoying. This retails for about $75. The grapes are all hand-picked producing about 500 cases a year. Our next pour was a Quintodecimo Via Del Campo 2013, also from the Amalfi Coast. This area is known for their lemons, and the wine possessed an aroma of lemon on the nose—-a delightful summer sipping wine.
From here we moved on to the Formaglini Vineyard wines. The first we sampled was the Formaglini Vineyards Pinot Noir, La Quercia Block, 2012. This wine was aged for ten months in French Oak barrels— some old and some new. The richness was sublime with a garnet color, and hints of fruit and light florals. This has become the benchmark for other wines in David's portfolio. Let's face it, 2012 was a wonderful year for Cabs in Napa/Sonoma and the Central Coast too.
Our next tasting was a fun "barrel sample" of the Formaglini Vineyards Pinot Noir, La Quercia Block, 2014. This will be bottled in the summer of 2016, and we were fortunate enough to have a taste. David described this wine as a very feminine wine, delicate and full of black fruit flavor and notes of bright cherry and raspberry. Perfection is what David strives for from his wines, and it broke my heart as he described dumping (yes, as in throwing out) two barrels that were a little "bready" rather than blending them in with the other eight barrels. This is anticipated to sell for about $45.
Next David poured us another barrel tasting of Formaglini Vineyards Insieme Cuvee, La Quercia and Verrazano Blocks, 2013. This is a unique blend of 75% Pinot Noir and 25% Lagrein. It is smooth and elegant and pairs well with chocolate, sweets (and I can imagine beef as well). It is estimated that this wine will be in the mid-$30 price range when it is available for purchase in late spring.
Our final tasting of the afternoon was the Formaglini Vineyards Pinot Noir, La Quercia Block, 2013. This had a rich ruby-purplish color. The nose was fruity with a hearty finish of herbs and orange spice that just lingered beautifully at the finish. This wine is available for $45 per bottle.
93 Points! Right after our tasting, Formaglini Vineyards La Quercia Block Pinot Noir 2013 garnered a 93 point rating in the February 3rd edition (2016) of the Wine Spectator Insider from Harvey Steiman. This review came as a great honor to the entire team, as 2013 is just their second vintage released. The 2013 growing season was a challenging one, thus a true test of the vineyard and its unique character. This Pinot Noir is showing beautifully to enjoy today and is a wonderful cellar option as noted in the Wine Spectator review. As you can imagine, David was elated!
Here is to our enjoyment of many more outstanding vintages together! Saluti!
For more information about these distinctive and charming wines, visit their web site at: http://formaglinivineyards.com .
Many of these wines can also be purchased only at Wine Exchange. They are the only distributor at this time. I ran right over to Wine Exchange in Santa Ana and picked up about six bottles. I wanted to start the year off right. Wine Exchange is just the best. So helpful and you can even call ahead and they will pull bottles for you if you want to pay-and-dash or can order on-line and have it shipped. http://www.winex.com