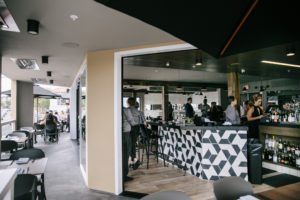 The new Oak restaurant stakes its claim along the tawny Pacific Coast Highway in Laguna Beach. And what a treat it was to join them for a recent media visit. The restaurant is perched on the seond floor of a handsome modern building and overlooks the highway with lovely sunsets and ocean views below.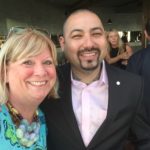 As Executive Chef Chris Tzorin describes the cuisine "It is comfort food with a modern twist". The black glazed plates with a matte finish are his canvas to create some incredible cuisine which we thoroughly enjoyed. But let's being with the setting and meander our way to the menu and other details about the restaurant.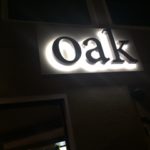 It is a rustic, yet modern environment. Lots of clean surfaces here with beautiful woods, creative lighting and black and white accents. There is a large bar presence, wine cellar, open dining room and floor to ceiling doors that fold back to reveal a welcoming wrap-around balcony with views of the ocean below. This is a great spot for viewing the sunset. A local Laguna Beach architect, Todd Skenderian and Bill Dalke of Rancho Laguna Builders were a major part of the design and building of the restaurant. Lisa Kelly and Katherine Dao of Interior Architects (IA) did the interior design.
Owners are not always present at a media event, however it was so lovely to meet them and see them showcasing their newest pride and joy. The owners include: John Porrello, Jeff Liao and RoseMary Polenski. They are already talking about their next future project and their passion for this business is easily observed. The on-site daily team include: Vice President of Hospitality-Ann Page, General Manager-Claude Herscovici, and Executive Chef-Chris Tzorin.
The bar program is dedicated to crafty cocktails with exotic flavors, local brewed ales, IPAs, lagers and unique wines by the glass and also on tap. They have a barrel-to-tap wine program delivering the highest quality wines through a sustainable custom tap system—eliminating oxidation and bringing the top wineries straight to your glass. (This is very similar to the La Jolla Wine Bar I just reviewed. Here is the link to that article as well: http://tastesandtravel.com/2017/08/discovering-two-unique-wine-bars-in-la-jolla-you-just-gotta-try-them/ )
The menu starts with small plates to share including: the local Albacore Stack, south-of-the-border Ceviche, Fried Green Tomatoes and crispy Duck Drums. Seasonal soups and fresh salads are available for the lighter fare. Burgers and daily Taco offerings include the signature Oak Burger, Chef Z's Hot Chicken and Sandra's Pork Shoulder Tacos. Entrees feature, for example: a seared King Salmon, Gordo's Fried Chicken and a 16oz. bone-in Angus Ribeye. The Octopus & Pork Belly is a MUST ORDER dish. Comforting sides include: the Mac 'n' Cheese, warm Summer Beans, and Brussels Sprouts. For the ultimate sugar rush indulge in the Strawberry Stuffed Crepes, Frozen Nutella Cappuccino, and Doughnuts n' Ice Cream. All three are incredibly tempting and delicious.
After a successful grand opening, they are diving right in, and are offering: daily lunch, Sunday brunch, Happy Hour and special offerings for football season too. The new lunch menu features a selection of sandwiches, salads, soups and entrees including a Pork Belly Bahn Mi Sandwich, Pastrami Sandwich, Heirloom Beet Salad and Taco Truck featuring Fish, Chicken and Pork Belly Tacos. For Happy Hour there are menu specials, such as Mac 'n Cheese for $6, Oak Burger for $11, Street Tacos for $3 each and Ceviche for $10. Tap wines and beers are $3 off the regular price and there are a myriad of craft cocktails for $8.
For our Media Tasting, we enjoyed so many delicious bites. Since a picture says a thousand words, I will do this event its due with photos and descriptions below. My favorites, in terms of stand-outs include: The Oak Mule (with Tito's Vodka, rosemary simple syrup, lime juice, ginger beer and topped with a spring of rosemary), the Caesar Salad has an amazing home made dressing, Meatballs with marinara sauce and melted mozzarella, the Octopus & Pork Belly are the best (a must order), the Oak Burger is rich in flavor and the strawberry stuffed crepes are so light and refreshing with a vanilla bean sauce and whipped cream drizzled on top.
Did someone say Cocktails and Apps?
Did someone mention Starters, Entrees and Dessert? Oh My!!
Hours Lunch: Daily- 11:30am – 3:00pm
Brunch: Sundays 9:30am – 3:00pm
Dinner: Daily- 5:00pm to close
Happy Hours: M-F- 3:00 to 5:00pm (bar & restaurant)
And Sunday's-during NFL game (bar seating only)
Oak Restaurant 1100 South Coast Highway (Oak and PCH) Laguna Beach, CA 92651 (there is parking underneath the building)
949.940.3010 http://oak-lagunabeach.com/
IG- Stay connected at @oaklagunabeach