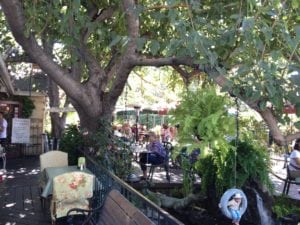 I am always on the hunt for a special spot to celebrate with my "foodie" girlfriends. Well, here we are! Introduced to this by a special friend Sue Porter and my sister Siobhan, we had so much fun on our last trip here that we never even made it to the garden tour we had planned. We just could not tear ourselves away. Now that is testament to a long afternoon sitting on the patio, under a huge shade tree.
The restaurant, Shenandoah at the Arbor, serving lunch and dinner under a gigantic shade tree. There is also a homespun dining room inside a small house. And in addition to this, there is a bevy of  boutiques with home goods, holiday fare and garden art —all opening out to a grass garden with pathways weaving their way from one quaint home to another. We  purchase creative things, such as: a gift of a cloth hanger with a zippered compartment to secure jewelry, a candle with an elegant base, name-cards with seasonal designs—for Easter, Thanksgiving, and garden art flags and pots. It is always an adventure, and at each time of the year they offer unique holiday gifts items you just cannot fine elsewhere. Or at least where I typically shop!
But let's get back to the dining…. appropriately presented, the lunch menu features 11-11-11. That is eleven different salads, eleven sandwiches & melts, eleven hot specialties and a soup of the day. I am always so pleased a Chef gives us options of large and half orders of salads. My favorite is the Texas Fried Chicken Salad and the Arbor Cobb Salad. They also have a Cajun Chicken Salad, Caesar Salads, Tuna Salad, Oriental  Salad and a Salmon Greek Salad. Sandwiches are very creative , including: Tri-Tip Sandwich, Southwest Grilled Chicken Sandwich, Oven Roasted Turke Sandwich, BLT Sandwiches, Vegetable Sandwich, Tuna orTurkey Melts and Cheese Burgers too!  There are some specials that do not go un-noticed… there is fresh pasta witha choice of chicken or shrimp, Chicken & andouille sausage Gumbo, Granny's Fried Chicken, Ribeye Steak, Bacon & Hazelnut Crusted Alaskan Halibut, Sand Dabs, BBQ Quesadilla, and my personal  favorite "can't get enough" Hot Turkey Sandwich (and yes cranberry sauce too). Most items are in the $10-$12 range, and quite reasonable.
In the evening the fare shifts to nighttime flair. This includes: appetizers, salads, six different ranch options (steaks, pork chops & ribs), five from the sea, four chicken specials (from the coop), eight pasta dishes, a prix fixe, and five "old time" desserts. Each table is welcomed with homemade Hot Apple Fritters. Entrees are accompanied with a host of side-dishes—including: Home Style Soup or Garden Salad, rolls, and choice of: vegetables, pinto beans , country rice, mashed & gravy, Serranno Spinach or Garlic Mashed Potatoes. As for entree's, there is something for everyone—from Cajun rib eye steaks to full/half rack of Ribs, Chicken Fried Steak with gravy, Maple Glazed salmon, Stuffed Halibut with Béarnaise Sauce, Lemon chicken, Pasta with every option available for custom designed noodle entrees. In the evening there is also a Prix Fixe Menu for $32. This includes: Soup or salad, choice of three entrees, and choice of two different desserts.
Desserts are "old school" and just what we like so be sure to save room. From Creme Brulee, to Bananas Foster, Creamy Cheesecake with Raspberry Puree, Double Fudge brownie and German butter Cake Torte. It is just hard to decide what to get!
So come dine, shop and just feel like you are far, far away from the city. It is a lovely respite as my girlfriends and I do often!
Shenandoah At The Arbor
10631 Los Alamitos Blvd. ~ Los Alamitos, CA 90720
(562) 431-1990  ~  www.shenandoahAtTheArbor.com
(approximately 6 miles East of the 405 Freeway & Seal Beach Blvd.)
Lunch Hours Daily: 11:00-3:00 ~ Dinner Hours Nightly: from 5:00pm
Corkage $12