Written By: Deirdre Michalski
Published In The Les Dames D'Escoffier International Newsletter- Summer, 2012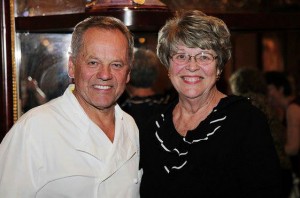 Tuesday, April 24th finally arrived with a flurry of activity and anticipation. Dames and guests arrived at Wolfgang Puck's famed restaurant Spago Beverly Hills to honor Dame Peg Rahn and to induct the newest members of the Los Angeles/ Orange County LDEI Chapter.
The evening began with a wine reception in the glitzy private Spago bar. Co-presidents Carrie Kommers and Phyllis Ann Marshall welcomed guests and oversaw the program with elegance and style. The cuisine was exquisite, capped only by an appearance by Wolfgang Puck who graciously chatted and posed with everyone who wanted a photo, as he saluted Peg.
In between, we welcomed our newest dames with red roses and LDEI totes. Dame Angela Pettera's lively video montage celebrated Peg's life with photos including shots of the skinny kid from Youngstown, Ohio, days at Rosemead High School, college at USC, living in Germany and culinary stories that brought us up to present day.
Thirty friends and colleagues saluted Peg on her career with touching tributes from cooking-partner Sue Kranwinkle, as well as Peg's son Kurt, daughter Ann and daughter-in-law Mikala.
Dame Peg was President of the LA Chapter for eight years and on the Board for 15 years; she served on the National LDEI Board for six years and is currently National Membership Co-Chair. It's clear that Peg is a positive magnate to everyone she meets and has served the organization well.
Peg's breadth of experience is impressive to say the least: she is the former Co-owner of Inner Gourmet Cooking School; founded Fresh: Celebrating the Table classes, led 16 culinary tours abroad; Travel Writer and Food Writer; James Beard Cookbook Awards Judge; Chairman of Programs for SCCG and IACP; Television Cooking Guest; Radio Host, and Magazine and Newspaper Food Columnist. Our Toques are off to you Peg. Bravo!
The Chapter extends special thanks to Spago Executive Chef Lee Hefter and fellow-Dame and Spago Executive Pastry Chef Sherry Yard for a memorable evening. A toast also to Dames Ruthie Grahm (Bonny Doon Vineyards) and Yvonne Kopina for their wonderful wine donations. It was definitely a "Night To Remember" and a true tribute to one our favorite Dames.