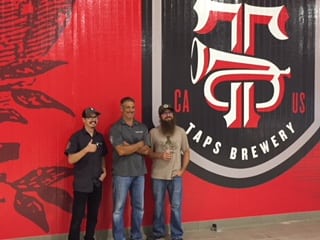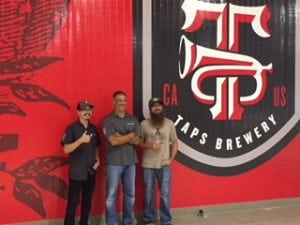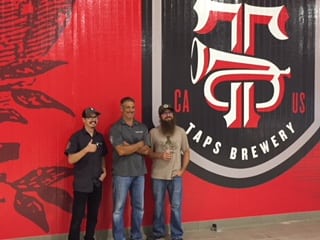 TAPS Brewery and Tasting Room Is Now Open In Tustin, CA-  If you are a beer lover listen up! You are going to want to raise a stein and pronounce a cheer with this news for Orange County. The "award winning" brew house/restaurants TAPS has just doubled down on a brand new tasting room and full-scale (think massive) brewing facility in Tustin, CA.
Meet the new TAPS Brewery & Barrel Room.
[I had the pleasure to attend a hosted media event to see the facility, taste the beer/food and take a tour of the mega-production facility!]
TAPS is set in a business park, and more than half of the buildings footprint is set aside for this brand new full-scale production of brews—and all THAT entails. They will be taking the production from beginning to end—with kegs and bottles being all a part of the equation. In this impressive 19,000 square foot space, they will be centralizing their production to provide all of their other restaurant locations, bottle sales, 32 ounce crowlers and 64 ounce stainless steel refillable insulated growlers. I also hear whispers of a wholesale sales strategy too. Look out everyone…TAPS is coming your way!
The brewery will begin by producing 5,000 barrels the first year, with a capacity of 25,000 barrels annually. TAPS' barrel-aged beer program will have its own dedicated, 350-capacity barrel room. They source the finest malt, grain, hops and yeast—while using the best equipment in the business. Don't miss the tours of the brewery on Saturday and Sunday at 3:00pm.
TAPS also operates three full service restaurants showcasing sustainable seafood, fine steaks, salads and a very popular Sunday brunch. These have locations in: Brea, Corona and Irvine at The MarketPlace. They also own The Catch in Anaheim—just a stones-throw from Anaheim Stadium. The Corona TAPS brewery will now be transformed from production brewing to become a research center—focusing on exclusive and exploratory recipes.
The Setting-|
Outside, guests are welcomed by a lovely patio with accented with red umbrellas, a fire pit for evening enjoyment, and various games setting the mood for sipping and relaxed banter. And instead of building out a dedicated kitchen, they have rolled a Food Truck up to the front door! Wave hello to Chef Roman Jimenez the chef de cuisine, as you stroll inside.
As guests enter the building, a sharp right turn has one standing right in front of the menu and two kiosks to easily order up their grub. Runners bring it to the tables! There are two long bars with pull taps front and center, high top tables, community seating and lounge areas. There are even some old-school pinball and video machines. The Tasting Room has an old-brewery vibe with arched brick walls, concrete floors and galvanized pip lights that are locally sourced. When visiting I was just fascinated with the unobstructed wall of glass so I could peer inside the production to see the side of things. It is going to be so exciting to see this in a fast-paced operation as I kick back and sip the "fruits of their labor" so to speak!
Meet The Team-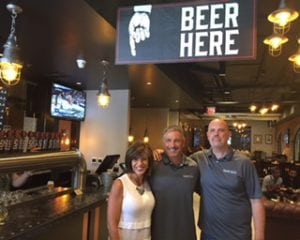 I must say this Management Team is so engaging that one just cannot help but want to applaud them their efforts and support them with boundless gusto for their heart felt passion for this business. Joe Manzella and his late father Fred and sister Michele started Manzella Restaurant Group when they opened the Brea location in 1999. Joe has amassed an impressive team, including:
-Kyle Manns, director of brewing
-Jonathan Chiusano, brewery operations manager
-Kristine "KC" Cunningham, Tasting Room Manager
-Erik Zwack, head brewer, TAPS Corona
-Brennan Perry, head brewer, TAPS Brewery, Tustin
-Max Jones, QAQC/packaging manager
"Investing in the best equipment possible for our brewers is paramount to our success. It's been part of TAPS' philosophy since day one. We are working hard to make this Orange County's premier tasting room experience."        Joe Manzella – TAPS Founder & Proprietor
The Brews-
Both ales and lagers will be produced daily for distribution to retail stores, bars and pubs, their own restaurants and onsite consumption. They are very proud of their lagers which have won TAPS six GABF/World Beer Cup medals since 2015.
The opening line-up for TAPS award-winning brews includes: The American Cream (formerly Cream Ale), Flex IPA, Keller Pils, Amend This (which is my favorite), Hopsteppa, Juicy Liu (my second favorite), Keller Pils, Bohemian Tapsody, Hefeweizen, Velvet Hog, Barrel Aged Bobbledock, Hiya!, Square Peg-Round Hole, Grapefruit IPA and Barrel Aged Silent Warrior. There will also be other rotating, small batch, barrel-aged beers for guests to enjoy.
The Food-
As I mentioned above, they have a Food Truck set up to prepare delicious food to compliment the beer choices. This is available all day and evening when the Brewery is open for tastings. There is a kiosk just inside the door for easy peasy ordering. Prices are quite reasonable with a taco starting at $4.99, a baby Gem Herb salad for $6.99, a Banh Mi Bacon Wrapped Hot Dog for $8.49, Colonel Roman's Fried Chicken Sandwich for $9.99 and the list goes on and on. They even have a delicious Brewery Pretzel with herb garlic butter, salt and miso mustard sauce for $5.00 and big beef fries for $4.99. They even have a kiddie menu offering a hot dog, cheeseburger or grilled cheese for $5.99.
Little Known Fact…
If you look at the new logo you definitely see the letter "T" but subtly wrapped around that is a bugle. Joe Manzella wants to honor our armed services and especially our vets at every opportunity. As many know, Taps is a bugle call played at dusk, during flag ceremonies, and at military funerals by the United States Armed Forces. And in the brewing business Taps refers to the draft beer.
TAPS Brewery and Tasting Room
15501 Red Hill Avenue (at Valencia)
Tustin, CA
www.tapsbrewery.com
Ample self-parking
Hours: M-TH 3:00-10:00pm, Friday until midnight,
Sat. 11:00am to midnight and Sunday 11:00am to 8:00pm.
Social Media:
Facebook/tapsbrewery
Twitter: @tapsbrewery
IG @tapsbrewery