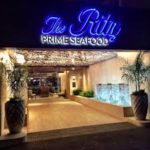 It's not brand new, but it was new to me. The Ritz Prime Seafood has launched a very creative "Social Hour". It is Happy Hour full throttle and offers an impressive array of cuisine and cocktails. And let's face it, who doesn't enjoy sipping a crafty cocktail, nibbling on the chef's favorite offerings and gazing out over the azure sea? I think I'm in heaven—not a care in the world. Take note friends, this "Social Hour" is offered Monday through Friday from 5:00-7:00pm and on Saturday & Sunday all day long—from 10:00am to 5:00pm. They feature "half off" pricing on a long list of delicious food items, specialty cocktails, well drinks, draft beers and an inspiring list of wines. This is all available in the bar, lounge or patio area, and I will highlight the menu in more detail below.
The Ritz Prime Seafood is a rather swanky spot here along the Miracle Mile. (Moving from Fashion Island, they took up residence once occupied by Chart House, and just north of Billy's on the Beach.) Along this stretch of Newport Beach guests bask in the glory of these amazing views and evening sunsets. This restaurant is full of welcomed surprises…. My first surprise was the modern styling. The interior is accented with porcelain tiles, mesquite woods, etched glass, white leather chairs and couches built just for two. It is a very sophisticated environment, and I guess I was not expecting that. The floor-to-ceiling windows offer commanding views of yachts, sailboats and the glorious Newport Harbor. There is also a covered outdoor patio complete with heater lamps nested above. They will soon be adding fire-pit conversation areas, and just in time for the warmer weather.
My second surprise was this elevated "Social Hour". I think I have been to just about every restaurant in Newport Beach that offers a Happy Hour programs. (OK, maybe not The Beach Ball, but certainly all of the fine-dining restaurants.) This is one of the "best-all-round" offerings, and I am anxious to share this find with you. The Bartenders are very personable, and will make just about anything you might be willing to dream up. Live entertainment begins just after 6:00pm during the week days, and a tad later on Saturdays. (And great news… the music is kept at the perfect volume for conversation in the bar and dining room.)
Highlights of the "Social Hour" Menus…
On a recent evening, an intimate group of writers gathered to enjoy a tasting of the Social Hour's creative cocktails and cuisine offerings. Here are some highlights that may guide you through "the insiders track" for an upcoming visit.
Doesn't Everything Start With Cocktails?
The bartenders are an impressive line-up of seasoned professionals, with serious game. They have an easy, chat-it-up style that locals seem drawn to. The cocktail program is where "old school" really rules. The list of Specialty Cocktails is so creative that I find myself reading the descriptions aloud, as though I am reading a novel. One of the restaurant's signature cocktails is The Ritz 55, which bar manager Mauricio Burgos seems proud to introduce us to. Made with hints of a Sazerac this is a potent, whiskey inspired beverage with a burnt-orange color. It is served with one oversized ice cube, and garnished with a lemon rind. [I scored this sublime recipe for my bourbon loving friends, and readers can find it at the end of this article. You're welcome.]
During "Social Hour" the Specialty Cocktails are half price which is a fabulous opportunity to dive right in and try something new. These creatively paired concoctions are available for only $6-9 each during the Social Hour. Well drinks are also offered for half off. In addition to The Ritz 55 cocktail, here are a few of the other favorites that we enjoyed at our table:
~Heat on the Harbor- Absolut, Cucumber, Basil, Serrano Chili
~The Wedge- Tromba Silver, Vida Mezcal, Ancho Chili, Pineapple, Agave
~Pacific Sunset- Flor De Cana Silver Rum, Strawberry, Lemon, Fennel
~Cool Runnings- Plantation Pineapple Rum, Fresh Pineapple, Lime
Wine is available by the Carafe for half price (ranging from $9-15) during Social Hour. They offer six different wine styles by the Carafe—from Pinot Grigio, to Chardonnay, Cab, and Zin. By the glass, and touting robust 8-9 ounce pours, there is a lovely selection of 22 different sparkling, whites and reds from France and California. Prices range from $6, all the way up to $19 for a glass of Stags Leap Cabernet Sauvignon. I am quite impressed by the vineyards showcased, and always appreciate a "California-heavy" list.
There are six different craft beers on draft, including my favorites—The Bruery Mischief and Ballast Point Sculpin IPA. Prices range from $4-6 during Social Hour. There are also eight beers offered by the bottle, including selections from Germany, Belgium, and California. And some guests may even prefer a high-end Sake, which pairs perfectly with the sushi.
The Chef's Favorites Found Their Way to the Social Hour Menu!
What I adore about this menu is the variety of cuisine that is offered. For those who prefer raw fish, guests will be pleased with many choices of: poke, sushi rolls, oysters and sashimi. There are also Bison Burgers, a Tempura Veggie Roll, Parmesan Truffle Fries, Tempura Asparagus and Blistered Shishito Peppers. Prices range from $6 to 14. Here are the delicious offerings we had the pleasure to try:
~Crab & Hamachi Roll- avocado, mango, tobiko, lime
This is refreshing, perfect for sharing, and yes it is real crab!
~Ahi Tuna Poke – onion shoyu, tobiko, avocado mousse, homemade taro chips
A luscious mound of poke accompanied by a light avocado mousse, perfect for dipping.
~Bison Burger- Shishito aioli, onion marmalade (and foie gras for additional fee)
Delicious burger for those who arrive hungry.
~Parmesan Truffle Fries- garlic chive aioli
These are not to be missed. Hints of Truffle make this an unstoppable dish.
~Tempura Asparagus- cold mustard sauce
I almost felt healthy enjoying these sticks of wonder.
~Blistered Shishito Peppers- Bonito flakes and toasted sesame seeds
Perfect degree of hot-ness to these grilled peppers and great for nibbling.
The Ritz Prime Seafood is open for dinner during the week, and both brunch and dinner on the weekends. This is a perfect spot to arrive early and enjoy this epic Social Hour, and then saunter in the dining room to sample a fabulous dinner menu. Not to be missed are the Short Rib & Scallops appetizer.
Events– Here are some of the other events coming up:
Gift Card Promotion (Now through June 19, 2016) Guests can purchase a $100 gift card and then receive a $20 promotional dining card. This promotion is available for both website purchases of EGift cards and traditional gift cards available online and in the restaurant.
Mother's Day May 8th– Serving both Brunch & Dinner
For Brunch– From 10:00am-4:00pm and enjoy live music at the bar from noon to 4:00pm. Toast Mother with a fine champagne or a thirst-quenching cocktail from the Bloody Mary Bar while enjoying Caviar Selections and Seasonal Oysters on the half shell. For appetizers, choices include: Grilled Oysters, Tempura Veggie Roll, Aki Tuna Poke and more. Brunch entrees offered are the Ritzy Bison Burger with foie gras, shishito aioli and onion marmalade; Short Rib Hash & Eggs; Smoked Salmon Benedict; Egg White Omelets; Lobster Benedict; and Brioche French Toast. Other entree selections include: The Ritz Seafood Salad, Grilled Lobster, Pork Tomahawk Chop and other hearty dishes. For dessert, guests may enjoy the restaurant's irresistible signature toasted, eight-layer Coconut Cake atop passion fruit puree.
For Dinner- From 5:00-10:00pm guests will enjoy a curated wine list, beer and sake choices and hand-crafted fresh cocktails like the Heat on the Harbor (Absolut Vodka, cucumber, basil and Serrano chili). Start the celebration with The Ritz Tower, which allows guests to create their own chilled seafood masterpiece to share. Or, guests may opt for starters such as the famous Ritz Egg, Jumbo Shrimp Cocktail or Rainbow Roll with hamachi, salmon, tuna, crab and avocado. Entrees feature sustainable fish selections including John Dory, Faroe Salmon, Block Island Swordfish, Grilled Lobster and Chilean Sea Bass – all served with special accompanying sauces. For meat lovers, selections are Jidori Chicken, Dry Aged Prime NY Strip, Filet Medallions and Pork Tomahawk Chop. Sides and salads are very popular—such as: The Ritz Caesar & Prawns, Taleggio Mac & Cheese, Creamed Corn, Grilled Asparagus and more. Sticky Toffee Pudding, Chocolate Flourless Cake and the Ritz's heavenly Coconut Cake are some of the sweet ending options.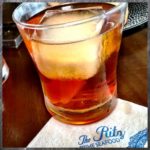 The Ritz 55 Signature Cocktail
Ingredients:
¼ ounce absinthe (coat the glass)
1 ounce High West Double Rye Whiskey
1 ounce Hennessy VS Cognac
¼ ounce B&B Liqueur
¼ ounce Carpano Antica Formula Vermouth
2 Hard Dashes Peychaud's Bitters
1 Hard dash orange bitters
Garnish with lemon rind
Directions:
Coat the inside of a glass with absinthe, and discard excess. Combine remaining ingredients and stir.
Serve over one large square ice cube, or serve neat. Garnish with lemon rind.
Ritz Prime Seafood Restaurant
2801 W Coast Highway, Newport Beach
(949) 720-1800
Web Site: www.ritzprimeseafood.com/
Serving Dinner Nightly and Brunch on Saturdays & Sundays.
Social Hour: M-F 5:00-7:00pm and Sat/Sun from 10:00am -5:00pm