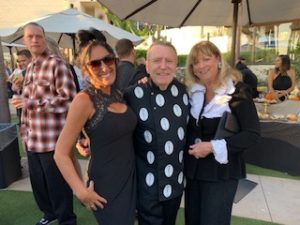 The Golden Foodies® is an event honoring Chefs, Restaurants Food and Drinks. With its eighth year in the books, the Golden Foodies is a stunning event that honors the Best Chefs, Libations and Cuisine of chef-driven and independent restaurants. It is the "People's Choice Food Awards" as patrons and foodies do the voting on all but a few of the awards.
I know this is hard to believe but I had never been to the event. I am usually traveling in Europe in late September as I cannot stand the heat of summer with no air conditioning.  But this year, I was here and was just so thrilled to be attending and seeing so many wonderful friends and associates.
The setting was the Marriott Hotel & Spa at Fashion Island. They did an incredible job as did the many restaurants that participated. It is really not ONE event, I dare say it is THREE events!!!  I am not sure how Pamela Waitt (President of the OC Restaurant Association) and Tricia Cook (VP of Operations) do it all. Many moving parts here, that all move to the beat of the music in perfect unison. And everyone is so darn happy too! It is a wonderful event and the best of the best are all here, front and center.
The Food + Drink Reception was in the Rose Garden overlooking the golf course with an incredible ocean view.  Restaurants showcasing the amazing bites included: Avila's El Ranchito, Cambalache, Descanso Restaurant, Filomena's, Hanna's, Hook and Spear, Lido Bottle Works, Little Onion, Maggiano's, Melissa's Produce, Mix Mix, Ocean at Main, Ten Asian Bistro, Villa Roma  and The Yellow Chilli in Tustin.  The wines were by Copper Cane, water by Acqua Panna, cocktails were by: Maker's Mark and Hornitos Black Label.  The DJ Mark Moreno (markmorenousa.com) was excellent.
Then we all headed into the Ballroom and the theme of the evening was "Fine Dining in Cinema". I nibbled on the delicious caramel popcorn on my place setting and enjoyed as the award portion began. The ballroom tables are overflowing with Copper Cane Wines, Melissa's Produce, Desserts by Mixed Bakery, Gourmet Popcorn by Sweet Surrender and Devil's Cupcake with Bourbon Buttercream and Cracker Jacks by Chef John Park, TOAST. Perfect sips and snacks for this cinematic evening. Our hosts were Aarti Sequeira, TV host and cookbook author and Neil Saavedra host of the popular Fork Report radio show. I have seen Aarti at the Palm Desert Food and Wine Festival doing a demo and she is fantastic. She is always so funny and genuine. Neil is the perfect host and knows literally everyone in the room!
The After Party was not to be missed. I thought I would pop in for a few minutes but two hours later there I was snapping selfies with friends and laughing until my cheeks hurt. DJ Mark Moreno had it all going on. Specialty drinks were by: Maker's Mark® : Apple Manhattan and SOUR, The House of Suntory Cocktails Featuring: Roku Gin, Toki Whisky and Haku Vodka, and Hornitos® Black Barrel® : Tequila Manhattan and Black Mule. Beer was by my favorite: TAPS Brewery & Barrel Room, and waters were by: Acqua Panna and S. Pellegrino.
There were tasty "bites" by: Sgt. Pepperoni's Pizza Store, Grilled Burgers in the Maker's Mark Bar, BXCR Wine Bar Cheese & Charcuterie station. Coffee & donuts were by:  Kean Coffee Cold Brew & Cream and Donuts by Miss Mini Donuts. They just thought of everything!
PLEASE TAKE A MOMENT TO VIEW THIS TWO MINUTE VIDEO I HAVE CREATED THAT HIGHLIGHTS THIS SPECTACULAR EVENING!
And With A Drum Roll… Here Are All The Winners..
Two Extra Special Awards Were Given Out-
The Legacy Award went to the Avila family, founders of Avila's El Ranchito Mexican restaurants. They have 11 locations in Orange County, including in Newport Beach and Corona del Mar. The restaurant was launched in the mid-1960s by Salvador Avila, with recipes created by his wife. His children and grandchildren continued the Avila legacy still today. Each of the restaurants is managed by a family member, with many of the original recipes still on the menu, including Mamá Avila's Soup with chicken broth, chunks of chicken breast, rice, avocado, tomato, cilantro and lime. (This is one of my favorites!)
The Lifetime Achievement Award went to our beloved Chef Pascal Olhats, who has been creating authentic French cuisine in Orange County for more than 35 years. It was so wonderful to have Alan Greeley present this treasured award to him. (Alan owned Golden Truffle for many years in Costa Mesa and came out of retirement in Florida to come be here with us all.)  (And I just wrote about one of the Oldest Restaurants in Europe, when is La Couronne where he used to work in Rouen, France—where he grew up.) You can read about that in Kudos Magazine- Newport Beach out this month in October. And Pascal happened to be at that restaurant when I was writing the article in August and he snapped a picture of he and the owner, standing in front of a picture of Julia Child who had her first French meal in that restaurant!!! Here is the article: http://kudosnb.com/discovering-one-of-the-oldest-european-restaurants-in-rouen-france/)
Olhats has had several noted restaurants, over his 35 years in The OC—including his famed Pascal restaurant on Bristol Street and Brasserie Pascal in Fashion Island. His latest project is his Café Jardin at Sherman Library & Gardens in Corona del Mar. He has a new sidekick at Café Jardin, Chef Jessica Roy, formerly of Current Coastal Cuisine at the Renaissance Newport Beach hotel.  Roy recently won Guy's Grocery Games on the Food Network, an impressive feat. Look for her to receive accolades soon for her modern fresh twist on classic dishes. And she is so enjoying her own Garden right there on property. She proudly showed it to me on my recent visit.
Olhats recently waged a battle with T-cell lymphoma, but, after treatment, has recovered and is back in the kitchen and teaching French Cuisine cooking classes at Saddleback College. He is a treasure and all of us who visited him, tried to lift his spirits, and bring him food…. what else do we know how to do, right? We are all thrilled to see him doing so well and of course he received a STANDING OVATION when the award was presented to him, while the Elton John song "I'm Still Standing" played in the background. Bravo!  Pascal said, "I'm happy to be here — I'm still standing," with wild cheers from the audience. He thanked his wife for her support, and also thanked the entire restaurant community for their friendship.
And The Winners Are…
Bartender of the Year
Robert Adamson – The Blind Rabbit
Kristin Markley – THE RANCH Restaurant & Saloon
Ravin Buzzell – CdM
WINNER: Ravin Buzzell – CdM
Best Cocktail in Orange County
BBQ Bacon Old Fashioned – THE RANCH Restaurant & Saloon
The Wait For It – The Blind Rabbit
Summer Rose Margarita – Malibu Farm
WINNER: The Wait For It – The Blind Rabbit
Best Wine Program
Napa Rose
The Winery Restaurant & Wine Bar
Selanne Steak Tavern
WINNER: Selanne Steak Tavern
Best Beer Program in Orange County
Helmsman Ale House
Pickled Monk
The American Dream
WINNER: Helmsman Ale House
Best Bar Program in Orange County
The Blind Pig
Farmhouse Roger's Gardens
Social Costa Mesa
WINNER: Social Costa Mesa
Best New Restaurant
Helmsman Ale House
Fable & Spirit
Cdm Restaurant
WINNER: Fable & Spirit
Best Lunch Spot in Orange County
Outpost Kitchen
Farmhouse at Roger's Gardens
GCH Craftsman Bar & Grill
WINNER: Farmhouse at Roger's Gardens
Best Brunch in Orange County
Toast Kitchen Bakery
Sapphire Laguna
Bosscat Kitchen & Libations
WINNER: Bosscat Kitchen & Libations
2019 Rising Star Chef of the Year
Chef Shachi Mehra – Adya
Chef Jared Cook – Vine Restaurant & Bar
Chef Zach Geerson – Journeyman's
WINNER: Chef Shachi Mehra – Adya
Outstanding Community Service
Chef Ivan Calderon
Restaurateur Dave Hanna
Chef John Park
WINNER: Restaurateur Dave Hanna
Restaurateur of the Year
Darren Jean Coyle
Russ Bendel
Leslie Nguyen
WINNER: Russ Bendel
Best Dessert in Orange County
S'mores Aroma Experience – AVEO Table + Bar
Popcorn Ice Cream – THE RANCH Restaurant & Saloon
Chocolate Saucisson – Mixed Bakery
WINNER: Popcorn Ice Cream – THE RANCH Restaurant & Saloon
Best Entree in Orange County
Lord Stanley – Selanne Steak Tavern
Cowboy Ribeye – THE RANCH Restaurant & Saloon
Miso Marinated Chilean Seabass – TAPS Fish House & Brewery
WINNER: Cowboy Ribeye – THE RANCH Restaurant & Saloon
Best Service Award
Summit House
Villa Roma
Five Crowns
WINNER: Five Crowns
2019 Chef of the Year
Chef Ross Pangilinan – Mix Mix Kitchen Bar
Chef John Park – TOAST
Chef Amy Lebrun – Lido Bottle Works
WINNER: Chef John Park – TOAST
2019 Pastry Chef of the Year
Chef Jacky Martinez – Henry's Ocean View Dining
Chef Shelly Register – A Market
Chef Elyssa Fournier – Mixed Bakery
WINNER: Chef Jacky Martinez – Henry's Ocean View Dining