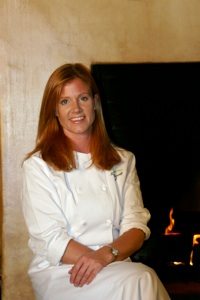 And This Culinary School Is A Dream Come True! Meet Katie Averill, an 18 year culinary veteran. I was eating at her restaurant, before I had even met her! Award-winning, with an infectious smile and warm spirit, Katie is putting Anaheim on the map with a new cooking school. And she is in great company, in a burgeoning new-found, hipster, part of town called the Historic District. Lincoln and Anaheim Blvd. is center plate to Muzzeo (a delightful museum with walk thru streets nearby), the Anaheim Brewery, Umami a gourmet burger restaurant next door, and future home of a Culinary Center which will open in January of 2013. This Culinary Center will be housed in the early 1900's Packing House, where fruits and vegetables were boxed and hauled onto the trains pulling up right next door. This part of Anaheim has a "with it" kind of vibe.
The Cooking School is on a quiet street with a lovely lounge area, 12+ individual state –of-the-art cooking stations complete with stove, oven and surface area. A complete demonstration area and kitchen, and of course a pantry packed full of condiments, spices and supplies to make your culinary delights come to life. The classes are hands-on.Eat Street Culinary School offers cooking classes from the "just for fun" to professional levels. Chef/Owner Katie Averill will bring in visiting chefs to share their expertise for a variety of classes, as well as instruct classes herself. Students are encouraged to sign up with others, or come alone. They also can arrange private parties and classes for special occasions and celebrations (from 12-50 people).
The classes tend to run 3-4 hours and are approximately $80-$100 per person. Classes are currently held during the day, evenings, and even weekends! Perusing the web site, the list of classes are whimsical, fun and I found myself checking my calendar as I read each description. Although my September is packed, I have ear-marked this for October and cannot wait to jump in. Check out her web site for the latest 411 on the classes, but here is what is up on the web site right now for September. The list includes: Homemade Pastas, Cake Decorating, Sunday Morning Cooking With the Kids, Gluten Free Cooking, Farmer's Market Meals on Thursday's, Saturday Date Night for Couples, Chicken 101, Fall Recipes, Gingerbread Houses, and Chocolate Desserts.
About Katie Averill- Katie attended UCLA at the age of sixteen. She knew she wanted to attend culinary school two years into her college education. Upon graduating from UCLA with honors and a B.A. degree in Mass Communication Studies, Katie moved to San Francisco. In 1994 she attended the chef training program at the California Culinary Academy and graduated with honors with an Associate of Occupational Studies Degree in both hot line and pastry cooking. Katie continued to learn under famed Chef Gary Danko as a pastry cook at the Dining Room at the Ritz-Carlton San Francisco. From there she was hired at Bix as the Assistant Pastry Chef and was promoted to Executive Pastry Chef within months. Katie left Bix after a year and moved back to her hometown in San Diego. She became Executive Pastry Chef at both of Douglas Organ's award winning restaurants conjointly; they were the Wine Cellar & Brasserie and Laurel.
In 1998 Katie moved to Las Vegas where several of America's top chefs were opening restaurants. Katie was immediately hired to open renowned Chef Charlie Palmer's Aureole in the Mandalay Bay Hotel. After a year, Katie was approached by celebrity Chef Todd English of Olives (Boston and Las Vegas) who offered her the Executive Pastry Chef position at a future third Olives in Washington, D.C. Katie opened Olives D.C. in November 1999 and managed a large pastry staff including Duff Goldman of the Food Network. While at Olives, Katie was nominated for "Pastry Chef of the Year 2001" by the Restaurant Association of Metropolitan Washington dc
In 2002 Katie returned to Southern California where she became an Executive Chef Instructor at the Art Institute of California – Orange County. Katie instructed future professional chefs in hot line, purchasing, cost control, pastry, and bread courses. Katie soon found the location where she wanted to build her own restaurant in Monarch Beach California. Mirabeau restaurant opened in January 2003 and was an authentic French Bistro. Katie was chef/owner, manager, accountant, purchaser, publicist and baker in this bustling bistro which was named one of the top ten bistros in North America by Food & Wine Magazine in October 2003. Katie was featured in over thirty articles including Riviera, Orange Coast, Coast Magazine, The Los Angeles Times, and The Orange County Register. While at Mirabeau, Katie was invited to be part of the Great Chefs of Orange County 2003, 2004, 2005, and 2006. The Liver Foundation acknowledged her as one of the top ten chefs of Orange County in their charity events in 2004, 2005, and 2006.
Katie was nominated for Businesswoman of the Year 2004 by the Orange County Business Journal. After five years, Katie sold the restaurant and became a Chef Instructor once again at the Art Institute of California – Orange County. Since May 2009 Katie has been the Corporate Chef for Balboa Dessert Company where she develops desserts for major restaurant, retail and grocery chains including PF Changs, Nordstrom, and Bloomingdale She also has created a dozen desserts which have been sold on air at QVC television. Katie resigned from the position in February 2011. Katie continues to teach regularly at tspoons culinary school, Sur La Table and is a monthly columnist for Great Taste Magazine. Katie has been a member of Le Dames Escoffier OC/LA chapter since 2009.
The Details:
Eat Street Culinary School
270 S. Clementine Street
Anaheim, CA 92805
(714) 563-2334
www.eatstreetculinary.com