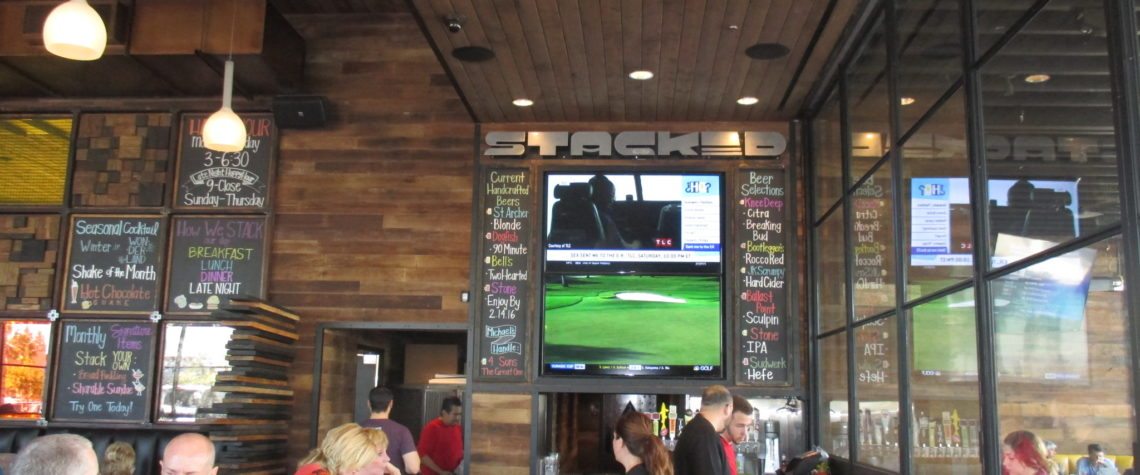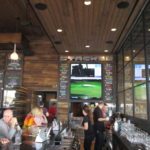 I don't often say this about a casual-style restaurant, but here goes—THIS PLACE ROCKS! I even asked the Co-Owner Paul Motenko if he would please hurry and build one in Irvine so I don't have to drive so far… The restaurant is adorned with reclaimed wood, steel mesh liquor cabinet, antique mirrors, and an open-air vibe. There is a large outdoor patio with huge flat-screen TV's and a huge bar that forms a partition between the dining room and the patio. Speaking of bars, they serve hand crafted top shelf cocktails of all types, and a great selection of rotating local craft beers and even my favorite Stella! And for a new twist, how about an alcoholic dessert shake. There are some very creative ideas here.
This restaurant is the ultimate in "Building It Your Way"!
Creating Your Own Entrée
Or as they say, this is "Food Well Built". By you the guest! STACKED is a smart concept. First, they took favorite food categories, such as burgers, salads and mac n'cheese. Everyone knows what they like, right? Second, they added tons of options, from condiments, to toppings, cheeses, sauces and so forth, depending on the item. Third, they use the freshest of ingredients and most sauces are made in-house. And lastly, they use an intuitive tablet ordering system that is super easy to use. That is important for the computer challenged, like me. Unlike other tablet  ordering systems that are confusing and require a credit card to activate, this one is a breeze.
Using A Portable Tablet To Build Your Meal
The staff will be more than happy to assist you on your first order. Our Bartendress Heather was a great help and made us feel instantly comfortable with the entire process. All the categories are listed to the right. Once you select an item, it appears on the left as a basic order with what the Chef would normally recommend. By pointing to an item and swiping to the right you can remove whatever you do not want on the original stack. Then on the right are a plethora of items you can choose to add. By dragging the item pictured to the left you can see your selection being built on the left side!Really more things than you can imagine, with everything from bacon, to chipotle mayo, A-1 sauce, lettuce, blue cheese, and on and on.
The Good News- The Food Is Great!
Every single item we tried we absolutely loved and would order again in a heartbeat. The food is delicious. It was a cold day, and the Chicken Tortilla Soup sounded like a perfect start to the meal. And indeed it was excellent and topped with tortilla strips, Monterey Jack cheese, cilantro and cubes of fresh avocado. The BBQ Bacon Beef Cheeseburger was cooked to perfection. We selected the whole wheat bun which is sprinkled with whole oats on top. They also offered: Brioche, Pretzel, Lettuce Wrap and Potato Buns. We added extra pickles, bacon and cheddar cheese, however there were tons of other options as well. For the Mac n' Cheese we ordered the Lobster Mac. We didn't change a thing, but now I wish we had added bacon, however it was delicious and creamy. It arrived in a piping hot mini-iron skillet with the top browned and bubbly hot. This is the perfect vessel as it kept the dish warm while we nibbled away. The Short Rib Sandwich was served with caramelized onions, lettuce, onion strings and served on a Rustic roll. It was delicious, and I make short ribs at home and know it is a time-consuming process.
A Quick Spin Around The Menu
In an effort to keep this super simple, yet also give you a flavor of the menu and what you can expect here, let's take a whirl thru the highlights.
Menu Items/# of Basic Selections:
-Appetizers/Sides 20
-Soups 3
-Flatbreads 5
-Salads 11
-Burgers 14
-Sandwiches 8
-Burritos 4
-Stacked Macs 7
-Kids Menu 5
-And tons of Ice creams, sundaes and shakes too!
As an example, for the burgers, there are many options for: buns, patties, cheeses, lettuces, sauces toppings and condiments. For Salads, in addition to the 11 base salads— such as Cranberry Walnut Salad, or Asian Chicken Salad, guests can select from various: lettuces, vegetables, nuts, proteins, cheeses, fruits and a staggering 16 different salad dressings! (And yes, they do offer many gluten-free and vegetarian options to accommodate various dietary preferences of the diners.) There is also a great kid's menu as well.
For Those Who Enjoy Breakfast
The location in Huntington Beach is the only one of the 5 that is open for breakfast. They open at 7:00am and offer customizable pancakes, French toast, scrambled eggs, burritos, benedicts, yogurt bowls, and of course Bloody Mary's and Mimosas. Imagine ordering Blueberry Ricotta Pancakes, or how about a Fresh Berry Cinnamon Swirl French toast? Who thinks up these things at 7:00 in the morning?
The Passion for "Food Built Well"
The Stacked restaurant concept comes by its accolades from an honest source. Paul Motenko and Jerry Hennessy are the two co-owners. They hail from BJ's Restaurants, and built that brand to its national acclaim, and eventually retired. Paul laughingly admits that his golf game was not what he had dreamed it would be and they both became antsy to do something else. They were bored. Marry their "stacked" idea with the incredible technology that we all now have at our fingertips, and presto, Stacked was born.
As Paul Mootenko noted, "We provide the ultimate in customization of someone's favorite food. We took traditional menu items that most people enjoy, and just as important, they know how they like it. This allows guests to build it just the way they would like it. We are just now finishing up a Mobile App which will make it super easy to call ahead custom orders."
The Details
The brand new Huntington Beach restaurant is located at 7490 Edinger Avenue, right across from the Bella Terra Shopping Center (and in front of Nordstrom Rack). Hours of operation are 7:00 a.m. to 11:00 p.m. Sunday to Tuesday, 7:00 a.m. to midnight Wednesday and Thursday, and 7:00 a.m. to 1:00 a.m. on Friday and Saturdays. STACKED now has five restaurants: in Huntington Beach (just opened), Torrance, Cerritos, Thousand Oaks and San Diego, with more locations coming soon.
The Web Site is: www.stacked.com, and for social media: for facebook.com/stackedrestaurants, for twitter.com/foodwellbuilt and for instagram.com/foodwellbuilt.